Winding Road Cellars
by
Kathy Sullivan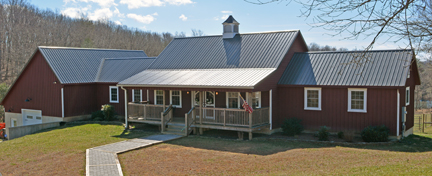 Summary: Winding Road Cellars is a small boutique winery in Markham, Virginia where visitors will find a warm friendly welcome. One of the pleasures for Scott and Linda Culver, owners, is meeting so many nice people. Wine styles range from dry to sweet.
We enjoyed a visit with Scott and Linda Culver in their dedicated tasting room, where we discussed everything from wine and winemaking to St. Patrick's Day and bears. Scott said, "I've done a little bit of everything." We learned that Scott had been making wine at home for eleven to twelve years. He thought about developing a commercial winery. Several years later, in 2013, Scott and Linda opened the tasting room. Scott learned many of his winemaking skills at Mediterranean Cellars, a Virginia winery in Warrenton.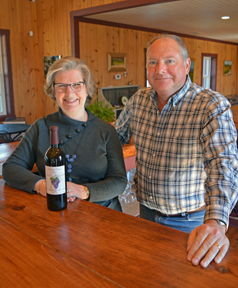 In his early years, Scott was wondering about retirement and asked a question, "What do you want to do when we retire?" Linda recalled her answer, "Let's graduate from high school first." Scott's idea of retirement was, "I'm not sitting around and doing nothing."
The winemaking idea started after enjoying a wine tasting at Mediterranean Cellars. Scott said, "Let's make wine in the basement. He talked to Louis Papadopoulos, owner and winemaker at Mediterranean Cellars, who suggested that he come over to the winery with a 5-gallon carboy. Scott returned home with a 55-gallon barrel and wine in a 55-gallon stainless steel tank. Little by little Scott helped out at Mediterranean Cellars.
The year 2009 was a big year for the Culvers. In addition to purchasing the property, they also planted the vineyard. Previously, they had lived in Fairfax County and this move to the country was a big one for them. For example, cell phone service is limited. Perhaps one of the biggest adjustments was to realize that this is bear country. Linda recalled the day after they had recently moved to their new home and she received a call from a nearby neighbor who said, "Now I don't want you to be scared but there is a bear in your driveway." Linda remembers calling Scott who said, "Quick get the camera!" Linda recalled, "When Scott told me to get the camera when the bear came visiting, he told me to go outside, get real close and get a close-up!!"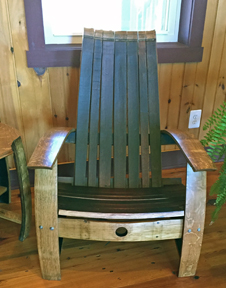 The homey but yet professional wine tasting room and winery were built by the Amish from New Holland, Pennsylvania. The Culvers wanted to create something that had an intimate atmosphere. The outside of the building is a deep red color highlighted with white trim. A small cupola adds a decorative touch to the rooftop. Inside, the tasting room walls and floor are of a warm honey-toned pine wood. At the back of the tasting room is an attached deck with wrought iron tables and chairs, overlooking the vineyard. The walls are decorated with the artwork of local artists. Be sure to notice the two Adirondack-style chairs that were crafted with oak barrel staves.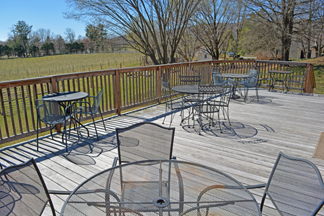 Scott planted the first grapevines in 2009. Today the vineyards consist of Cabernet Sauvignon, Cabernet Franc, Viognier, Pinot Gris, Chardonnay, Petit Verdot, Chambourcin, Vidal and Pinot Noir. Scott also sources fruit from Fauquier County in Virginia.
Wines
The back labels of the wine bottles relate the reason behind the name of the winery. "There have been many winding roads in our life -the road we now live on and the path we followed to get here. This adventure has been hard work but full of good times. We hope you enjoy our wine - and may your winding road be as rewarding as ours!"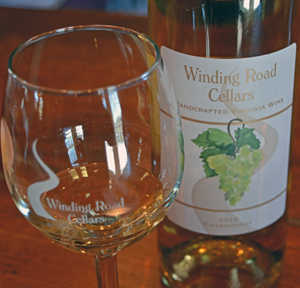 Chardonnay 2012 was a light gold color. This wine was fermented in oak and aged in stainless steel. The wine offered an aroma of pear. The taste had notes of pear, with some apple on the finish. There was a hint of citrus. The wine was medium/full-bodied. The finish was crisp with fruit. Viognier 2014 was paired with crackers and cheese. The wine was a light gold color. It was very aromatic with floral notes. The residual sugar was 2% and the result was a slight sweet taste with tropical fruit notes and a hint of crispness. The finish lingered with grape notes.
Twilight 2014 was a proprietary blend, produced in stainless steel. The wine was a light gold color. The aroma was grapey with notes of tropical fruit. The taste was crisp with light notes of apple and pear. The finish was long. It was suggested to pair this wine with seafood and spicy dishes. The same type of wine was oaked. The Gloaming 2014 was aged for 18 months in American oak. Gloaming is the Scottish word for twilight. The wine was a gold color. This wine was produced with a proprietary blend. The wine offered the foxiness of American grapes. It was like Twilight but with an oak influence. The wine had light tannins.
Tribute was a blend of Cabernet Sauvignon and Cabernet Franc. The wine was a translucent ruby color. The wine offered notes of dark fruits including cherry and blackberry. It was full-bodied with medium tannins. The fruit yielded to leather. Pair this wine with pork barbecue. Merlot 2008 spent eight months in oak. The wine was a translucent ruby color with a sienna hue. The wine offered notes of cherries, blackberries and spices. The mouthfeel was very smooth. This was a full-bodied wine with bold tannins. The finish began with fruit and yielded to spices.
On the sweeter side, Vidal Blanc 2014 had residual sugar of 30 grams per liter. The wine had a floral aroma and the taste had hints of white peach. The taste was sweet. The suggested food pairing was cheesecake. Chambourcin 2012 was a late harvest wine. The wine was a translucent dark red color. This dessert wine was sweet with notes of dark fruit including blackberries and black cherries.
Visitors to Winding Road Cellars will discover red and white wines and Amish-made cheese available for purchase. Plan to visit Winding Road Cellars and spend a couple of relaxing hours enjoying the scenic views and tasting wines.
Winding Road Cellars
4289 Leeds Manor Rd.
Markham, Virginia 22643
GPS: N38º 51.2141' W77º 59.6512'
Check out the recipe Christine Johnson's Winding Road Cellars Vidal Blanc Shrimp Scampi.
Article written March 2017.
---
Visit these Virginia wineries and wine tour groups that partner with Wine Trail Traveler.