Bluemont Vineyard
by
Kathy Sullivan

Summary: Bluemont Vineyard is located in western Loudoun County's outstanding countryside with views of vineyards, orchards and distant mountains. The logo is Elevation 951'. Views from the vineyard deck are outstanding, offering great panoramic photo opportunities. Bluemont is also available for private events including weddings.
Wine enthusiasts and tourists will discover the Bluemont vineyards high on Virginia's hilly slopes well before reaching the tasting room. Traveling along a long and curved driveway, travelers will find their way past orchards and vineyards before arriving at the winery and tasting room. There are several areas where visitors can enjoy Bluemont wines and available foods.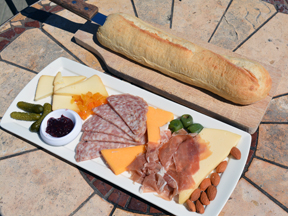 At the time of our visit, food available for purchase included: Baked Brie, Tasters Platter, Tapenade Trio, The Italian Comfort Duo and Goot Essa Amish Farm Cheese. Several groups were enjoying sitting on the deck with food and wine. Earlier, we were enjoying a conversation with Bob Rupy, owner, general manager and co-winemaker; in the distance we saw a large bird circling overhead in the nearby hilly areas. As we were enjoying a cheese tray on the large deck that overlooks the vineyards, the bird reappeared lazily circling through the blue sky.
Bluemont Vineyard opened in August 2007 with an emphasis on agriculture. Bob said, "We're growing stuff here." Bluemont Vineyard had the 15th winery license in Loudoun County. Bob noted that in 2015, 98 percent of the wines are sold at the winery. Wines are also available at some of the area restaurants.
Bob entered into the wine and vineyard business with Mark Zurschmeide who always thought it would be a great site for growing grapes. Mark and Kate had purchased the property in 2003. In 2006 they began serious talks about the vineyard and, "Just dove in." Bob and Mark worked with Doug Fabbioli who consulted with them on the winemaking. Many others were also helpful. Mark asked, "Who is going to make the wine?" Bob said he could do it.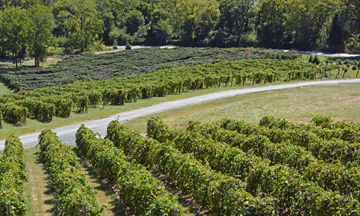 Vineyards at Bluemont
During 2005 and 2006 they began planting the vineyard. Currently Bluemont Vineyard consists of 30 acres of grapes under vine. "951" referred to the elevation of 951 feet. The vineyard slopes to 1300 feet. The grape varieties include: Merlot, Cabernet Sauvignon, Petit Verdot, Cabernet Franc, Viognier, Petit Manseng, Albarino and Norton. On the farmland, they also grow fruit for producing fruit wines. Look for peach, apple, strawberry and blackberry wines. They also source grapes from other growers. Beginning in 2013 the harvest time of the grapes was decided by tasting the grapes and data.
The Wines of Bluemont Vineyard
The first wines were bottled in 2007 with 670 cases produced. Now Bluemont Vineyard is producing 6,000 cases.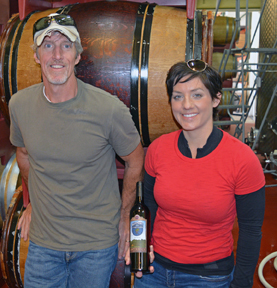 Today Bob's winemaker is Jennifer Trovato Shailor who moved to the region from Vermont. Jennifer said that she never had plans to be a winemaker and began at Bluemont as a staff member in the tasting room. When Bob asked for help with some of the winemaking she was quick to agree. Soon she was enamored with winemaking, taking classes and working on a winemaking certificate from Washington State University.
The Peach wine was produced with 50% peach wine and 50% white wine. The yellow colored wine had 1.5% residual sugar. The aroma was of mild peach and the taste reminded one of fresh peaches. The crisp finish lingered with a peach aftertaste.
Farm Table White 2014 was a blend of Vidal Blanc, Petit Manseng and Viognier. This yellow colored wine offered aroma notes of floral and tropical. The taste was of citrus and tropical fruit. The crisp finish was fruity. Farm Table Red 2013 was a translucent dark ruby colored wine. The wine was primarily a blend of Merlot and Chambourcin. The aroma was of red and black raspberries. The taste was comprised of red raspberries, black raspberries with a trace of leather and some earthiness. The medium-bodied wine had tannins. The finish was crisp with fruit yielding to leather.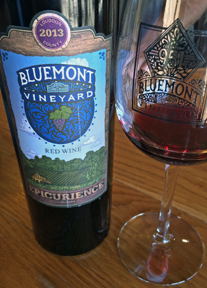 Four wineries collaborated to craft a blend named Epicurience. This 2013 wine was a blend of wines from Bluemont Vineyard, Breaux Vineyards, Sunset Hills Vineyard and Tarara Winery. A portion of the sale is donated to the Loudon Wine Growers Association. The wine was a blend of Cabernet Franc, Petit Verdot, Cabernet Sauvignon and Merlot. This translucent dark ruby colored wine offered notes of dark fruits, black raspberry and tobacco. The taste was of black cherry, tobacco and a hint of leather. The wine had silky tannins. The finish was crisp and fruity. Merlot 2013 was produced with estate fruit. The dark ruby colored wine had dark fruit, leather and tobacco aroma notes. The taste was smooth with blackberries, black cherries, mushrooms and leather. The wine had medium to bold tannins and was full-bodied. The finish offered fruit and leather notes.
Bob noted that the winery is about providing the best wine and experience for visitors. "Elevation not only defines our location but also our goal. This is about growing stuff. Everything has to be as good as the view." The view is stunning.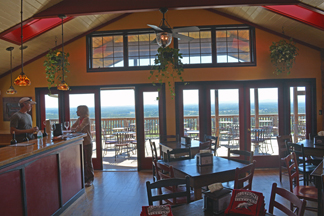 If you are yearning for a visit to the countryside with a wide range of wines to taste and great views, be sure to stop at Bluemont Vineyard. This is a wonderful winery to spend some time on the deck and enjoy the views.
Bluemont Vineyard
18755 Foggy Bottom Road
Bluemont, Virginia 20135
GPS: N39º 05.823' W77º 50.186'
Article written September 2015
---
Visit these Virginia wineries and wine tour groups that partner with Wine Trail Traveler.