Hiddencroft Vineyards
by
Kathy Sullivan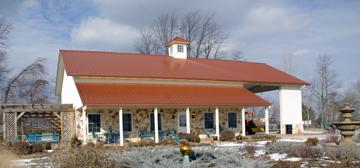 Summary: Enjoy a visit to Hiddencroft Vineyards in Loudoun County, Virginia where the ambiance will make you want to return repeatedly. In addition to growing several acres of grapevines, Clyde Housel grows other fruits that he uses to produce fruit wines. As the name implies Hiddencroft is not on a major road. Enjoy the scenery as you drive to Hiddencroft located in the countryside of northern Virginia.
The Hiddencroft Winery tasting room is delightfully petite with a lot of ambiance packed into the small area. With an L-shape, the tasting room has several round tables with chairs situated to one side of the tasting counter across from the barrel room. The barrel room has glass doors that are translucent so that visitors can view the oak wine barrels. The other side of the L-shape has two large gleaming tanks with two round tanks one atop the other. Nearby a commercial refrigerator has a selection of cheeses and salami available for purchase.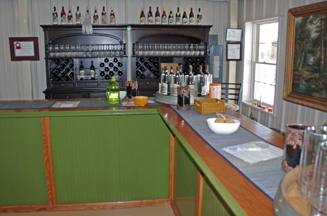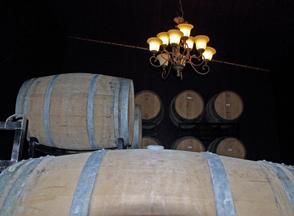 Clyde Housel, winery owner, has an interesting story to share about his entrance into the wine world. When he first had wines they were from the West Coast. He was not particularly impressed. Eventually he had some other wines that were more fruit forward and he began liking that style of wine. In 1993 Clyde had an extra supply of Concord grapes that he was growing for table grapes. With the extra grapes, he made his first wine. This led to his making wine with other grapes. Now Clyde enjoys producing fruity wines. While he enjoys his own wines he also enjoys wines from California and Virginia.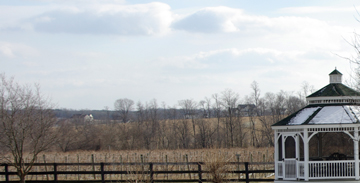 Originally Clyde planted a small test vineyard. The resulting grapes were used to produce wine as a hobby. Clyde produced wine as a hobby for 18 years. In 2001, Clyde planted his first commercial vineyard with Traminette. Now the vineyards are filled with Traminette, Chambourcin, Cabernet Franc, Petit Verdot and Tannat. Clyde sources some grapes from within Loudoun County, Virginia.
Clyde has fruit thriving on his property including blackberries, red raspberries and cherries. These fruits are also used for producing fruit wines. According to Clyde these fruit wines are popular with visitors.
Hiddencroft produces 1,500 cases of wine. Production levels may reach 2,000 cases. Clyde wants to be able to have hands on everything from the vineyard to the winery, so he prefers a small wine production.
This is a young winery opening in 2007. The name of the vineyard in 2001 was Hiddencroft and when the winery was started, he decided to keep the name Hiddencroft. Hidden was chosen because of the location and croft from the Scottish use of the word as a small-enclosed field. As visitors travel from Washington, DC the roads become smaller but all are easily passable and lined with fields and trees.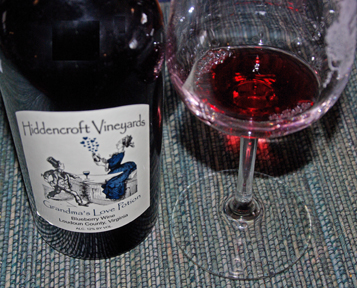 White Wines
Vidal Blanc 2009 was a straw color that offered citrus nuances with a hint of peach. The finish was crisp and fruity. Chardonnay 2009 was barrel aged. The wine was a straw color. There were apple nuances on the aroma and taste. The finish was crisp with apple notes yielding to hints of caramel.
Red Wines
Chambourcin 2007 was a blend of Chambourcin and Petit Verdot. The wine was a ruby color with an aroma of red fruit and spice. The taste had red fruit notes. The finish was fruity yielding to spice and earthiness. Chambourcin 2008 was a blend of Chambourcin and Petit Verdot. The ruby red wine offered red fruit nuances. The finish had tannins and fruit notes yielding to spice. Cabernet Franc NV offered an aroma and taste of dark fruit and pepper nuances. There were mild tannins with fruit yielding to pepper. Cabernet Franc 2008 had an aroma that was earthy with pepper notes. The taste was of dark fruit with spice nuances. There were mild tannins on the finish with dark fruit notes.
Fruit Wines
Hiddencroft Vineyards offers three fruit wines. At the time of our visit, the cherry had been sold out due to popularity but there is more aging in a stainless steel tank. Grandma's Love Potion is a blueberry wine with four percent residual sugar. This wine is produced with a bit of Chambourcin that adds complexity and a dryer finish. Blueberry nuances are delightful on the taste and the lingering finish. Blackberry Wine was red with an aroma and taste of blackberries. The wine was crisp and fruity. Vitis Rubus (Raspberry Wine) offered raspberry nuances throughout. The wine had a dry finish.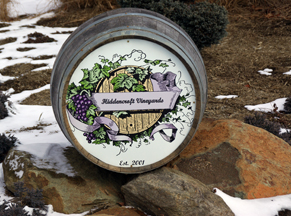 Events at Hiddencroft Vineyards
Hiddencroft Vineyards has meat and wine pairings events in addition to their dessert and wine pairings events.
Hiddencroft Vineyards is a gem of a winery that you should visit.
Hiddencroft Vineyards
12202 Axline Road
Lovettsville, Virginia 20180
GPS: N39º 16.406 W77º 40.524'
---
Visit these Virginia wineries and wine tour groups that partner with Wine Trail Traveler.