Winery 32
by
Kathy Sullivan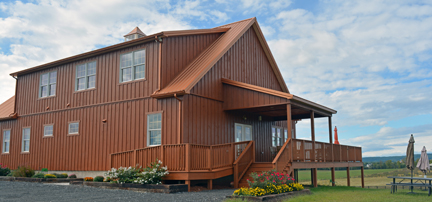 Summary: Winery 32, a boutique winery, opened in July 2014 amidst surrounding alpaca farms north of Leesburg, Virginia. While having full-time careers outside of the winery, the owners are very involved with Winery 32. This is a family owned and operated boutique winery with an emphasis on hospitality. Continue reading to discover the significance of the number 32.
Winery 32 is located in the beautiful countryside of Loudoun County, Virginia. Wine enthusiasts will discover this is a gem of a winery to visit. In the distance the winery building seems to give off a glow. The winery is set atop a hill and seems like a beacon in the countryside of bucolic, rolling hills.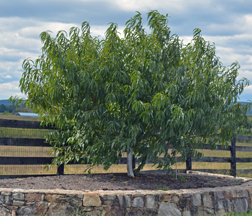 After traversing the long and winding driveway set between prolific peach trees and acres of vineyards on the rolling hills, we met Roxanne and Michael Moosher in the winery tasting room. Currently both Roxanne and Michael have full-time careers, in addition to owning and operating the boutique family winery. Roxanne said that she, "Is a firm believer in wine education."
The winery overlooks vineyards and a large pond. Inside, the tasting room offers three seating areas making it convenient for small group gatherings. A deck over the crush pad with views of the vineyards is a delightful spot to enjoy a class of wine.
Before entering the Winery 32 tasting room, wine enthusiasts may well ask themselves, "32 what?" The name Winery 32 seems inherent for Roxanne and Michael. The name reflects their 32 acres of property, their 32 years of marriage at the time of planting the vineyards and the 32 peach trees lining the driveway.
It was a visit to Napa, California that was the link to the beginning of a dream of opening a winery. After researching the idea of owning a winery and vineyard, they discovered that Northern Virginia is an up and coming wine region on the East Coast.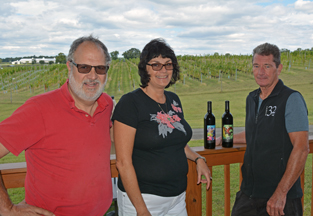 Beginning Winemaking
In 2008 Roxanne and Michael used a wine kit to make a batch of wine. Their first home winemaking kit was a dismal failure. Not happy with the results of a kit wine, they were encouraged to make a wine with grapes. This batch of wine was considered successful and encouraged them to continue as home winemakers. At home, they also made blueberry and peach wines. Several years later they have planted vineyards and peach trees and opened Winery 32. They had discovered a winemaker and winery owner, Doug Fabbioli (pictured in red along with Roxanne and Michael) who was impressed with their passion for wine. Doug gave them 100 pounds of fruit to take home and try winemaking again. This was successful as was crafting peach and blueberry wines at home. Eventually they made a Carmenere wine; the wine won double gold.
After experimenting with partially crushed berries and whole berry press, the Mooshers decided the best wines are produced with whole berries.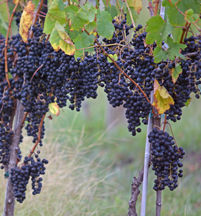 Eventually they found a farm with about 180-acres with 32 acres for sale. While Roxanne and Michael wanted a smaller property, this particular piece of land was ideal for growing grapes. A pond and a nearby working windmill provide the water they need.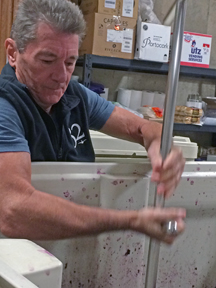 Winery 32 has eight acres of grapes undervine that include: Petit Verdot, Petite Manseng, Cabernet Franc, Cabernet Sauvignon, Merlot, Viognier and Chambourcin. With 32 prolific Gloria peach trees, the signature wine at Winery 32 is peach wine.
The winery located under the tasting room is mostly underground with the press pad at ground level. Michael began punching down the cap in a fermentation bin.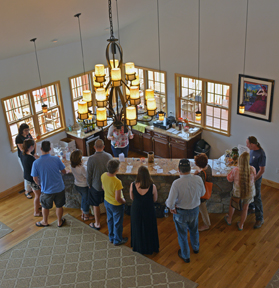 Wines at Winery 32
In 2015 the winery is producing 2,000 cases and would like to grow to 2,500. Roxanne and Michael want to continue as a boutique winery. Be sure to take note of the colorful wine bottle labels. These labels were inspired by Roxanne and created by their daughter Chantal Moosher, a professional artist. One of the labels is an image of alpacas on the neighboring properties. Roxanne makes suggestions and Chantal creates very colorful labels that are also used to decorate the tasting room walls.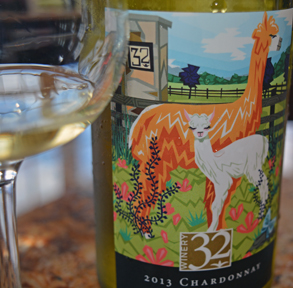 The signature wine is peach wine. Roxanne noted that the peach wine, made with the Gloria peach variety, is made with fresh peaches that are "picture perfect." Gloria's Sunshine Light Peach was yellow with an intense aroma. The wine was slightly sweet with peach and spice notes. The peach taste lingered on the finish. Chardonnay 2013 was fermented and aged in French oak. The wine was a dark yellow color with notes of apples and some tropical fruit. The wine had a creamy mouthfeel.
Events
In addition to public events that include wine dinners such as a "Dinner&Comedy" event, Winery 32 offers space for a range of private events including weddings, anniversaries, rehearsal dinners, showers and holidays. Keep in mind that the venue has space for up to 75 individuals.

Roxanne and Michael want people to know that they are sincere, hardworking people who want visitors to enjoy themselves. They want wine enthusiasts to have a good time in a wonderful location.
If you are looking for a delightful and relaxing day in northern Virginia, make plans to visit Winery 32 outside of Leesburg. Watch the Winery 32 website for events taking place at the winery.
Winery 32
15066 Limestone School Road
Leesburg, Virginia 20176
GPS: N39º 11.791' W77º 30.182'
Article written September 2015
---
Visit these Virginia wineries and wine tour groups that partner with Wine Trail Traveler.