Linden Vineyards
by
K. L. Sullivan
Summary: When visiting Linden Vineyards, notice the overall peacefulness and friendliness of the vineyards and tasting room. If you have the opportunity to meet Jim Law, owner, winemaker and viticulturist, it will enhance your visit. According to Jim the most common question visitors ask today is, "Do you grow your own grapes?" Vineyards are nearby and Jim has followed tradition by planting rosebushes at the end of rows. Please note that bus tours and limos are not accepted.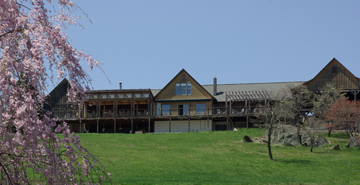 As you approach the winery along the long, uphill driveway, you will see a weathered building with three peaks. The area outside of the winery has been lovingly, landscaped with care.
Inside, the tasting room has a wood L-shaped tasting bar. Jim used beams from an old log cabin and planking from an old barn to add character to the room. A large sunroom is the perfect place to relax and enjoy a glass of wine.
Jim provided us with a brief summary of his background. Back in the 60's and 70's, he enjoyed drinking European wines. While in college, he took an interest in working on farms. After college, Jim joined the Peace Corps first going to Michigan to to be trained in tropical agriculture. This experience led him to the Congo to help with agriculture.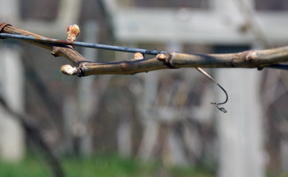 Returning to the United States, Jim decided to settle on the East Coast rather than the West Coast where the wine industry was already becoming established. He chose the East Coast where there were fewer wineries and winemaking was not entrenched. In 1981, he began to develop his winemaking skills in Virginia. It was in 1983 that he found the present location of Linden Vineyards.
Today, Linden Vineyards is a family of vineyards. The winery is located on the Hardscrabble Vineyard site that encompasses about 23 acres of vines. Another five-acre vineyard is the Avenius Vineyard. Boisseau is the third vineyard.
Jim produces five thousand cases of wine. He is satisfied with that number of cases but continues to experiment to find the best grapes to grow. Jim sells most of his wine from the tasting room although he uses a distributor to sell wine to restaurants in Washington, DC.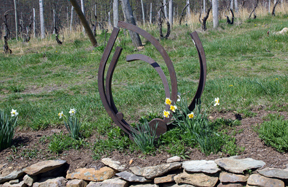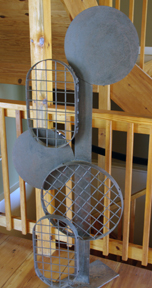 When you visit the tasting room, you will see that it does not have a gift shop atmosphere. Jim wants the focus of the tasting room to be on his wines. However, he does support artists. A neighbor provides the sculptures displayed at the winery and paintings add to the ambience of the tasting room. Sculputres and paintings are available for purchase.
Jim has well thought out philosophies about wine and vineyards. He believes that, "It's one thing to grow grapes but another to grow grapes well. The grower needs to have a passion for the wine." When harvesting for the first time from a vineyard block, he uses minimal winemaking techniques. After a few years, he starts to match winemaking techniques with the grapes from particular blocks.
Jim believes in the importance of terroir. He studies the soil and plants grape varieties in areas where they will do best. Everything in the vine's environment reflects in the quality of the grapes. Jim remembered a time when smoke from a hay fire reached the grapes in a vineyard. There was still a slight odor of smoke on the harvested grapes when they reached the winery. Fortunately, the odor dissipated.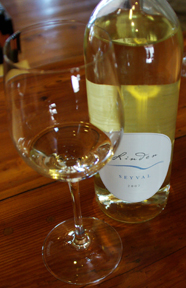 We tasted several of Linden's wines. Seyval 2007 offered a citrus grapefruit nose with a crisp finish and some minerality. Chardonnay 2005 was from Avenius vineyards and had a fruit nose with an apple and pear taste. There was fruit and spice on the aftertaste. Sauvignon Blanc 2007 had a citrus (grapefruit) taste and was lightly crisp on the finish. We found it to be very refreshing. Rosé 2007 was a blend of mostly Cabernet Franc and a little Petit Verdot, Cabernet Sauvignon and Merlot. This was the 10th year of making a dry Rosé. The wine had a nose and taste of strawberries, with a crisp finish and soft tannins. You may want to consider this wine for many food pairings. Claret 2004, a blend of Cabernet Sauvignon, Petit Verdot, Merlot and Cabernet Franc had an aroma of red raspberries and spice with a raspberry taste. The finish was crisp with tannins. Boisseau 2005 was named after the owners of the third vineyard. This wine, a blend of Cabernet Franc, Petit Verdot and Merlot had blackberries on the nose with berries and pepper on the taste. The finish was crisp with tannins and nuances of fruit and pepper. Hardscrabble 2005, a Cabernet Sauvignon, Petit Verdot, Merlot and Cabernet Franc blend, had a dark opaque purple color with a dark fruit nose and taste with tannins on the finish. Vidal Riesling 2007 offered a floral and peach nose with a tropical fruit salad taste. This had just a touch of fizz on the finish. Late Harvest Vidal 2004 had a golden, yellow color with pear on the nose and taste. This Vidal finished with a sweet taste.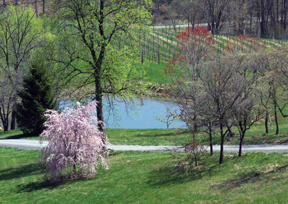 Enjoy a peaceful visit and quality wines when you stop at Linden Vineyards. The views from the sunroom and deck are beautiful. Treat yourself to a glass or bottle of your favorite Linden wine as you view the Virginia countryside.
Linden Vineyards
3708 Harrels Corner Road
Linden, Virginia 22642

GPS: N 38 °88.063' W 078°07.183'
---
Visit these Virginia wineries and wine tour groups that partner with Wine Trail Traveler.