Arterra Wines
by
Kathy Sullivan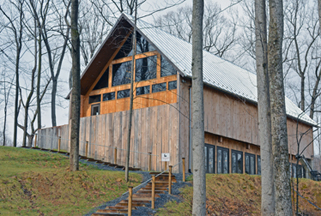 Summary: Arterra Wines, in Delaplane, Virginia reflects the art and skill of producing authentic wines and art. Located in a wooded, hilly area of Virginia, the husband and wife owners have uniquely shown the marriage of wine and art. At Arterra, visitors will discover delicious wines and wonderful, creative works of art. The owners consider the winery to be "a true terroir winery."
Driving into the hill area of Virginia, through a wooded area, we came across the Arterra winery tasting room and artist gallery where we met enthusiastic Sandy and Jason Murray. Arterra is also the location of Hawkmoth Arts gallery. The tall building is reached by climbing a path to the patio in the back of the building which overlooks picnic tables. Nearby on a sloping area are some of the Arterra vineyards. We quickly learned that this husband and wife team are bonded by a love of art both in wine and in the traditional arts.
Sandy, an artist, was an art teacher, but left teaching behind to raise her family and to open her own gallery. She also helped design the winery facility with the help of a local timber framer. Jason grew up in agriculture including being a member of the 4H club and working on farms. He earned a bachelor and a masters degree in horticulture and was hired as the Loudoun County horticulturist. As he worked with farmers and vineyards, he came to the conclusion that good wine is made in the vineyard. He also helped to set up a vineyard in Fauquier County.
Arterra's Tasting Room and Gallery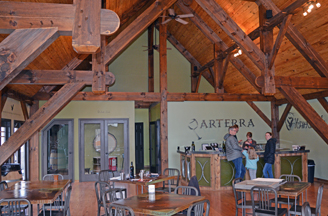 The tasting room at Arterra is welcoming and friendly. Numerous tables for four are scattered throughout the room. The tables are unique and creatively designed by Sandy with imprints of grape leaves. The tasting counter is mesmerizing with a clear cover over a variety of stones that Sandy has collected during her travels around the United States.
The Murrays launched Arterra with a 2013 vintage. The name Arterra refers to the art and the land. Jason sources grapes from growers that he worked with for over a decade and he closely works with the vineyards where he sources his fruit. He noted that he wants the, "Best fruit that we can get every year." One of Jason's winemaking techniques is to use only native yeasts. Using native yeasts yields, "A wine that you can't make anywhere else in the world except here." He noted that "round, broad wine" is the result of using native yeasts.
Together Jason and Sandy agree that an artisan perspective is necessary to create a wine of distinction. As we had to leave the tasting room, we were left with the following idea, "When you are drinking a wine you are tasting everything that went into making the wine."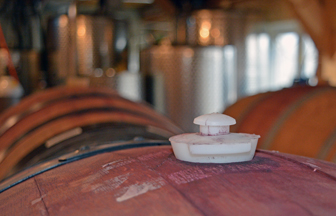 The production facility is on a level below the tasting room. Stainless steel tanks and oak barrels house and age the wines.
Arterra Wines
Chardonnay 2015 was a yellow color. The aroma was of apple. The taste offered apple notes with some citrus. The finish was crisp emphasizing the fruit. Winemaking notes included: steel fermentation, nine months in neutral oak followed by 9 months in stainless steel.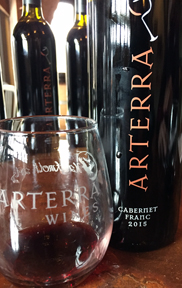 Cabernet Franc 2015 was a translucent dark ruby color with a purple hue. The aroma was of dark fruits and spice. The taste included notes of plum, blackberry, and baking spices. The mouthfeel was velvety, full-bodied with medium/full tannins. The finish was fruity. Malbec 2015 was an opaque dark ruby color with a purple hue. The wine offered notes of blackberries and blueberries with some earthiness. This full-bodied wine had medium/full tannins. The finish was fruity yielding to spice. Petit Verdot 2015 was an opaque dark ruby color with a purple hue. The aroma was of black fruits with some hints of perfume. The taste was of blackberries and blueberries. The full-bodied wine had bold tannins and was very smooth. The finish was very fruity with the fruit yielding to earthiness.
Reserve 2014 was a blend of Tannat, Cabernet Sauvignon, Petit Verdot and Cabernet Franc. This opaque, dark ruby colored wine with a purple hue offered an aroma of black fruits. The taste had black cherry, blackberry and blueberry notes. The mouthfeel was soft and full-bodied with bold tannins. The finish was fruity with fruit yielding to spice.
Tannat 2015 was 15% alcohol. This opaque black purple wine had an aroma of black fruits. The taste was reminiscent of blackberries, black plums and baking spices. The mouthfeel was smooth with bold tannins and a full body. The finish was fruity. Late Harvest Tannat 2016 was an opaque, black purple color with 18% alcohol. The aroma was of black jammy fruits. The taste offered notes of blackberries. This was a full-bodied wine with bold tannins. The finish was fruity.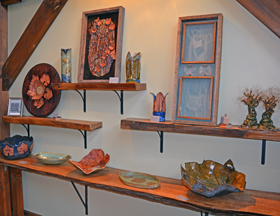 Hawkmoth Arts
Sandy is the inspiration behind Hawkmoth Arts. While her degree was in drawing and painting, she has discovered that ceramics is a better companion for wine. Artwork is displayed on shelves, adding a lovely ambiance to the room. Most of her work is completed in a small, dedicated room off of the winery tasting room. A small closet-size room with clear doors allows visitors to see the kiln where her works of art are dried.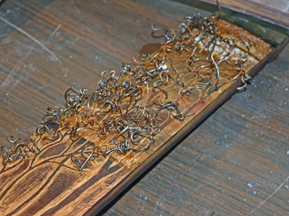 Some of the pieces of art have wood frames and Jason, during the slower months of the winemaking year, crafts the frames. A work of art was in the process of completion which was particularly interesting. Sandy was crafting it with oak staves and tendrils from grapevines.
The wine and art concept at Arterra reflects a Japanese concept, Wabi Sabi. High on the white walls of the tasting room, visitors will see these concepts written.
• Appreciation for the Genuine Integrity of Natural Objects and Processes
• Reverence for Authenticity and Earthiness
• Seeing Beauty in Impermanence, Transience and NonPerfection.
To discover delicious, native wines and unique pieces of artwork, be sure to include a visit to Arterra Wines and Hawkmoth Arts gallery.

Arterra Wines
1808 Leeds Manor Road
Delaplane, Virginia 20144  
GPS: N38º 58.0728' W77º 58.2863'
Article written March 2017.
---
Visit these Virginia wineries and wine tour groups that partner with Wine Trail Traveler.