Naked Mountain Vineyard
by
K.L. Sullivan
The drive to Naked Mountain was very pleasant. A long, narrow driveway wound among trees around a hairpin curve. Just before the curve is a sign "Honk," to alert others coming from the opposite direction. Drive slowly.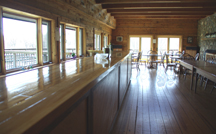 Naked Mountain's tasting room is a long, bright rectangular room. Stairs lead down to the winery. The tasting room has a warm, country feel to it with light wood floors, ceiling and rough hewn wood walls. The number of windows provides a good amount of light and lovely views of Naked Mountain's vineyards. Attached to the tasting room and along one side of the barrel room is a deck with assorted tables. The deck provides a large space for people to enjoy a glass of wine on a summer day. October is the busiest month at the winery. The changing leaves provide even more reason to visit Naked Mountain at this time of year.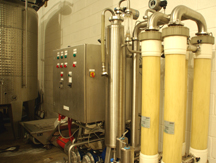 The winery and tasting room building built into the side of a hill, benefits the winery by taking advantage of the cooling ground temperatures. The winery has a filtering system we had not seen before. This particular filtering system has self-cleaning filters. Several stainless steel tanks were also in the room. The barrel room is located in a separate building near the tasting room.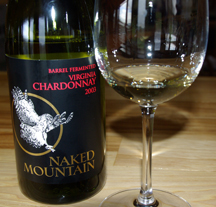 We sampled several wines beginning with a 2005 Sauvignon Blanc, which we found to be light and refreshing with a nice aftertaste. Our host offered us the opportunity to compare the 2003 and 2004 barrel fermented Chardonnay. The 2003 was buttery while the 2004 was less buttery but had more fruit flavor. The barrel fermented Chardonnay is their signature wine and served at two State Dinners at the White House. Naked Mountain's 2004 Raptor Red is a Bordeaux blend with 65% Cabernet Franc, 26% Tannat, 8% Merlot and 1 % Petit Verdot. The 2006 Chardonnay/Riesling with 89% Chardonnay and 11% Riesling had a honeysuckle bouquet and a very long aftertaste with a honey taste and a good acid on the finish. The off dry Rosé, 2006 Cabernet Franc Rosé, was crisp with a long after taste.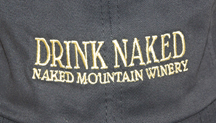 All the wine bottles use a red-shouldered hawk image on the labels. This red-shouldered hawk visits Naked Mountain during its migrations. The winery has a unique slogan: Drink Naked. You can buy hats, aprons and shirts with the Drink Naked slogan written on them. We have encountered other visitors to wineries throughout the country who remember Naked Mountain by this slogan. Phoebe told us that they sold tee shirts before they ever sold a bottle of wine.
The tasting room sells more than two-thirds of Naked Mountain's wine. Riesling is a popular wine but the general climate in Virginia is too warm for the Riesling grape to grow well. Situated where it is, enables Naked Mountain to successfully grow Riesling grapes in their vineyards. Riesling sells out quickly, usually in about two months.
Featured at Naked Mountain are a number of events. Possible events include five-course winemaker's dinners, open houses, and a yearly June birthday party for the winery. A winter tradition for Naked Mountain is the lasagna lunches prepared by a chef. A glass of wine will be included for an extra charge. These lasagna lunches are very popular. Check their events schedule. The tasting room, which seats about 40, is available for rental after hours for private events.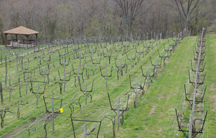 Naked Mountain has six acres of vineyards and purchases other grapes from within the state of Virginia. The winery produces 5,000 to 7,000 cases of wine. To bottle their wines, they use a bottling truck, which comes to the winery about three times a year.
When Bob and Phoebe Harper began the vineyard in 1972, many naysayers said a vineyard would not be successful. This area was for apple orchards. By using the French trellis system, Bob proved them wrong and successfully built a fine vineyard and winery. The French lyre trellis system exposes the grapes to more sun and breeze. Bob has been the winemaker and vineyard manager since the beginning of Naked Mountain Vineyard and Winery. Currently Don Oldham and Kristen Parsons assist Bob as winemakers. The Harpers sold their grapes to other wineries until 1981 when they became a licensed winery. We were curious as to the name of Naked Mountain Winery. History is behind the name. John Marshall's family, the fourth Supreme Court Justice, owned this property and the name Naked Mountain is on a deed from 1765.

We are sure you will enjoy a visit to Naked Mountain. Just the journey to the winery is a wonderful country trip and enhanced by a stop at Naked Mountain's tasting room.
Naked Mountain Vineyard
Markham, Virginia

---
Visit these Virginia wineries and wine tour groups that partner with Wine Trail Traveler.