Loudoun Valley Vineyards
by
Kathy Sullivan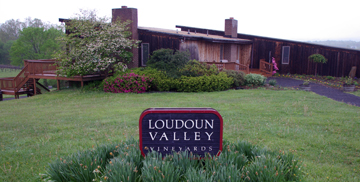 Summary: Loudoun Valley Vineyards, owned by Bree Ann and Cameron Moore is a friendly winery to visit. Cameron commented that this is a kid and family friendly winery. The owners strive for Loudoun Valley Vineyards to offer a welcoming, fun, and relaxed environment to taste wines.

The Moores purchased the winery in 2008. Located in Loudoun County Virginia, the winery is not far from Leesburg. One of the early decisions the Moores made was whether to keep the name Loudoun Valley or change the name. They received several telephone calls from people interested in the name if they were going to rename the winery. Bree Ann and Cameron decided they should keep the name and change the bottle label design. This is a family friendly winery. It is a welcoming and relaxing winery with quality wines to taste. The winery is also pet friendly; please remember to bring your pet on a leash. One of the yearly events is the "bring your dog to the vineyard day."
Bree Ann is the winemaker and her interest in wine goes back to visiting Sonoma wineries with her parents while she was growing up. She attended the University of California, Davis and interned at Beringer Vineyards. Bree Ann is also a consultant to several Virginia area wineries.
Winery and Tasting Room
Visitors to the winery will discover a friendly winery with tables and chairs inside and outside on a deck. These are available for enjoying a snack and a glass or bottle of wine. Large windows facing vineyards add to the ambiance of the tasting room. There are two seating areas and two tasting bars in the tasting room. Two fireplaces add to the welcoming atmosphere of the room. A doorway off the tasting room leads to a platform that overlooks the winemaking area.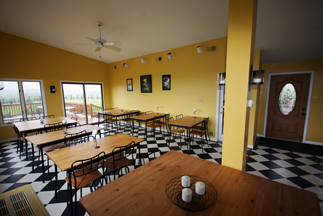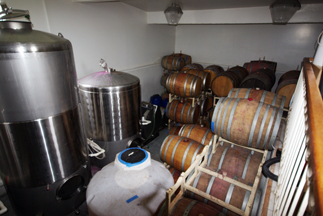 Light food encourages people to stay awhile and is available for purchase in the tasting room. The food choices are divided between a cheese plate and a picnic. The cheese plate consists of Brie or Boursin, bread and fruit. The picnic selection adds cookies and salami to the cheese plate.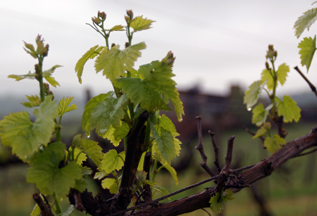 The Vineyards
The vineyards were planted by previous owners and are 20 years old. The onsite vines consist of 11 acres of Cabernet Franc, Chardonnay and Chambourcin. Currently the winery produces 4,500 to 5,000 cases and the Moores would like to increase to 10,000 cases.
Red Wines
Vinifera Red 2008 was a blend of Cabernet Franc, Mourvedre and Syrah. The aroma and taste were of oak and dark fruit. The crisp, fruity finish offered mild tannins. Merlot 2005 was a sienna color. The aroma and taste offered black cherry nuances and hints of smoke. There were mild tannins on the finish with fruit and spice notes.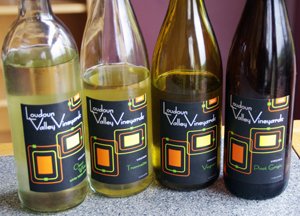 White Wines
Pinot Grigio 2008 offered a floral aroma with a citrus taste. This wine had a crisp and citrusy finish. Viognier 2008 had an apricot aroma with a taste of apricot notes. There was a smooth mouth feel. The finish was crisp and dry with a long apricot aftertaste.
Dessert Wine
Legacy was an Italian-style Port made from Touriga Nacional. The aroma was of raisins while the taste was silky with notes of dried fruit. There was no heat on the fruity finish. This was a light bodied port. This Port was produced using the "apasimento" method (leaving the grapes partially withered like raisins). The wine was made into a recioto style (sweet dessert wine).
Events
The winery features events including their very popular Mother's Day event. Families are encouraged to visit the winery. There are snacks and juice available for children. Private events can also be scheduled at the winery including weddings.
We enjoyed our tasting at Loudoun Valley Vineyards with Cameron Moore. His enthusiasm for Bree Ann's wines indicates he is proud of her accomplishments in the world of wine. Enjoy a visit to Loudoun Valley Vineyards.
Loudoun Valley Vineyards
38516 CharlesTown Pike
Waterford, Virginia 20197

GPS: N39º 11. W77º 40.157'
---
Visit these Virginia wineries and wine tour groups that partner with Wine Trail Traveler.