Sunset Hills Vineyard
by
Kathy Sullivan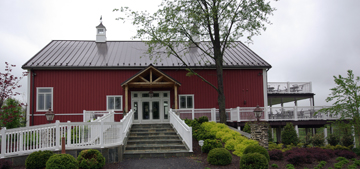 Summary: Sunset Hills Vineyard is located in Purcellville, Virginia. The approach to Sunset Hills Vineyard tasting room is colorful with bright, white fencing leading up the bluestone steps to the double doors of the tasting room. Inside, visitors will be greeted quickly. The winery and tasting room are located in a restored German-style bank barn dating from the Civil War period.
The owners of Sunset Hill Vineyard are Michael and Diane Canney, a couple who is very interested in the drink local wine and local food movements.
Sunset Hills Vineyard is located in a 140-year-old bank barn that has been renovated and yet they were able to keep most of the original wood. Restoration began in 2007 and the tasting room was opened a year and a half later. With the help of both Amish and Mennonite groups, the barn is stunning. An Amish group from Lancaster, Pennsylvania refinished the wood while a group of Mennonites repaired the grout of the stonewalls and sand blasted the stones. The result of this work is a beautiful tasting room and winery with a history behind it. Additions to the barn included plumbing for restrooms and a kitchen. The full kitchen is available for catered events.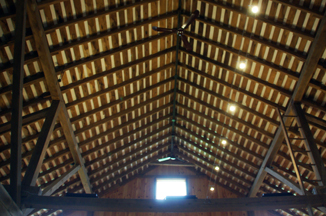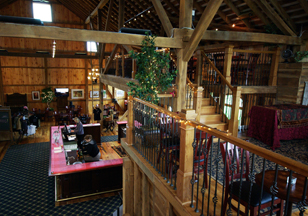 The first level visitors walk into is the tasting room where a large hand crafted wood counter is available for tastings. To the left is an area of tables and chairs for enjoying a bottle of wine. Watercolor paintings by Alex Carr are on the walls. To the right, stairs lead to second and third areas with tables and chairs. These additional areas are available for Wine Club members. A deck is available outside both the first and second levels. These decks overlook the vineyards and a large pond.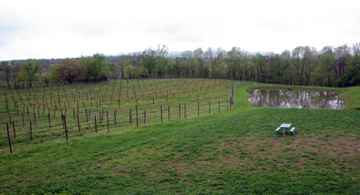 Many events both public and private take place at Sunset Hills Vineyard. Public events include Sunset Wine Downs and Sunday Music. In addition, as part of the General's Wine & History Trail, they also provide occasional history talks. Enjoy learning about history with either a glass of wine or choose something from the History Wine & Dine Menu.
The Vineyards
The vineyards occupy about 20 acres of vines. Varietal grapes include Chardonnay, Viognier, Albarino, Petit Manseng, Merlot, Cabernet Sauvignon, Cabernet Franc and Petit Verdot. The winery also leases vineyards.
The Winery
The winery is located below the tasting room. An adjacent room is for aging wines in oak barrels. A special small event space, the Chandelier Room, is also here that can be a bride's room or used for small special events such as the release of new wines.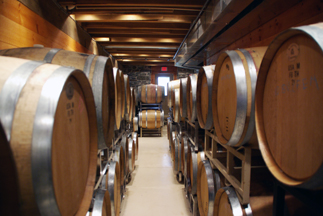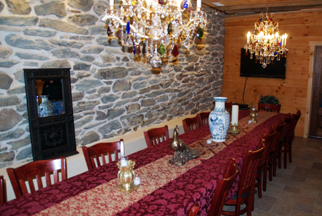 White Wines
Unoaked Chardonnay 2008 had apple and citrus nuances on the aroma. The taste was smooth with citrus and apple notes. The finish was crisp. Reserve Chardonnay 2008 offered citrus notes on the aroma and taste. Viognier 2008 had floral with apricot nuances. The taste offered notes of apricot. The finish was crisp. It was slightly sweet with two percent residual sugar.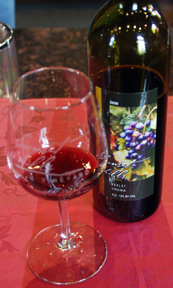 Red Wines
Cabernet Franc Reserve 2008 was a red translucent color. The taste was of black fruit and spice. There were very mild tannins on the finish. Merlot 2008 offered a taste and finish that was earthy with berries. There were tannins, fruit and spice notes on the finish. Sunset Red 2008 was a blend of Cabernet Sauvignon, Merlot, Petit Verdot and Malbec. This dark ruby wine offered blackberries and black cherry notes. There were tannins on the crisp finish. Cabernet Sauvignon 2007 was a dark ruby color with a blackberry aroma. The taste was of blackberries. The finish offered tannins with a fruit aftertaste. Reserve Cabernet Franc 2007 was a dark ruby color. There were black fruit nuances on the aroma and taste. The finish had tannins and was fruity with spice.
Enjoy spending time at Sunset Hills Vineyard where you will discover quality wines and a warm welcome.
Sunset Hills Vineyard, LLC  
38295 Fremont Overlook Lane
Purcellville, Virginia 20132  
GPS: N39º 10.765' W77º 40.673'
---
Visit these Virginia wineries and wine tour groups that partner with Wine Trail Traveler.