Breaux Vineyards
by
K. L. Sullivan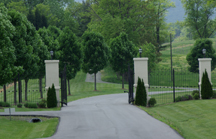 Traveling among the rolling hills of Loudoun County, Virginia, we arrived at a sign indicating Breaux Vineyards. The approach to Breaux Vineyards is a long and winding paved driveway passing through some of the vineyards. The drive ends with a circle where a short walk on sidewalks takes visitors to a beautifully landscaped area outside the tasting room. A parking area is to the right. Inside the circle, a large sculpture greets visitors. We discovered that although the sculpture did not have a name when purchased from a local artist, that Jennifer Breaux Blosser refers to it as grapes on sticks. The landscaping outside of the building is elegant and we learned that numerous weddings take place on this site. A large patio and the adjacent grass area have numerous tables and chairs. This is a lovely spot for picnics while enjoying a glass or bottle of your favorite Breaux wine. Picnic foods are available inside the tasting room.
Breaux Vineyards is a family owned and operated winery and vineyard. The land was purchased in 1994 and already had three acres of grapes planted at the time of purchase. With the help of Dave Collins, the winemaker, the family began to produce wines as a hobby. The hobby wines were so successful, Paul Breaux, Owner, decided to invest in the equipment and vineyard practices necessary for a commercial enterprise. The second generation is now involved and they are wondering if the third generation will follow in their footsteps.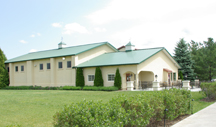 Inside the tasting room, we met the married team of Chris and Jennifer. Chris Blosser is the General Manager and Jennifer Breaux Blosser is the Hospitality and Events Manager. We found it delightful to talk with them about Breaux Vineyards, its origins and its future. Paul Breaux, CEO, was inspired to begin a winery after touring wineries in California and Italy. Today Breaux has 85 plus acres of grapevines. Breaux uses about 30% of their grapes for producing fine wines. The rest of the grapes they sell to other wineries. Breaux Vineyards is "very selective" and currently produces 10,000 cases of wine. This number may increase in future years.
Chris and Jennifer would like consumers to know that this is definitely a destination spot for visitors with beautiful scenery. By visiting Breaux Vineyards, the visitor can have the experience, ambiance, tranquility, hospitality, scenery, great wines and learn about wine all in one spot. As Chris stated, Breaux Vineyards is a "Well balanced palate of fun."
Currently Chris and Jennifer feel they are at a point where the tasting room is too small. On busy weekends, tasting tables are setup outside the tasting room. Plans are also anticipated for a larger warehouse in order to produce more wine.
Events at Breaux include weddings and corporate events. Cajun events are also included because Paul Breaux is from Louisiana. Most weddings take place outside, although small weddings can be held in the tasting room. Corporate events may be held in the barrel room and tasting room.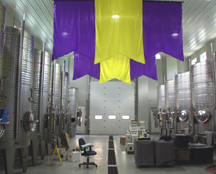 Our tour with assistant winemaker, David Kozloski, was incredible. He is one of the most enthusiastic and energy filled winemakers we have met in our travels. Our first stop was the tank room where there were several 1,800 gallon capacity tanks and 3,000 gallon capacity tanks. Just off the tank room was a small laboratory. One of the neatest and well-organized winery laboratories we have yet to see. On the bench was an iodine test apparatus that does three tests in one.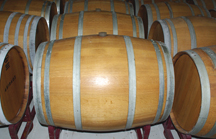 The barrel room has about 540 barrels. Currently the winemaker uses French, Hungarian and American oak barrels. The outside of the barrels are treated with mildewcide. This helps to prevent mold from growing on the outside of the barrels and keeps the barrels looking nice even when red wine spills on the barrel. The barrel room has two of the first barrels used at Breaux. These old barrels along with other old winemaking equipment are kept in anticipation of a future museum.
This was the first winery where we have seen the press pad inside. The bladder press can press 16 tons of grapes. A large room is set aside for the large bottling machine. Breaux likes to keep all equipment clean at all times as was evident on our tour.
After our tour with the assistant winemaker, we stopped at the tasting counter where a friendly and knowledgeable hospitality associate, Meredith Wilson, guided us in tasting several wines produced at Breaux Vineyards. The wines we tasted included Madeleine's Chardonnay, Syrah Rose, Les Amis, and more. The Syrah Rose was very good, with a nice fruit and acid balance. We noticed some effervescence on the palate. This would make an excellent summertime, anytime wine. The Viognier had a nice fruit taste with some effervescence. The Les Amis would make a lovely refreshing summer wine.
While we tasted these quality wines, we met Breaux's winemaker, Dave Collins. Dave likes working with vinifera grapes. He noted that he uses only the best grapes grown on Breaux property. Dave planted the original three acres of grapes in the mid 1980s before Paul Breaux bought the property. Those original vines are still producing grapes. Not only is Breaux a family-run winery and vineyard, it is also a team effort by everyone involved in the winery. When talking to anyone at the winery it became clear that it is a total team effort.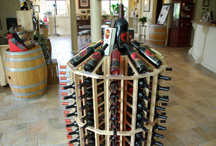 The tasting room counter is composed of marble. The tasting room is decorated tastefully and wine accessories are available for purchase including wine tags and wine mulling spices. A lovely circular display of wine bottles is a focal point in the tasting room.
Jennifer sums up the winery life at Breaux Vineyards by saying, "It's all about a way of life." Jennifer can walk to work and says there is not a single day when she does not want to come to work. Their children are able to come to the winery after school and their oldest son works in the vineyards on weekends.
Breaux Vineyards
Purcellville, VA

---
Visit these Virginia wineries and wine tour groups that partner with Wine Trail Traveler.