Narmada Winery
by
Kathy Sullivan

Summary: The owners of Narmada Winery, write "Experience India…Taste Virginia." This is a delightful way to describe the Narmada Winery experience. The goal of the owners is for the winery to be "the" destination winery in Virginia.
Narmada Winery located in Amissville, Virginia is a sophisticated winery where visitors will enjoy Narmada's Virginia wines and a variety of retail items from India. Just outside the tasting room door, visitors will see a dark red peacock created from horseshoes. The tasting room offers an elegant atmosphere. Note the peacock symbols during your visit. Peacocks are India's national bird. For many a peacock brings happiness. In addition to the peacocks the tasting room has a number of traditional artifacts from India.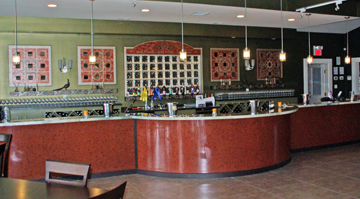 Narmada's tasting room, opened in November 2009. The tasting counter is long with a curve in the center. Behind the counter the wall is covered with a variety of types of artwork. Enjoy perusing the artistic wall while tasting Narmada's wines. The tasting room is spacious with numerous bistro tables. A large fireplace adds to the ambience of the room. Large windows provide plenty of light. The windows open to the wraparound deck. This is the perfect spot to enjoy a glass of wine.
The Patils want Narmada Winery to be "the" destination winery in Virginia. In addition to providing quality wines, they want to make every customer feel valued and important. The tasting room is elegant and provides a wonderful place to taste wines and relax.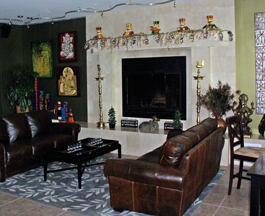 Pandit and Sudha Patil established Narmada Winery in 2001. The Patils named the winery after Pandit's mother. Pandit has enormous respect for his mother and provided an example of her goodness. While growing up in India, Pandit was offered a full scholarship in the United States. Everything was included except for his airfare. He did not have the money for the airfare. His mother helped Pandit by selling her jewelry so he could pursue his education.
In his career, Pandit traveled around the world. When he traveled he always purchased wine. Eventually he decided to build a winery and vineyard. Pandit and Sudha enjoy being around people. "Nobody leaves without Pandit or Sudha greeting them."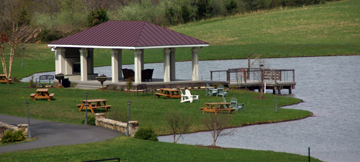 Vineyards at Narmada
The first vineyards were planted with Vidal Blanc in 2002. Additional grapevines were added 2003 and 2009. Currently the winery has 15 acres of vineyards and plans to add Chambourcin, Chardonel, Traminette, Merlot, Cabernet Franc and Cabernet Sauvignon.
The vineyards slope down towards a pond. Next to the pond is a pavilion that is used for special events as well as a spot to enjoy the beauty of the area. Currently the Narmada Winery produces 3,000 cases and may grow to 5,000 cases in the future.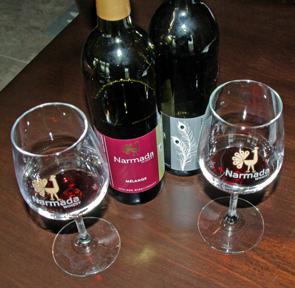 White Wines
Chardonnay 2009 was a light straw color; there were apple and pear nuances on the aroma and taste. The crisp finish was fruity with caramel. Dream 2009 was produced from 100 percent Traminette. The aroma offered floral notes while the taste had additional notes of roses and honeysuckle. The finish was crisp and drying.
Red Wines
Reflection 2009 was produced with Chambourcin grapes. The color was rose/purple. The aroma and taste had red berry fruit notes and mild tannins. Cabernet Franc was a blend of Cabernet Franc and Tannat. The result was a wine that was light purple. The aroma and taste offered dark fruit notes with hints of violets. The finish was fruity with tannins. Yash-Vir 2009 was a blend of Merlot, Petit Verdot, Cabernet Franc and Cabernet Sauvignon. This ruby color wine had notes of dark fruit for the aroma and taste and finished with tannins.
Dessert Wine
Lotus 2009 was a Late Harvest Vidal. This light straw color dessert wine offered apricot nuances. The taste was sweet. The crisp finish cut the sweetness. There was a long apricot aftertaste. Primita 2008 is a red dessert wine produced from Chambourcin grapes. The residual sugar is nine percent and suggested pairings are Black Forest Cake or dark chocolate.
Foods Available in the Tasting Room
Narmada provides a light menu that includes India and American cuisines. Visitors will want to try something from the menu that includes fried India pastries, spicy mashed potato and vegetable cakes with Indian yogurt sauce, Indian bread with hummus. The menu includes an antipasto platter and cheese platters.
Events at Narmada
Narmada Winery displays local artists' work. Every two and a half months the winery holds a "Meet the Artist Night." On Friday, Saturdays and Sundays Narmada features live music events. Visitors celebrating their anniversary or birthday are offered a free glass of wine.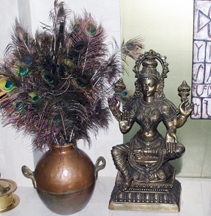 Private events can be scheduled at the winery, tasting room, crush pad, pavilion and vineyards. Choose the location that would be best for your wedding, business meeting, birthday party or anniversary celebration.
Enjoy a visit to Narmada Winery for a delightful total experience of wine, food and Virginia countryside views.
Narmada Winery
43 Narmada Lane
Amissville, Virginia 20106-4170
GPS: N38º 41.475' W78º 01.572'
---
Visit these Virginia wineries and wine tour groups that partner with Wine Trail Traveler.