Philip Carter Winery of Virginia
by
Kathy Sullivan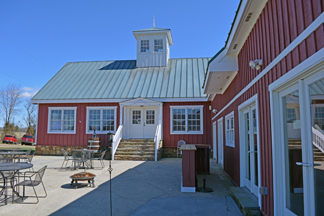 Summary: The Philip Carter Winery of Virginia can trace its winemaking heritage back to 1700s. Today the descendants are recreating and celebrating wine history near Hume, Virginia. Red and white wines in a variety of styles are available for tasting. The winery uses the tag line, "Founding Family of American Wine™."
A visit to Philip Carter Winery of Virginia takes wine enthusiasts to a two-story building built in 2000s with a long addition that is the tasting room. The facility is red with white trim and a green roof. Inside the tasting room, one wall has a large fireplace with several framed documents explaining the history of the winemaking family.
The apex-shaped ceiling and the light colored walls provide a spacious feeling. The walls are decorated with numerous large original works of art. Several tables provide seating for those who want to spend extra time at the winery enjoying a glass of wine.
History
In 1762, Charles Carter had a producing vineyard, made wine and sent 12 bottles each of two different wines to England, one made from an American varietal and the other of a white Portuguese varietal. The vineyard was in King George County in Virginia's Northern Neck region. His wines received international acclaim on October 20, 1762 as being of excellent quality. These were the first internationally acclaimed wines produced in America. Charles Carter died in 1764 but he was able to produce wine before the grapevines succumbed to phylloxera. It is interesting to note that the Carter family did not again become involved in the wine industry until recently when Philip Carter arrived on the scene. Philip Carter, had wanted to own a winery since his youth. Philip Carter has experience helping other wineries. Eventually he purchased the current property that was originally the Stillhouse winery.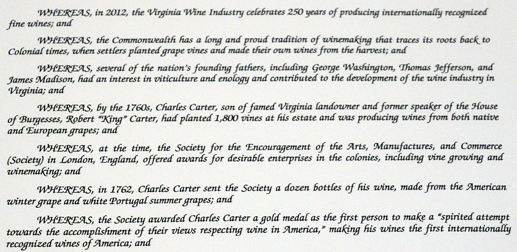 The back labels of some of the Philip Carter wines explain more of the history. "In 1762, the Carter family cultivated over 1,800 vines and produced wine at Cleve Plantation, on the rolling banks of Virginia's Rappahannock River. These quality Cleve wines, receiving international attention, were awarded a medal by the Royal Society for the Encouragement of the Arts, UK." Another label read, "One of colonial Virginia's most important houses Robert "King" Carter's Corotoman™(circa 1725) stretched an impressive 90 by 40 feet along the banks of the Rappahannock River in Lancaster County, Virginia. Graced by an arcaded piazza, a second-story gallery and multiple pavilions, Corotoman™ signified Carter's position as Virginia's wealthiest, most powerful tobacco planter. Carter stocked Corotoman™'s cellars with the finest wines but lost some 900 bottles when fire destroyed the mansion in 1729."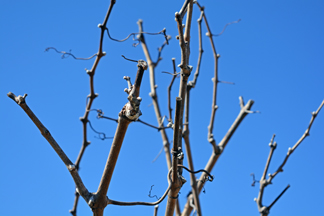 Philip Carter Vineyards
Today, the property at Philip Carter Winery consists of 27 acres. Currently 18 acres are under vine. These vineyards are planted with Viognier, Vidal, Chardonnay, Cabernet Franc, Cabernet Sauvignon, Norton, Petit Verdot and Tannat. There is also a 55-acre vineyard site eight miles north in Delaplane. In 2017 the site will have plantings of Chardonnay, Viognier and Albariño.
Adjacent to the tasting room, a large patio has numerous wrought iron tables and chairs as well many picnic tables for guests who would like to spend time relaxing with scenic views of the vineyards and the Virginia hills beyond.
Philip Carter Wines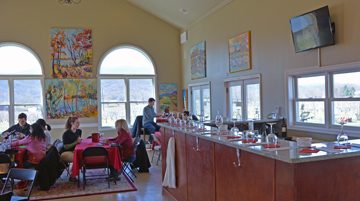 Sabine Hall 2016 was produced with Viognier. Sabine Hall is a name of a Carter family plantation. The light yellow colored wine was fermented in oak and aged in stainless steel. The aroma was floral with tropical fruit notes. The taste was of white peach, citrus and mineral. The wine was medium-full bodied. The finish was crisp and fruity. Consider this wine especially for warm weather days. Governor 2014 was named after Governor Fauquier. The Governor was friends with Charles Carter. The residual sugar of the wine was 10 grams per liter. This Vidal Blanc offered notes of floral, blossoms and white peach.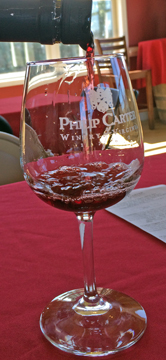 Cabernet Franc Nomini Hall 2014 was named for the home of King Carter III. This translucent ruby colored wine had an aroma of red and black fruits. The taste reminded one of cherries, plums and spice. This was a full-bodied wine with medium tannins. The wine had a long, fruity aftertaste. Corotoman 2013 was named for the plantation where Charles Carter's father (Robert King Carter) planted grapevines. This was a blend of Petit Verdot, Merlot, Cabernet Franc and Cabernet Sauvignon. The wine was a translucent ruby color. The aroma was of black fruits. The taste offered notes of blackberries, blueberries, black cherries and spices. The wine was full-bodied with medium-bold tannins. The fruit on the finish yielded to spices.
1762 was a port-style wine. This 2013 wine was produced with Chambourcin and fortified with grape brandy. It was aged in whiskey barrels. The alcohol was 17 1/2%. This translucent ruby colored wine had an aroma of dried fruits. The taste notes included dried fruits and chocolate. The wine was full-bodied. The finish was sweet with notes of dried fruits.
When planning a visit to Philip Carter Winery, consider scheduling in advance a tour of the winery. A tour includes a delightful basket of goodies.
Philip Carter Winery
4366 Stillhouse Rd,
Hume, Virginia 22639
GPS: N38º 51.3496' W77º 59.4792'
Article written March 2017.
---
Visit these Virginia wineries and wine tour groups that partner with Wine Trail Traveler.