Quattro Goomba's's
by
Kathy Sullivan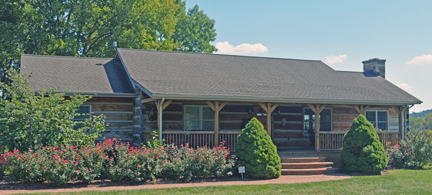 Summary: Quattro Goomba's is a family owned and run winery in Loudoun County. Quattro Goomba's is easily located on James Monroe Highway. All wines are sold at the winery. Quattro Goomba's also has a microbrewery and pizza shop on adjacent properties.

The family winery is owned by Jay and Jody DeCianno and two friends David and Carol Camden. Jay is the winemaker. In addition to the tasting room and event building, Quattro Goomba's has a winery building with a pizza shop and a microbrewery.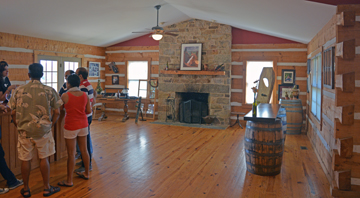 The tasting room is located in a renovated log cabin building. There are two tasting areas along the sides of this honey-toned wood interior room. A stone fireplace at one end is a central focus point. The wall near the fireplace has photos of the owner's family members. Outside the tasting room there is a large wood deck with tables and chairs. The downstairs has a nicely furnished large room sectioned into three areas for events. Music events take place on Friday and Saturday nights.
Jay DeCianno grew up in an Italian family. He remembers his grandfather and father always making a red table wine. These memories were the start of Jay's interest in making a red wine like his grandfather made. In what was at first an experiment, Jay began a batch of red wine the way his grandfather made wine. Quickly one barrel grew to 200 cases out of the house. This hobby for Jay eventually launched into the commercial winemaking for Quattro Goomba's (Four Friends). Several years later Quattro Goomba's moved from the original location to the current building. Jody mentioned that for the first few years Jay, an electrical engineer, worked for seven days a week. Today Jay is a full-time owner and winemaker.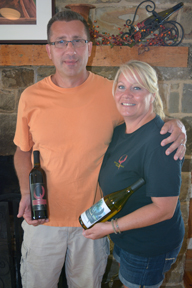 When moving to the new location in Loudoun County, the owners made the decision to use a consultant winemaker to improve their wines. Today Jay is producing the wines solo. Current production is 2,000 cases.
Through it all Jay has been a self-taught winemaker. All wines are produced with whole grapes. Today he sources grapes from Lodi, California and Chile. Quattro Goomba's also has their own vines with 100 Traminette and Chambourcin grapesvines. Nearby along Route 15, Jay and Jody have another vineyard where they are growing Viognier.
Grandfather's Secret Red Wine
Jay's grandfather's recipe is a secret even from his wife with her approval. Jody felt it would be too easy for her to tell visitors what grape varieties were used in the wine. The only clues to the red wine is that it is produced with two red and one white grape varieties. Visitors can guess the varieties in the blend, but Jody only smiles in response.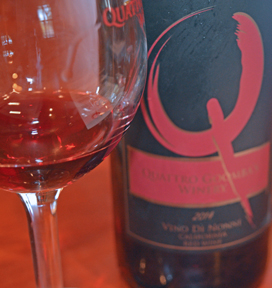 Quattro Goomba's Wines
Piney River White 2013 was a blend of Vidal Blanc and Viognier. This yellow wine offered notes of floral, stone fruit, citrus, apple and melon. The wine was crisp and fruity. Suggested food pairings included fish and pasta salad. Vino Dolce 2014 bottled in a blue bottle was very aromatic with fruit and honeysuckle notes. Use this wine as an aperitif or pair it with fresh fruit or a light dessert.
Grandfather's secret red wine is called Vino di Nonni. The 2014 was a blend of two red and one white. This translucent red with dark pink hue colored wine offered an aroma of perfume and red berry fruit. The taste had notes of roses, red raspberries and blackberries. The wine had very mild tannins and was medium bodied with a fruity finish. At the winery, visitors will find that this wine is "Easier to list what doesn't pair with." Tradizione 2014 was a blend of Cabernet Sauvignon, Petit Verdo, and Tannat. This 15.5% alcohol wine was in stainless steel tanks for six months and in bourbon barrels for nine months. This dark ruby colored wine had aromas of dark fruits. The taste offered blackberries, blackcaps and cassis. The wine was full bodied with tannins. The finish was crisp and fruity with a hint of bourbon. This is a nice wine for winter. Due to the alcohol, when drinking this wine stand up slowly.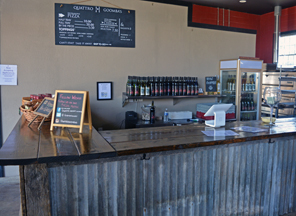 Quattro, the Pizza Shop
To distinguish the winery from other local wineries, Jay and Jody opened the Pizza shop in 2012. Just steps away from the winery, visitors can avail themselves of old Italian-style pizza, fresh baked baguettes and Goot Essa cheeses. Tables are available inside the building or enjoy the pizza and wine at tables outside the winery and pizza shop.
The pizza idea arose from Jay's years of making Italian-style pizza at home every other Friday night for the neighbors and friends. The pizza shop is located directly across from the winemaking area. It is open Thursdays thru Sundays.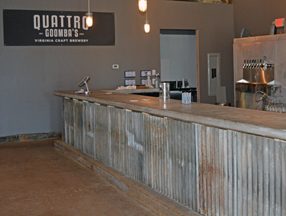 Microbrewery
The microbrewery is a recent addition for the owners. Although the property is within walking distance of the winery, visitors and guests are not allowed, by law, to carry alcohol from one entity to the other entity. Currently the microbrewery is producing 400 barrels of beer. There is a large tasting counter and tables where visitors can order a flight of beers to taste. Some of the beers include ale, IPA, saison, stout and dubbel.
Quattro Goomba's's Winery
22860 James Monroe Hwy
Aldie, VA
GPS: N38º 59.136' W77º 37.035'
Article written September 2015
---
Visit these Virginia wineries and wine tour groups that partner with Wine Trail Traveler.