Three Fox Vineyards
by
K. L. Sullivan
Summary: When you visit Three Fox Vineyards, you will find it to be very welcoming. Visitors are greeted promptly and with a smile. Take time to slow down and observe the vineyards and landscape. Several seating areas are scattered outside the wine tasting building in a large park-like setting. If you are looking for a special gift, check out the Vintner's Circle.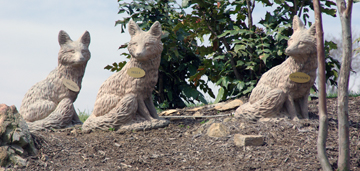 Three Fox Vineyards, a 50-acre estate, is delightful in every sense of the word. Upon entering the driveway that was easy to locate due to six large flags waving bravely in the breeze, we saw three fox statues welcoming us. While you enjoy your visit, you will see many statues and memorabilia of foxes. Holli and John chose the name of the vineyards after seeing three foxes in a single day.

This is definitely a stop you will want to make. Meet John and Holli Todhunter, owners and operators of Three Fox Vineyards. John and Holli began searching for a vineyard site in 2000. The area they chose was originally farmland and in May 2002, they planted vineyards. Today the vineyards are comprised of ten and a half acres.
The Todhunters, years earlier had fallen in love with the Tuscan area of Italy and called themselves "Italian in heart." They studied the vineyards and wines of Tuscany. The area of Virginia they chose to start the vineyards is reminiscent of Tuscany. John and Holli chose to plant Italian grape varieties including Sangiovese, Nebbiolo and Pinot Grigio in addition to Cabernet Franc, Merlot and Viognier.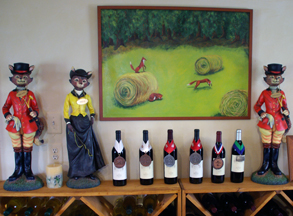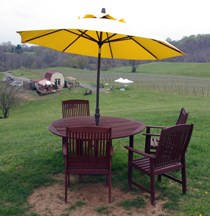 Upon entering the tasting room, you will see many "fox" related decorations. Everything from statues to paintings and even a chandelier with foxes holding the lights. Holli explained how they discovered the chandelier and ultimately ended up with this decorative chandelier for their tasting room. On a wall, is a large wreath decorated with fox masks and on a wall behind a tasting bar is a large painting of three foxes playing in a field. Today the tasting room building consists of two rooms with a tasting bar in each. As visitors enter, John or Holli warmly greet them and direct them to one of the tasting bars. When larger groups visit, a tasting bar is set outside. There are plans to build a new tasting room building about two and a half times larger than the present tasting room building. This new building will be built on the most sought after picnic site on the property.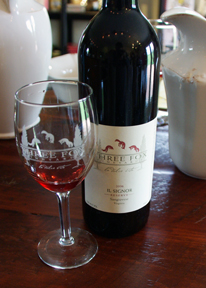 Today the winery produces 3,000 cases of wine and eventually will produce 5,000 cases. Wines available include Leggero Chardonnay 2007. Leggero is Italian for "light weight" and this wine had a pineapple nose and taste with a crisp finish. La Giacosa Chardonnay offered a citrus nose with a citrus fruit salad taste and crisp finish. Calabrese Pinot Grigio 2007 reminded us of a fruit salad of melons, apricots and honey. This was very smooth with a long finish. La Boheme Viognier 2007 gave pear and melons on the nose, with a very smooth mouth feel and a pear and melon taste. Appassionata Vidal 2007 had citrus on the nose and taste with three percent residual sugar that gave a hint of sweetness that balanced with the acid. The 2006 II Volpe Sangiovese (Volpe is Italian for fox) had a dark cherry nose and taste with a hint of pepper. This wine was crisp with tannins on the finish and cherries on the aftertaste. II Signor Sangiovese Reserve 2006 was aged in Hungarian oak. The result was cherries on the nose and taste with a crisp finish and soft tannins. Alouette Cabernet Franc 2006 had dark red fruit, chocolate and spices on the nose with a fruit taste, crisp finish and long aftertaste. Rosso Dolce Chambourcin 2007 was 100 percent Chambourcin with a 6% residual sugar. This wine has 10 – 11 percent alcohol with a red berries nose and taste and made to drink with chocolate. This was perfect for those who might like a port without the high alcohol content.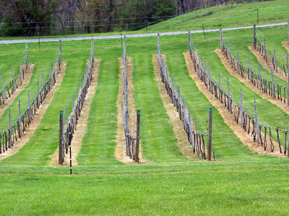 John who is the winemaker has been producing wine for 35 years and has learned his skill from hands-on tasks to seminars and courses. His favorite wine to produce is Sangiovese. We walked with Holli and John into the manicured vineyard. This is one of the nicest vineyards we have observed. Holli explained the reason why some posts had tags with individuals' names. Members of the Vintner's Circle sponsor five grapevines (a panel) for a year. You will have your name by your sponsored vines, receive a certificate, learn how to care for your vines, receive a 20 percent discount per case and much more. The cost for the first year is $120 and following years $100. What an original idea! Check it out and consider joining the Vintner's Circle. Membership in the Vintner's Circle will make an outstanding present for a wine lover.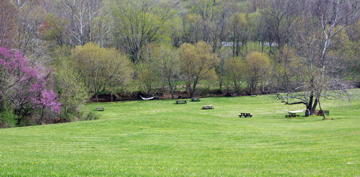 Located about 150 to 200 yards from the parking lot is a running creek, where picnic tables are available. When visiting Three Fox Vineyards, plan to spend the day. This large park-like area is a perfect site to bring children. Take a picnic lunch and enjoy it near a creek where John and Holli provide picnic tables. Visitors usually stop by the tasting room to purchase a bottle of wine to enjoy with their lunch. When planning your trip, remember no other alcoholic beverages are allowed on the property.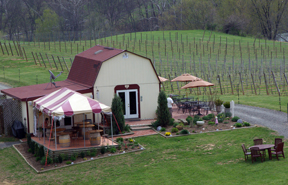 When one combines Italian style wines, atmosphere, location and outdoor activities available Three Fox Vineyards is a destination site that many people will enjoy. If you have the opportunity, be sure to visit Three Fox Vineyards.
Three Fox Vineyards
10100 Three Fox Lane
Delaplane, VA 20144


GPS: N 38 °91.610' W 077°92.561'
---
Visit these Virginia wineries and wine tour groups that partner with Wine Trail Traveler.