Delaplane Cellars
by
Kathy Sullivan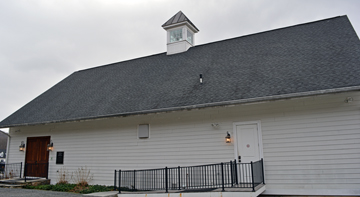 Summary: Delaplane Cellars located in Virginia's beautiful, idyllic countryside opened in the fall of 2009. The winery is located within minutes of Route 66 and Route 50. Today the winery offers wine tastings with an available food assortment. The winery offers cheese and salami food bites for purchase. Delaplane Cellars is very welcoming to anyone 21 or older.


Delaplane Cellars wants to emphasize and enhance the wine tasting experience for wine enthusiasts. Therefore only small groups, with six or less, are encouraged to visit. A sign outside the door also notes that children are not allowed in the tasting room.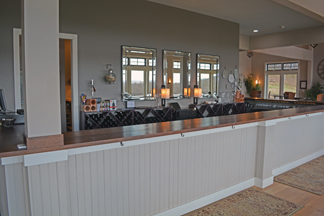 The tasting room and winery is located in a long, white-sided building topped with a small white cupola. The barn-like shape fits in well with the countryside landscape. The wood front entrance door was crafted from black walnut on the property. Just inside the tasting room doors, visitors will discover a sophisticated elegance with numerous windows overlooking the Virginia countryside. The U-shaped tasting counter is wood and provides plenty of space to taste wines. The counter is made from black walnut trees from the property that were felled prior to construction of the winery. Light fare and a Virginia sampler are available for purchase. Food items include salami and an assortment of cheeses.
Near the tasting counter several tables with seating for 3 or 4 people are located close to the windows overlooking the terrace. These tables provide great views of the scenery and offer protection from inclement weather.
A second floor above the main tasting room offers even more comfortable seating and perhaps a great place to spend a couple of hours enjoying wine and quiet conversation.
Delaplane Cellars Story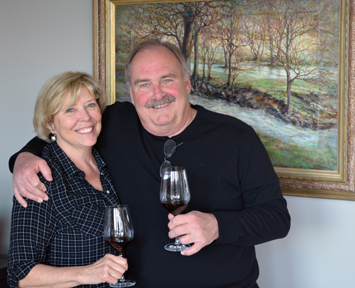 Jim and Betsy Dolphin are the entrepreneurs and winery owners in this winemaking enterprise. Jim had been in the corporate world for many years during which time he developed a taste for fine wine. Jim "wondered what it would be like to make this." For a time Jim made wine at home. He commented that the homemade wine was drinkable and that he won awards.
Jim and Betsy began a two year search for land and in June 2007 they purchased the current 32-acre property. In 2008 and 2009 Jim planted the vineyard. Delaplane Cellars opened the day after Thanksgiving in 2009. Jim commented that he had "no idea how hard it was." He said that the first couple of years he lost sleep.
Ten acres are under vine. Betsy was also involved in the vineyard planting along with several friends and a local vineyard crew. Grape varieties in the vineyards include: Cabernet Sauvignon, Merlot, Cabernet Franc, Petit Verdot, Sauvignon Blanc and Petit Manseng. Originally they had planted Tannat but unfortunately lost those grapevines to the weather in 2013/3014. Delaplane Cellars also sources grapes from other Virginia wineries.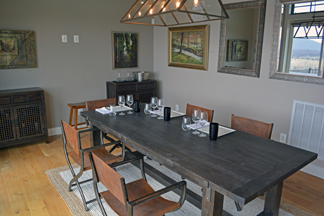 Our conversation with Jim took place in the newly constructed private event room adjacent to the tasting room. The room has a wall of glass overlooking the balcony/terrace and the countryside. Artistic paintings decorate the walls; several paintings appear three-dimensional.
During our conversation with Jim, he said, "Everything we do here we want to be high quality." While we talked with Jim, we had the opportunity to taste wines. Current production is 4,500 cases of wine which are self distributed.
Wines
Our wine tasting of Delaplane Cellars' wines was accompanied with a sliced baguette, sliced sausage and two types of cheese.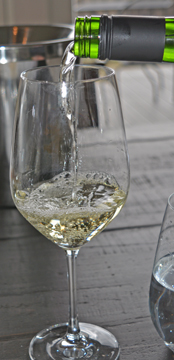 Vidal 2016 was a light yellow color. The aroma had floral notes and yellow stone fruit. The taste offered yellow stone fruit and citrus. The finish was crisp and fruity. This wine was barrel fermented in neutral oak. Estate Sauvignon Blanc 2016 was a light yellow color. The wine offered hints of lemon grass and tropical fruit. The finish was fruity and very crisp. Melange Blanc 2016 was a blend of Vidal, Viognier and Petit Manseng. The aroma had floral and citrus notes. The taste was of mineral and yellow stone fruit. The finish was crisp and fruity.
The Rosé 2016 was a blend of Cabernet Sauvignon, Merlot and Cabernet Franc with a splash of Syrah. The wine was an orange color with a red hue. The wine offered notes of red berry fruit. The finish was fruity ending with mineral notes.
While tasting the wines, Jim said that his winemaking protocol for red wines includes a "rigorous blend style for reds." The Duet 2014 was named Duet because the grapes were from two vineyards. The wine was produced with mostly Cabernet Franc with some Cabernet Sauvignon. This wine was an opaque dark ruby color. The aroma and taste were reminiscent of black fruits particularly blackberries and black cherries. The wine was full-bodied with medium bold tannins. Springlot 2014, a blend of Cabernet Sauvignon, Cabernet Franc, Merlot, Petit Verdot was an opaque ruby color. The wine offered an aroma of dark fruits, spices and earthiness. The taste reminded us of blackberries, plums, black cherries, baking spices and leather. The wine was full-bodied with bold tannins. The fruity finish yielded to spices. Left Bank Estate 2014 was a blend of estate grown fruit including Cabernet Franc, Cabernet Sauvignon, Merlot and Petit Verdot. This was an opaque dark ruby color. The aroma was of dark fruit and spices. The taste offered notes of blackberries, cassis, plum, blueberries and baking spices. The mouthfeel was smooth with a full body and bold tannins. The wine finished with fruit and spice.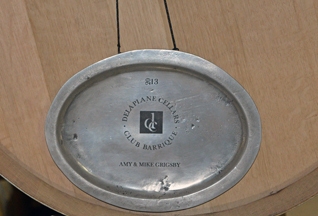 Below the tasting room area is the production and aging rooms. We noted that on some barrels there was a pewter plaque indicating that the barrel was bought by a Club Barrique member. The member purchased the barrel and Delaplane Cellars uses the barrel for four years. During that time the barrel owner receives a case of wine each year. After the four years, the owner receives the empty barrel. Jim added, " Club Barrique members also receive a multi course gourmet wine dinner (including lots of free wine) prepared by a local chef."
Delaplane Cellars' Events
Small events are available for wine club members. The winery also offers an annual barrel tasting for oak barrel owners. During the warm seasonal months, Delaplane offers music on Saturdays and Sundays. The winery also offers space for private events.
When you are looking for a quiet and sophisticated wine tasting produced with Virginia fruit, you will want to consider stopping by Delaplane Cellars.

Delaplane Cellars
2187 Winchester Road
Delaplane, Virginia 20144
GPS: N38º 57.0798' W77º 56.1749'
Article written March 2017.
---
Visit these Virginia wineries and wine tour groups that partner with Wine Trail Traveler.