Piedmont Vineyards and Winery, Inc.
by
K.L. Sullivan
On a warm, sunny September day, we traveled to Piedmont Vineyards and Winery. Located in the northern countryside of Virginia about 20 minutes from Leesburg, the winery is a delightful relief from the traffic congestion of the Virginia-DC metropolitan area.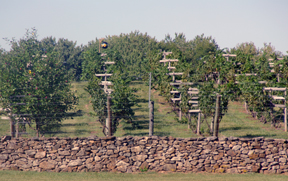 Historically, the land was a pre-Revolutionary estate called "Waverly." Construction on the private manor house began in 1755 and is now a Virginia Historical Landmark. In 1915, the owners built farm barns far from the manor house. By the early 1900's, the property had gone into a decline. In 1942, the property was restored and a dairy farm was begun. The dairy farm continued until 1973 when vineyards were planted. Today Piedmont Vineyards marks its place in history as one of the oldest Virginia wineries. They were the first Virginia winery to introduce Virginia to Chardonnay and the first to introduce vinifera commercially. The original vinifera vines came from Dr. Konstantin Frank in New York.
We met John Fitter, a soft-spoken winemaker who shared some of his beliefs about wine and talked about why he produces his current wines. Currently the vineyard consists of 10 acres of Chardonnay and the winery produces 3000 cases of wine. The tasting room staff sells one hundred percent of the wine.
John expressed his concern about protecting the vines from groundhogs and deer. This year he has lost three tons of grapes to the deer. John pointed out the wire fences placed around the vineyard and how this year they added netting to help reduce the destruction of the grapes. We spotted balloon type fixtures moving in the air above the vineyards. John explained these were to keep the birds away.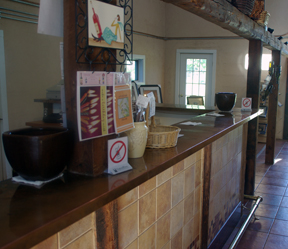 Piedmont's tasting room is large with a stone fireplace in the corner with comfortable chairs surrounding it. Several tables are available to sit at and enjoy a glass of wine. Outside the tasting room is a large patio with more tables, chairs and umbrellas.
The floor of the tasting room is of large ceramic squares and the tasting bar is copper.
We tasted several of the wines John produces. The Hunt Country Chardonnay has an apple taste with a nice acid and fruit balance. It has been in the barrel for 10 months and is refreshing. The Peach is dry and is the first dry peach we have tasted. It has a long peach aftertaste and can pair with food rather than dessert. The Hunt Country Red is off dry and easy to drink. It is a blend of 61 percent Cabernet Franc, 25 percent Merlot and 14 percent Cabernet Sauvignon. The Merlot has a red cherry fruit taste with a high acid and fruit taste and aftertaste. The Cabernet Sauvignon has a red stone fruit taste and tannins on the finish. Felicitá is a dessert wine that is not syrupy sweet. It has a nice acid level and has a clean finish. It is made with 60 percent Vidal Blanc and 40 percent Muscat.
Gifts and accessories are available. Books about cooking and wine are for sale. Lovely hand painted glassware, sets of lovely jewelry, jelly, framed prints, pesto, wine bags and candy are displayed.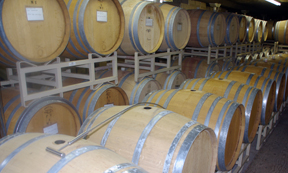 When the quality of fruit is very good, John chooses to make a native yeast Chardonnay. He believes that this helps to express the real terroir of the land. One of the issues in dealing with native yeast is that some native yeast does not do well with high alcohol levels and will die off at four or five percent. However, John has had good experiences with the native yeast and plans to continue to make a native yeast Chardonnay.
The summer of 2007 has been good for the grapes. The sugar level is at 23 brix due to the warm summer. John is looking forward to the 2007 production of wine.
John gave us a tour of the winery, which is a large renovated barn. Besides the tanks and oak barrels, a large bin was holding must, which was beginning to show signs of fermenting.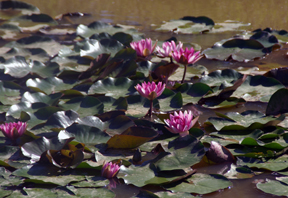 Outside of the barn and near the driveway are two ponds. Water lilies were thriving in one pond. Picnic tables were nearby. Across the driveway are well-maintained, high stone fences.
John enjoys his work as winemaker and as one of three full time staff members; he is continually busy. He mentioned that in spring of 2005, when due to a severe cold spell, had to work 48 hours with only two hours of sleep. These are not nine to five office hours but he enjoys what he does and is good at it.
If you are looking for a relaxing and enjoyable wine tasting, take a picnic lunch and enjoy some of Piedmont Vineyards' fine wines.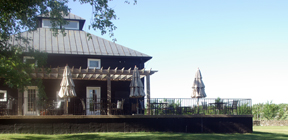 Piedmont Vineyards and Winery, Inc.
2546-D Halfway Road
The Plains, Virginia 20198
GPS: N 38° 55.830' W077° 44.718

---
Visit these Virginia wineries and wine tour groups that partner with Wine Trail Traveler.