The Winery at LaGrange
by
K.L. Sullivan
We were looking forward to our next winery adventure. This was an event for a small group, which had been sold out. The event involved an all day visit to one winery where we could delve into the mystery of winemaking. We drove into the Virginia countryside, looking forward to learning more about winemaking from start to finish.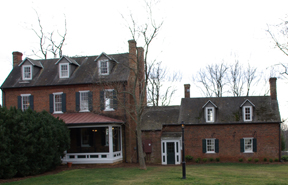 Our first sight of the winery was a large brick 18th century house. This is one of the unique aspects of this winery. We have visited numerous wineries, which were located in renovated barns but this was the first tasting room and winery that emphasized the historic property. The house dated back to the mid 1700's. After the war Washington gave Lafayette the honor of naming this property. Lafayette named it La Grange. There are many interesting stories associated with the house. If you like history this is an excellent winery to visit and talk about the history.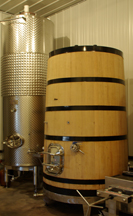 Across from the backside of the house is the winery, where we saw stainless steel tanks, oak tanks and oak barrels. A crusher and presser is also located outside the winery building. The Winery at La Grange was built in 2006. Renovation of the historic house was started and completed during 2006. Several acres of Cabernet Sauvignon were planted in 2006.
Fletcher, an enthusiastic winemaker, eagerly spoke with us about the history of the house, the vineyard and the winemaking process. He has extensive knowledge of winemaking in Spain. He related seeing a 125-year-old grape vine with a 100-foot taproot down an opening in a Spanish cliff.
Wine tastings are held in the historic house, which has been remodeled. Whether you're a history buff or not, buy a glass of wine and stroll through the second floor of the house which is reported haunted. There are plenty of places to sit and sip as you contemplate life on this estate centuries ago. There are two rooms designated on the first floor for wine. The first one is the tasting room and the second next one where one can purchase wine and wine accessories.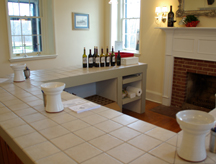 There is a $5.00 tasting fee that includes the glass. On the day of our visit the following wines were available for tasting: Pinot Grigio, Chardonnay, Viognier, Vidal Blanc, Norton, Melange, Claret, Cabernet Franc, Merlot, and Meritage. Current wine production is 7000 cases.
The Winery at LaGrange
For more information: The Winery at LaGrange


---
Visit these Virginia wineries and wine tour groups that partner with Wine Trail Traveler.