Chateau O'Brien at Northpoint
by
K.L. Sullivan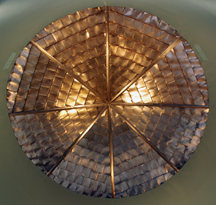 We arrived at the gates to Chateau O'Brien for a scheduled appointment on a Thursday afternoon. After Howard O'Brien, proprietor of Chateau O'Brien, opened the gates by remote control we proceeded up a steep slope passing vineyards planted on hillsides. Following the driveway around the chateau, we arrived at the parking lot that overlooks the winery and the vineyards.
The door to the chateau tasting rooms is made of copper. Later Howard told us how much he likes copper and we saw a number of other items in the building made of copper. Upon entering the chateau, we were in a small area with a large copper focal point in the ceiling. This is the only one of its kind in the United States. High over a doorway leading to a large deck, is a large unusual but stately wine bottle holder.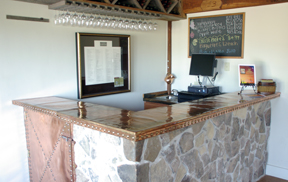 Howard explained that to our right was the tasting room and to the left was another tasting area and further on a large lounging area. Frequently both tasting rooms are open. Except for the wicker chairs, all other furniture in the lounge area is handmade. With a special room downstairs for Reserve tastings, Chateau O'Brien has three tasting areas. The wine racks in the Reserve Room are handmade. The room is reminiscent of an old wine cellar.
We went out on the deck with Howard and discussed Chateau O'Brien and his passion about creating wine. Howard is dynamic with regard to his beliefs about wine, marketing and other issues. He is passionate about creating great wines. "Ninety percent of wine is made in the vineyard." He only uses the grapes they grow here at the winery and two other remote locations in Virginia to produce wine. Howard's emphasis is to "focus on quality."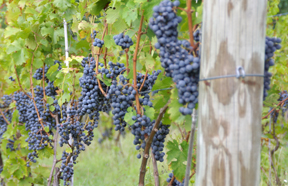 Here the grapes are handpicked and hand sorted. After going through the destemmer, the resulting mixture is gone through to pick out every piece of green and stems. He believes that it is important grapes are picked at just the right time not because it is more convenient.
For Howard, Chateau O'Brien is "homey, commercial, farm-like and has the personality of the owner."
Howard wants to be in control of the winery and does not use volunteers. When visitors come to the tasting room, he wants them to be greeted immediately. Howard works the tasting room with two good friends. This is another winery in the growing field of using biodynamics in their vineyards.
At Chateau O'Brien, events are important. Even though the winery opened November 2006, visitors are coming to taste and to participate in special events. A September event will be Chili at the Chateau when three award winning chilies will be served. An in-house chef is available on request.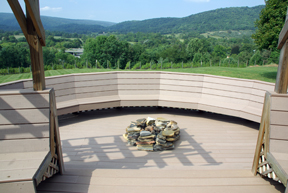 A large deck has granite tables because as Howard revealed the weather can be delightful at times during the winter months and the deck a lovely place to enjoy wine. A small fire pit is located in one section of the deck and must create a lovely ambiance in the evening.
The original building was an old French farmhouse. Howard believed that the farmhouse could be renovated into a tasting room. Although advised he should have the farmhouse torn down, he went with his intuition. Howard kept the house and renovated it into a tasting rooms facility.

While we were enjoying the view of the valley below and the mountains beyond, Howard pointed out the copper flag at the pinnacle of the chateau. He is proud of this copper flag made with his insignia.
Since we had a special appointment with Howard and this was not during regular tasting hours, we were not able to taste the wines. However, we saw the list of wines and the current wines available are Virginia Chardonnay (aged in oak), Northpoint Rose, Buddy's Bistro Red, Northpoint Red (a blend of Tannat, Merlot, Cabernet Sauvignon, Cabernet Franc and Petit Verdot) and Virginia Apple Wine. Two future reserve wines will be Tannat and Reserve Chardonnay.
Howard is passionate about producing quality wine in Virginia. Beginning with 1500 cases, Howard hopes to eventually produce 5000 cases.
Chateau O'Brien at Northpoint
Markham, Virginia
For more information: Chateau O'Brien
GPS: N 38° 54.222 W077° 59.855
---
Visit these Virginia wineries and wine tour groups that partner with Wine Trail Traveler.