Notaviva Vineyards
by
Kathy Sullivan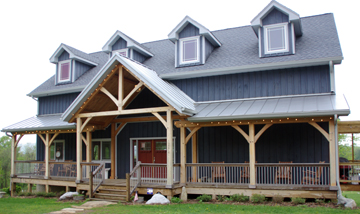 Summary: Notaviva is a delightfully, unique winery to visit. At Notaviva music plays an important role in wine tasting. Music enjoyment and wine enjoyment are interrelated. Wine notes provide music pairings rather than food pairings.
Notaviva is from two Italian words, a blending of "music note" and "life". This newly coined word by owners Stephen and Shannon Mackey refers to capturing the essence of music's effect on human emotion. One of Notaviva Vineyards tag lines is "pour, listen, believe." The Mackeys believe in the connection between music and wine. Just as wine is paired with foods, wine can also be paired with music. Notaviva uses a star note for its logo. The star note focuses on music represented by the eighth note stem, a star representing "Americana", and technology and forward movement is represented by a "swoosh." Notaviva Vineyards tasting room is located in a dedicated section of the winery owners' home. Three levels are part of the tasting room area with the 3rd level being a recording studio.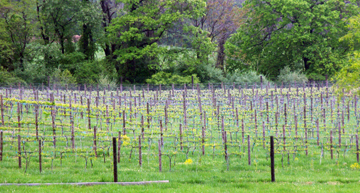 An experimental vineyard was planted in spring of 2004. The first planting of the present vineyard was during the following spring of 2005 with Viognier and Cabernet Franc. In 2006 additional Viognier and some Petit Verdot were planted. Today the total acreage is six acres and also includes some Blaufränkisch vines. Notaviva is planning on bottling 1,900 cases this year.
Stephen and Shannon were married at Notiviva Vineyards in 2004. The wedding gift registry for the Mackeys was unusually delightful. They chose to be gifted with grapevines. The result is about a half acre of grapevines. It is a wonderful wedding gift registry idea.
Tasting Room
The Notaviva building was designed to house a tasting room, recording studio and a family home. It's a delightfully unique concept and appears to work well for the Mackeys. Other would be winery entrepreneurs may be interested in this type of design as well. Windows provide views of the vineyards. The curved tasting counter is available immediately as one enters. Nearby space is available for events. A second floor is open in the center and overlooks the tasting counter. The second floor has tables and chairs for guests.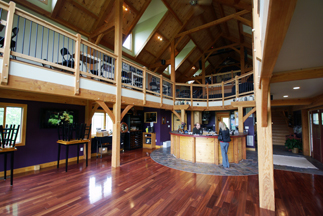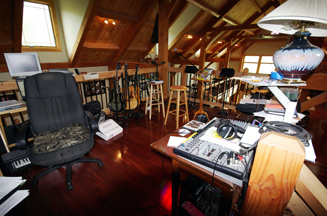 Events
The tasting room has an adjacent area for events and meetings. The large windows provide views of vineyards and distant mountains. Visitors can enjoy a real treat on Saturdays and Sundays with live music and a recording studio. Businesses who would like to schedule a business event may enjoy having their meeting in the winery where they will have access to top quality technology and equipment. Weddings can take place indoors or outdoors at the Glade specifically designed for outdoor weddings.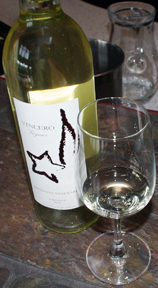 White Wine
Vincero 2008 was a Viognier that was stainless steel fermented and aged. The aroma was floral with a taste of peach and citrus notes. The finish was crisp and fruity.
Red Wine
Celtico 2008 was produced with Chambourcin. This wine was a dark reddish pink. The aroma and taste were of red fruit. There were very mild tannins and a fruity finish. Catabile 2008 was a blend of Cabernet Franc and Petit Verdot. The aroma and taste were of dark fruit notes. The taste also had spice nuances. There were tannins on the finish with fruit and spice notes. Gitano 2008 was produced with Tinto Cao and a bit of Merlot and Cabernet Franc. The color of the wine was ruby. The aroma and taste were of red fruit. The crisp finish was fruity and the finish changed from sweet to dry.
Fruit Wine
The winery also produces an apple wine, North Gate 2009 Apple Wine. Unfortunately at the time of our visit this wine was sold out. However, the wine is produced from apples grown on their farm. Blue Ridge Greyhound Adoption receives part of the proceeds from this wine.
When planning your visit to Notaviva Vineyards, ensure that you have enough time to talk to the owners about the relationship between wine and music. Plan to purchase a glass of wine and enjoy it in the tasting room with music.
Notaviva Vineyards LLC
13274 Sagle Road
Purcellville, Virginia 20132
GPS: N39º 15.176' W77º 44.901'
---
Visit these Virginia wineries and wine tour groups that partner with Wine Trail Traveler.