Two Twisted Posts Winery
by
Kathy Sullivan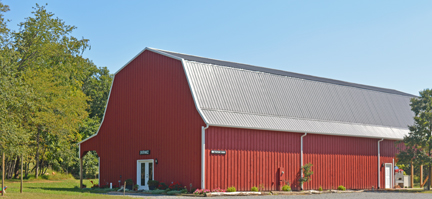 Summary: Two Twisted Posts Winery is a boutique winery in Loudoun County, Virginia. The winery and vineyard owners have spent years planning to establish a vineyard and open a winery in this northern region of Virginia. The winery and vineyard is a second career for the couple who are continuing their first careers as accountants.
Visitors to Two Twisted Posts Winery will pass vineyards on the sides of the long driveway that leads to the tasting room and winery in a large red, barn-style building. A lawn outside of the entrance offers shade, chairs and views of the prolific vineyards.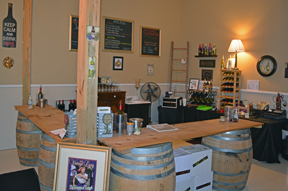 The newly built boutique tasting room has a tasting counter consisting of wood planks perched on used oak barrels. The amber colored pine walls create a warm atmosphere where wine lovers can enjoy tasting several wines. In one corner a guitar and keyboard are located with a sign "Please Play Me."
Brad and Theresa Robertson are the owners of Two Twisted Post Winery in Loudoun County, Virginia. Professionally both Brad and Theresa are accountants. They continue their careers as accountants and work many extra hours a week at Two Twisted Posts Winery. Brad is the vineyardist maintaining the vineyards and Theresa is the winemaker.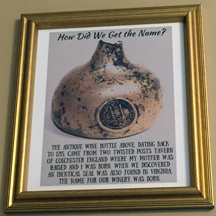 The Name "Two Twisted Posts"
The winery name was not easy to decide. At first most names that Brad and Theresa considered had already been used by other wineries. It seems like fate brought the name of the winery to the couple. Theresa is from England. A framed picture with a quote from Theresa reads, "Two Twisted Posts" name was explained in a framed photo. "The antique wine bottle above dating back 1715, came from Two Twisted Posts Tavern of Colchester, England where my mother was raised and I was born. When we discovered an identical seal was also found in Virginia the name for our winery was born."
Journey to a Winery
Before starting the winery, the Robertsons originally lived in Herndon,Virginia. Brad mentioned that when Theresa's parents retired they became involved in ballroom dancing; when they could no longer participate in dancing, they watched television. After watching her parents, Theresa decided that when it was time for her to retire she wanted another option. Together Theresa and Brad considered building a winery. For Brad it was not a far stretch as he recalled making beer when he was in college. Brad had also grown up on a farm where they grew apples and cherries. So growing grapes for wines was a definite possibility for them. Brad noted that they sat on the dream for a few years, eventually searching for property conducive to planting a vineyard and establishing a winery.
The Robertsons began making wine at home in 2003. The vines were planted in 2008 and the first harvest was 2011. During the first years, the couple had consultants guiding them with the process of planting grapevines and crafting wines.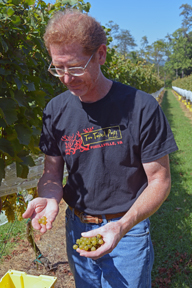 Vineyard and Tasting Room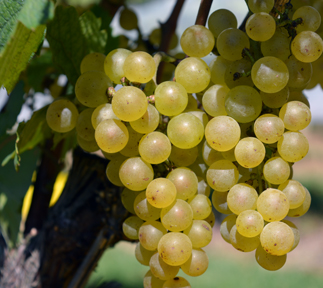 The Two Twisted Posts vineyard has five acres of vines including Chardonnay, Traminette, Cabernet Franc and Cabernet Sauvignon. They also source grapes from local vineyards. The vines at the winery are planted in close proximity. Brad noted that he uses cane pruning rather than spur pruning of the grapevines. We followed Brad to the vineyards and tasted Chardonnay grapes. The grapes were close to harvest time and were sweet with brown colored seeds.
The current tasting room was finished in December 2014 and is adjacent to the winery. Prior to the opening of the tasting room, wines were sold in a temporary tent-like structure. Within a few years the current tasting room will be converted into an extension of the winery and a new building will become a dedicated tasting room.
Wines
Current wine production is 1,500 cases. Over the next five years the Robertsons expect to double production.
The Chardonnay 2011 was produced from the first harvest estate vineyards and locally sourced grapes. The yellow colored wine offered notes of vanilla, apple and a slight hint of citrus. The wine was medium to full-bodied. The crisp finish was fruity. Chardonnay 2012 was a blend of estate grown grapes and grapes from Mark and Maggie Malick, owners of the nearby winery Maggie Malick Wine Caves. The wine had a dark yellow color. It offered apple, pear with some vanilla on the aroma and taste. The mouthfeel was smooth. The crisp finish was fruity with a touch of oak influences.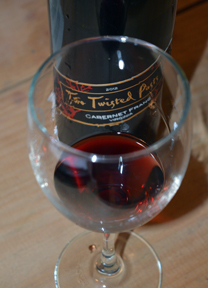 Cabernet Franc 2011 was an estate wine that was a translucent ruby color. The aroma offered notes of red berry fruits and spice. The taste was of red and black raspberries. The wine was medium to full-bodied with mild tannins. The finish was crisp and fruity. Cabernet Franc 2012 Estate wine was a translucent, dark ruby color. There were dark fruit notes and spice on the aroma. The taste was of blackberries and a hint of plums. The wine was full-bodied with medium-bold tannins.
Cabernet Sauvignon 2012 was produced with estate grown grapes and grapes from Mark and Maggie Malick. The wine was a translucent dark ruby. The aroma was of blackberries. The taste also with blackberries had hints of leather and cedar. This full-bodied wine had bold tannins. The crisp finish was fruity with oak influences. Petit Verdot 2012 was produced with grapes from a vineyard near Waterford, Virginia. The wine was a translucent ruby color. The wine offered notes of dark fruits, blackberries and spice. It was full-bodied with bold tannins. The finish was crisp.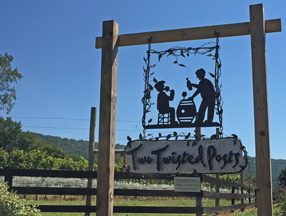 The most unusual named wine, Don't Call Me a Cab 2011 was made with 100 percent Cabernet Sauvignon from the estate vineyard and Mark and Maggie Malick's vineyards. The wine was a translucent red. It was light- bodied with red berry fruit. The wine was slightly sweet with some tannins. The finish was crisp and fruity. The is a light-style Cabernet Sauvignon and reflective of the weather during 2011.

Enjoy a visit to Two Twisted Posts Winery in western Loudoun County, Virginia. You can spend several hours resting under the trees with a glass of wine.

Two Twisted Posts Winery
12944 Harpers Ferry Rd.
Purcellville, Virginia 20132
GPS: N39º 15.557' W77º 43.306'
Article written September 2015
---
Visit these Virginia wineries and wine tour groups that partner with Wine Trail Traveler.