Otium Cellars
by
Kathy Sullivan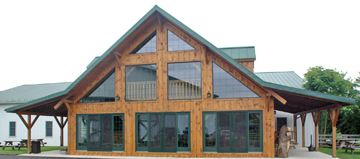 Summary: Otium is located in the countryside near Purceville, Virginia. Otium Cellars is on the same property as Goose Creek Farms an equestrian facility. The Otium logo is a family crest of farm and vineyard.
Driving to Otium Cellars is a pleasant drive along Northern Virginia's country roads. Upon reaching the winery, visitors traverse a long driveway lined with fruit trees. Visitors can view country scenes including stables, vineyards and fruit trees. Just outside the tasting room a large, four-foot tall, carved bear offers a friendly welcome to Otium Cellars. Picnic tables behind the tasting room offer a good place to stop and enjoy a bite to eat while enjoying a glass of Otium wine.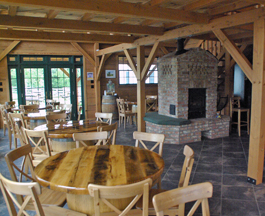 The tasting room, located in a renovated barn, reminds one of a homey cabin. It includes a tasting counter, a bricked-in wood stove, and numerous tables and chairs. The tables with a high gloss finish sit on oak barrels.
A short distance from the tasting room a large pavilion has been added to the site. A second large carved bear happily greats visitors. This is a comfortable area with views of the adjacent vineyards and countryside.
Originally known as Goose Creek Farms and Winery, the name was eventually changed to Otium. The new name is Latin for "leisure" or "tranquility." The road to Otium Cellars is aptly named Tranquility Road. Goose Creek Farms, also owned by the Bauer family, is a private equestrian facility focused on breeding and training Hanoverian horses.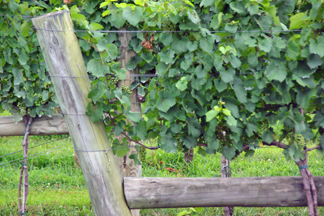 Gerhard Bauer, owner of Otium Cellars, moved from Germany to the United States in 1993. Gerhard began planting vineyards in 2007. Today his son Max Bauer manages Otium Cellars. The vineyard varieties include: Blaufränkisch (Lemberger), Dornfelder, Grauburgunder (Pinot Gris), Chardonnay, Malbec, Cabernet Sauvignon and Pinot Noir. Today Otium has 55 acres under vine.
Otium Wines
The winery building, adjacent to the tasting room building, has barrels stacked up to three high and stainless steel tanks. There is a sizeable production area. The wines are 100 percent single varietal. The wines are all estate grown. Otium Cellars produces 1,800 cases of wine and all of the wine is sold from the tasting room. Tarah Nine, tasting room manager, mentioned that people like the German grape varieties because they are different.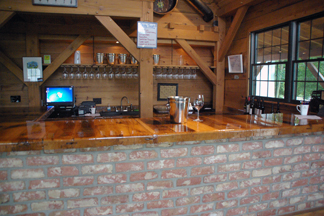 White Wines
Chardonnay 2013 was a light yellow colored wine with an aroma and taste of pear and caramel. The wine offered notes of pear and caramel with a crisp finish of fruit yielding to caramel and vanilla. Pinot Gris (Grauburgunder) 2012 was produced in two-thirds stainless steel tank and one-third American oak barrels. The light yellow wine offered notes of apple and citrus with a hint of minerality. The wine had citrus fruit on the finish. The Pinot Gris 2013 was a little more intense than the wine above. The wine was very smooth with citrus notes. The finish was intense and lingered.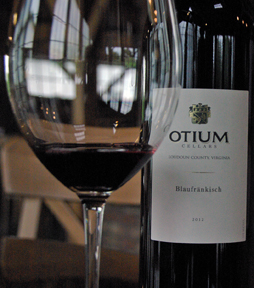 Red Wines
Blaufränkisch 2012 was a ruby translucent color. The wine offered notes of cherry with a touch of eucalyptus. The wine had mild tannins and the finish was crisp and fruity. Cabernet Sauvignon 2012 was a translucent light ruby color. The wine offered notes of black fruit and leather. The wine had medium tannins. The finish was crisp with fruit yielding to wood. Dornfelder 2012 was a bright red/purple color. The wine was very dry with tart red berries and tart cherries. The finish was dry with notes of tart cherries.
Events at Otium
Music is available on the first and third Fridays of the month. In the summer, music events are on every Friday. Also during the summer, food trucks provide an additional reason to visit Otium. Wine club members have access to special wine dinners.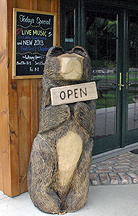 In the tasting room, local "Tasty Treats" are available for purchase including local dips, artisan meats and baguettes. Visitors are also encouraged to bring a picnic lunch when they plan to visit.
Enjoy a visit to Otium Cellars in Northern Virginia. Consider purchasing an appetizer or bring your own lunch to pair with one of Otium Cellars' wines.
Otium Cellars
18050 Tranquility Rd
Purcellville, Virginia 20132
GPS: N39º 06.984' W77º 44.718'
Article written July 2014
---
Visit these Virginia wineries and wine tour groups that partner with Wine Trail Traveler.