Blue Valley Vineyard and Winery
by
Kathy Sullivan

Summary: Blue Valley Vineyard and Winery sits atop of one of Virginia's hills within view of travelers cruising along Route 66. Numerous views of mountains in the distance are seen from the winery tasting room. A long curving driveway takes visitors past large rocks that were dug out of the nearby vineyards. Blue Valley Vineyard and Winery is a family-owned winery where much of the work including construction of the winery was done by members of the family.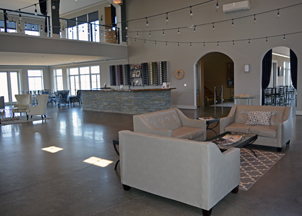 One first notices the immense size of the facility including the large doors set into an arch. The exterior of the building is stone which fits nicely into the landscape of the area. Inside, the ceiling height seems to tower overhead. Walking past a bright white wall through more arches, wine enthusiasts enter the main tasting area which also appears very large. The facility occupies 10,000 square feet. Two long tasting counters are located on each side of the room. The counters are maple and made from a 350-year-old Virginia tree from Fauquier County. The decor and architecture emphasize modernity but a few other items are of interest including display tables set upon tall tree stumps.
The back wall of the tasting room is filled with windows allowing for picturesque views of Virginia's countryside and of some of the Blue Valley vineyards. Blue Ridge Mountains are seen in the distance. Seven sitting areas are scattered throughout the room allowing for a good opportunity to sit and enjoy a glass of the Blue Valley wine. A modern-style fireplace area offers a warm sitting area on cooler days.
The Story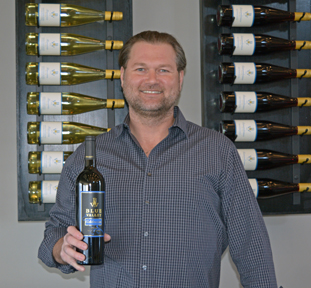 We met an enthusiastic and busy Stergio Zissios (pictured right), whose family had come from Greece. Stergio accounts for his interest in wine coming from his interest in history, heritage and tradition. His parents purchased 63 acres of property where the vineyard and winery are located. Over the years, additional purchases have increased the property size to a total of 84 acres. Stergio is a third generation winemaker, and remembers his father making wine for family and friends. Stergio's father is a plumber by trade and owned his own plumbing business. In Greece, Stergio's father had made wine in Kozani. Stergio recalls helping his father make wines when he was 13 years old. He remembers obtaining grapes from California and destemming the grapes by hand. Several years ago Stergio approached his parents with the idea of planting a vineyard and starting a winery. Stergio noted that the location of the winery facility is where his parents had planned on building their own home. Eventually, his parents agreed with the idea of a winery. Blue Valley Vineyard and Winery opened April 17, 2015.
The vineyards at Blue Valley are protected by their location in a pocket surrounded by the nearby mountains. The mountains protect the land from weather extremes.
Asked if there was any interest in producing Greek-style wines, Stergio noted that the climate and soils are very different here than in Greece. He noted that the soils in Greece are primarily volcanic. It would be impractical to try to grow those Greek grape varieties in their Virginia vineyards.
Stergio Zissios has plans to allow the winery and vineyards to grow. In addition to adding vineyards, he hopes to build a chapel on the property in memory of his grandmother. As of March 2017, the vineyards consist of 15 acres of vines. Grape varieties include Cabernet Sauvignon, Cabernet Franc, Petit Verdot, Chambourcin, Sauvignon Blanc, Viognier, Chardonnay and Muscat. Stergio noted that he visits the vineyards every other day. He plans on adding additional grapevines in 2017 and eventually hopes to have 50 acres of vineyards. Today the winery sources grapes from other Virginia growers.
The Wines
The winery has 24,000 square feet of production area. Blue Valley is producing 10,000 plus cases of wine with their estate vineyards and local Virginia fruit.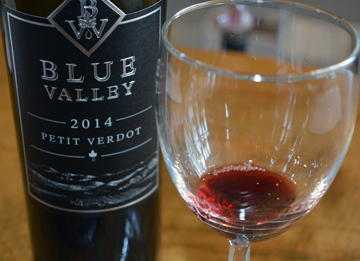 Estate Viognier 2016 was a light yellow color. The wine offered tropical fruit notes. The taste was of tropical fruits, white peaches and citrus. The finish was very crisp and fruity with the fruit yielding to mineral. Chardonnay 2014 was aged in French and American oak. The light yellow colored wine offered an aroma of apple. The taste had notes of apple, citrus and a hint of butterscotch. The wine was medium/full-bodied. The finish was crisp with fruit yielding to mineral.
Virginia Rosé 2015 was a blend of Chambourcin, Merlot, Cabernet Franc and Petit Verdot. The wine was a dark salmon color. The aroma was of red berry fruits. The taste offered notes of red berry fruits with a hint of cranberries. The finish was crisp, tart and fruity. Chambourcin Rosé 2014 was a light red color. The taste was dry and very crisp. The finish was of red berries, watermelon and cranberries. Tasting room staff suggested this wine for Thanksgiving.
Petit Verdot 2014 was a translucent ruby color with a dark pink hue. The aroma was of black fruits. The taste included notes of blueberries, blackberries and black cherries. The wine was medium-bodied with medium to full tannins. The finish was fruity.
Celebration Red Blend 2014 was a blend of Merlot, Cabernet Franc, Petit Verdot and Syrah. This translucent ruby colored wine had a light pink hue. The aroma was of black cherries. The taste was of black cherries, black berries with some blueberry notes. The wine was medium/full-bodied and had medium tannins. The finish was crisp and fruity with a hint of leather.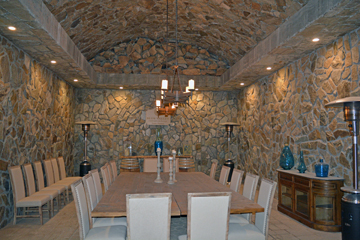 Below the tasting room area is the production area and barrel aging area. A cellar room was built with stone walls and an arched stone ceiling reminiscent of many cellar rooms we observed in Europe. Center to the room is a table that can seat 14 people. The room is a perfect spot for a special event.
Enjoy a visit to Blue Valley Vineyard and Winery close to Route 66 in Delaplane, Virginia. Plan to spend a while enjoying views of Virginia's countryside. With several seating areas this is a delightful spot to relax and enjoy some quality time with friends and family.
Blue Valley Vineyard And Winery
9402 Justice Ln
Delaplane, Virginia 20144
Article written March 2017.
---
Visit these Virginia wineries and wine tour groups that partner with Wine Trail Traveler.