Tarara Winery
by
Kathy Sullivan
Summary: A delightful experience awaits visitors to Tarara Winery, Virginia. Tarara is located a short distance from Route 15 between Leesburg, Virginia and Frederick, Maryland. At Tarara, visitors will discover classic red and white wines. Producing quality wines in important at Tarara Winery.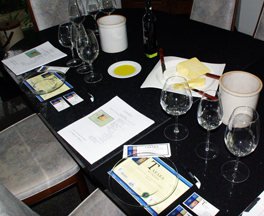 Winemaker, Jordan Harris, commented that for Tarara Winery the goal is to know "what we do well and do it the best." Tarara Winery produces serious wines that have a lot to offer. They understand the importance of terroir and they offer the best quality wines they can. The winery believes that it works too hard on creating quality wines to have a bad experience in the tasting room. Therefore you can count on having a good experience while tasting wines.
We met Jordan at the Drinklocalwine.com Conference in Virginia and he offered us a visit to Tarara Winery. We traveled to Frederick, Maryland and then took Rt 15 into Virginia where we discovered Tarara Winery on the bluffs of the Potomac River. The winery was the brainstorm of Whitie Hubert, who was renowned in the construction industry. He purchased the property in 1985. Since then trees and shrubs have overtaken the view of the Potomac River but visitors will feel as if they are in the countryside. Two lakes amid trees on the 475-acre property provide a delightful ambiance for visitors. Picnic tables are available.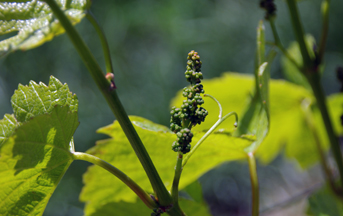 The Vineyards
Currently the property has 50 acres of grapevines that include Cabernet Franc, Cabernet Sauvignon, Merlot, Syrah, Chambourcin, Grenache, Mourvedre, Pinot Noir, Pinot Gris, Seyval Blanc, Vidal Blanc, Chardonnay and Viognier. Currently, Tarara does not make wine from the Chambourcin, Vidal, Seyval, or Pinot Noir. They sell those grapes to other wineries. As more land is available for planting, the vineyard will continue to increase in size. Tarara Winery produces 10,000 cases of wine.
As we toured the vineyards with Jordan, he commented on the importance of terroir. The Potomac River has a large impact on the vineyards. The vineyards have good airflow and a lake on the property moderates the temperature. The oldest vines are 23 years old. The vineyards are named Hill, Pond and Road vineyards with the Hill vineyard having the deepest soil. On average they harvest one and a half tons per acre. The Hill vineyard with Chardonnay has been attacked by deer and this year, a tall deer fence is being built to keep the grape loving animals out.
The Winery
The winery is built into a side of a hill. Barrels age in a cave-like atmosphere that is neither heated nor cooled. In the winery, Jordan likes to cold soak all of the grapes. He believes this provides better color. During the cold soak, Jordan cultivates the indigenous yeast found on the grapes. The indigenous yeast fermentation is a natural way of making wine. In contrast to natural minimalistic winemaking, Jordan also embraces technology. Screw caps are used for bottling the wines. The winery also uses lighter glass wine bottles than traditionally used. The lighter bottles reduce the carbon footprint of shipping the bottles to the winery and shipping the wine out of the winery.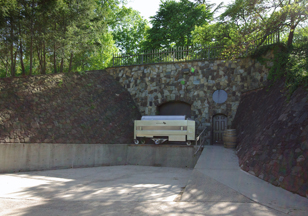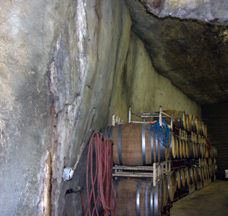 Tasting Rooms
Tarara has three tasting rooms. In the first tasting room, visitors will discover refrigerated sausage, goat cheese, Brie hummus and maple smoked cheddar. Gourmet crackers are also available. Books available for purchase include, "What is a Wine Lover to Do" and "The Sipping Point." The tasting counter can easily accommodate two small groups. On crowded days, there is another tasting room a few feet away that can accommodate large groups. It has tables and chairs for those that like a more leasurely tasting. A premier tasting experience takes place on another level of the facility. This intimate tasting experience takes place in the boardroom overlooking the orchards and lake.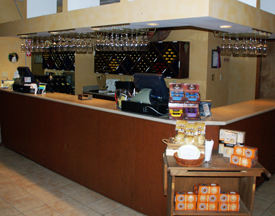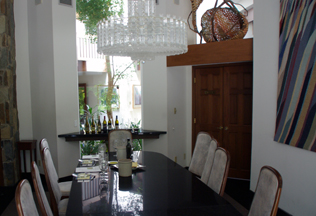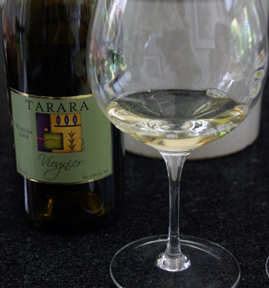 White Wines
We tasted several wines with Jordan beginning with Viognier 2008. This is the winery's flagship white wine. There were notes of oak and mineral on the nose while there were apple nuances on the taste. The finish was crisp with caramel nuances. Chardonnay 2008 offered an aroma of oak, caramel and pear notes. There were apple and mineral nuances on the taste. The crisp finish was buttery with hints of citrus. Charval 2008 was a blend of Chardonnay, Sauvignon Blanc and Pinot Gris. The residual sugar was one percent. This wine reminds one of a fruit salad with notes of apple, citrus and tropical fruit. The finish was crisp and fruity. Charval was complex with layers of fruit.
Red Wines
Long Bomb Edition Two 2008 was a blend of Cabernet Franc, Touriga Nacional, Tannat, Merlot, Petit Verdot, Cabernet Sauvignon and Pinot Noir. This dry wine offered an aroma and taste of dark fruit. There were fruit and tannin notes on the finish. Meritage 2007 was a blend of Cabernet Franc, Merlot and Cabernet Sauvignon. This wine was a dark ruby color with black fruit especially blackberry notes on the aroma and taste. There were soft tannins.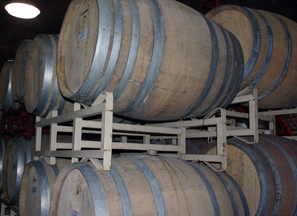 Barrel Samples
Commonwealth TerraNoVA 2008 was a blend of Cabernet Sauvignon, Petit Verdot and Tannat. This dark purple wine offered dark fruit and blackberry nuances on both the aroma and taste. The finish was fruity with tannins. Commonwealth CasaNoVA 2008 was a blend of Merlot, Cabernet Sauvignon, Petit Verdot and Cabernet Franc. This dark purple wine offered lots of tannins. Suggested pairings included lamb dishes. Commonwealth SuperNoVa 2008 was a blend of Merlot, Tannat, Petit Verdot and Cabernet Sauvignon. The result was a bone-dry wine. The resulting color was a dark purple with a dark fruit aroma and taste. The finish had tannins and was fruity. The NoVA in the names of these wines refers to Northern Virginia.
Tarara has a number of public and private events. Call the winery and ask about special wine tastings and tours. Events include concert Saturdays. A visit to Tarara will be memorable.
Tarara Winery
13648 Tarara Lane
‪Leesburg, ‬Virginia 20176
GPS: N39º 14.195' W77º 28.728'
Related article on Examiner.com Baltimore Edition
Day Trip to Tarara Winery article
---
Visit these Virginia wineries and wine tour groups that partner with Wine Trail Traveler.