Fabbioli Cellars
by
Kathy Sullivan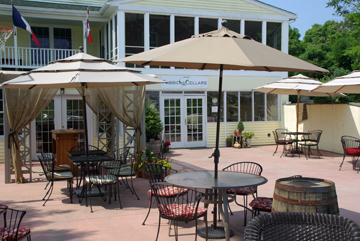 Summary: In the beautiful countryside of Leesburg, Virginia, Fabbioli Cellars offers a wonderful experience. Wines are handcrafted and wine tastings include wine and food pairings. With numerous outdoor picnic areas, plan to bring a picnic basket to enjoy with a glass of delicious Fabbioli Cellars wine.
Fabbioli Cellars offers visitors a delightful experience. The tag line for the winery is, "Fabbioli Cellars for real people, earth friendly.… We first met Doug Fabbioli while he was a winemaker at another Virginia winery and beginning his own winery and vineyard. Doug has now opened Fabbioli Winery with onsite vineyards. This is a winery that offers a delightful experience for wine enthusiasts looking for a day in the country. Wine tastings are paired with either chocolate small bites or cheese/salami small bites.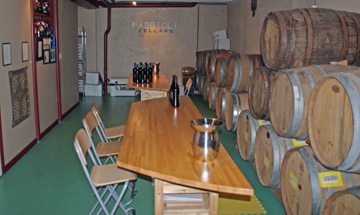 The tasting room is large and expanded with several tasting counters to accommodate guests. Numerous conversation tables and chair arrangements are outside scattered within view of the tasting room. In the tasting room, view select gourmet goods, cigars and single grove olive oil from Greece.
On a recent visit to Fabbioli Cellars, we met Jim Koennicke, a wine educator, for the winery. Jim became interested in wine when a friend at Ithaca College invited him to visit. While visiting the Cayuga Wine Trail, Jim was bit by the wine bug. Eventually he started working at wineries. Jim likes the interaction with people and wine education. He provided us with a wonderful tour of the property that included visiting the vineyards, passing a yoga mound, viewing an Asian pear tree with pears growing in bottles, asparagus, raspberries and blackberries. Fabbioli Cellars is more than a vineyard and winery. Asparagus is sold in early spring at the tasting room.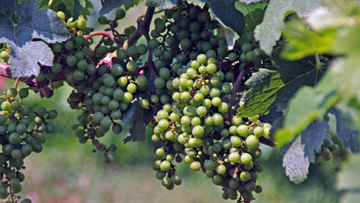 The Fabbioli vineyards include 10 acres of Cabernet Sauvignon, Cabernet Franc, Merlot, Petit Verdot, Tannat, Carminere, Sangiovese and Sauvignon Blanc. Doug started the vineyards in 2001. Vineyards are protected from frost by a recently created type of fan that circulates the air in a 10-acre area. Jim noted that the machine is fondly named Dorothy.
Fabbioli Cellars Wines
Fabbioli's goal is to produce handcrafted wines that people will enjoy drinking. People will enjoy the wine, the presentation and the food pairings. The winery produces 4,000 cases a year. While Fabbioli focuses on producing red wines, in response to visitors asking, "Do you have something white?" Doug created the Something White Wine. This white wine was a blend of Vidal Blanc and Traminette. The 2011 wine was very aromatic with lots of floral and fruit nuances. The taste was fruity and dry. This wine was paired with goat milk chevre. Rosa Luna 2011 was a very pale pink. The aroma was of light red berries and the taste fruity. This is a 3P (porch, patio, pool) wine. Rosa Luna would also be delicious with cheese. Una Pera produced with Asian pears was a pale yellow. The residual sugar was 1.5 percent. The aroma was of light pear and the taste had pair notes with a hint of lemon. When paired with spicy apple jelly it was like a dessert.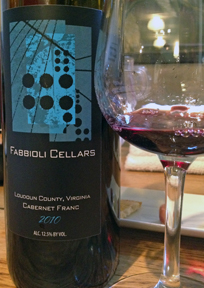 Red Wines
The Cabernet Franc 2010 was a ruby color with an aroma and taste of black fruit and pepper. The taste included a touch of oak. The wine finished with bold tannins. This wine was paired with a wood-smoked cheddar cheese that matched nicely with the Cabernet Franc. The cheese reduced the green pepper and added a hint of smokiness in the wine. The cheese tamed the oak influence. Tannat 2009 was a dark ruby. The aroma was of black raspberries with a hint of bold tannins. The wine was very fruity and paired well with meat soppressata, Italian dried salami.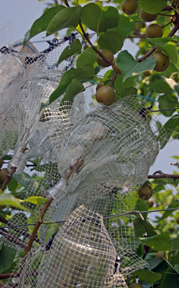 Speciality Wines
Pear Wine was produced with Bosc and Asian pears. The Asian pears are from the trees near the vineyard. Some is distilled and blended back into the wine. This wine was aged in barrels placed in a solara. The color was a dark gold. It was 16 percent alcohol with 3 percent residual sugar. The aroma was of alcohol and pear and the taste was of pear. It dried on the finish with pear and a hint of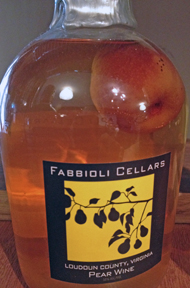 spice. There was no alcohol burn.
Raspberry bushes near the vineyard are used to make the Raspberry Merlot, a blend of raspberry wine and Merlot wine. The color was red with a dark pink hue. Raspberry notes were on the aroma and taste. The finish was dry with raspberry notes. It matched well with chocolate.
Doug Fabbioli, Winemaker
According to Jim, Doug Fabbioli is a creative and hands-on kind of person. Doug is continually coming up with more and better ideas. Many unique ideas can be observed in the tasting room including a model train set mounted upside down to the ceiling. Not many wineries produce wine with a pear inside the bottle. Doug is doing so including the growing of the pears in wine bottles.
Things to Do at Fabbioli Cellars
Wine enthusiasts can enjoy tasting wines inside at one of several tasting counters, viewing the unique aspects of the tasting room, practicing yoga on the yoga mound within view of the vineyards, or enjoying a picnic at one of several delightful small spots near the tasting room.
Jim noted that the wines at Fabbioli Cellars are handcrafted for people to enjoy drinking. Doug also wants visitors to enjoy the experience that includes wine and food pairings, vineyard views and picnic areas.
Enjoy a trip to Fabbioli Cellars in the Leesburg, Virginia countryside. It is a visit you will remember.
Fabbioli Cellars
15669 Limestone School Road 

Leesburg, Virginia 20176
GPS: N39º 10.929' W77º 31.121'
---
Visit these Virginia wineries and wine tour groups that partner with Wine Trail Traveler.