Rappahannock Cellars
by
K. L. Sullivan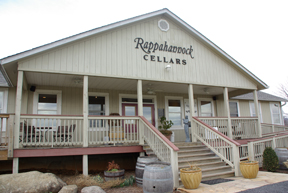 With a few extra hours available we decided to stop at Rappahannock Cellars in Huntly, Virginia and we are glad we did. Although they were not expecting us, we were warmly welcomed. Located in the beautiful rural area of Virginia we were curious as to how many visitors stop at the winery. Last Saturday was busy and a second tasting bar was opened. On weekends the winery is packed.
Rappahannock Cellars is open year round and tastings and tours are available. With between 35 and 38 acres of grapes owned or leased, the winery is able to produce 6,500 to 7,000 cases of wine. The owner of Rappahannock Cellars is a winemaker and works with the winemaker. Spraying is limited to the bare minimal necessary. Grapes are harvested by hand.
Originally, located in California where they worked in the wine industry, the family decided to move to Virginia to raise their family. The vineyard at Rappahannock Cellars was planted in 1999 and the tasting room opened in 2001. Rappahannock Cellars has something for all ages. A children's corner area has toys and books while a game of Frisbee is available for older children.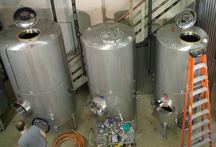 Upon entering the winery, we noticed a large plate-glass window where one can look down on various sizes of stainless steel tanks. This is a working winery and you will often see the workers tending to duties. One can observe the wide array of equipment needed to produce wines. On the day of our visit equipment was cleaned.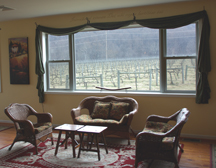 Immediately to the left is the tasting room and gift area. A good number of wine related items are available for purchase. Beyond the tasting room is a large room with tables and chairs. A Latin verse is on the wall, Introibo ad vineam Dei, ubi copia faetitiae est. The approximate translation is I go into the vinery of the Lord with great rejoicing.
Events at Rappahannock Cellars include wedding receptions, food and wine pairing events, and Club Member events. Corporate/private group tours are also available. They also participate with other wineries and local community colleges in helping to provide wine education classes. A class will be held at Rappahannock Cellars on "Vineyard Disease and Pest Control" in May.
The wine attendant at any winery is an important connection between the winery and the public. We were told of how a visitor came into the tasting room and did not know how to taste wine. The wine attendant gently suggested, "Let me show you how you can get more out of a wine tasting." When the visitor left, he gratefully thanked the wine attendant for his help. At Rappahannock Cellars we found people to be friendly, knowledgeable and easy to talk with.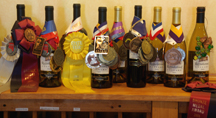 Before we left, we stopped at the tasting bar to try some Rappahannock wines. The 2006 Seyval Blanc had a hint of sweetness with acid. The 2005 Norton, a red wine, had good balance with high acid. This was the first Norton we tasted that white wine lovers should try. Rappahannock also offers 2005 Chardonnay, 2005 Claret, 2005 Vidal Blanc and more.
Being a member of the Wine Club at Rappahannock Cellars brings special privileges including the ability to purchase a wild fermented wine. This wine is not available to non-members. Wine Club members also may purchase a special blend made with California grapes. A small room with a detailed wood bar is available for Wine Club members.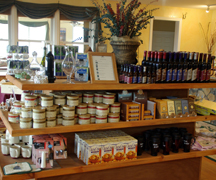 Rappahannock Cellars has five wines, which have been selected to be among the wines being showcased at Vinopolis in London on May 2, 2007. Rappahannock's wines included are: Reserve Viognier 2005, Reserve Franc 2004, Chardonnay, Wild Fermented 2005 and 2005 Meritage. We are looking forward to hearing what the English have to say about Virginia wines.
Rappahannock Cellars
Huntly, Va

GPS: N 38° 50.111' W 078° 06.826'
---
Visit these Virginia wineries and wine tour groups that partner with Wine Trail Traveler.