North Gate Vineyard
by
Kathy Sullivan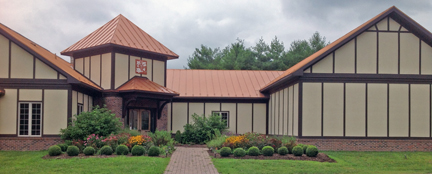 Summary: North Gate Vineyard is a delightful winery to visit near Purcellville, Virginia. The winery and tasting room have LEED's Gold certification.
North Gate Vineyard located in northern Virginia is a LEED Gold certified tasting room and winery. With one sloping roof of solar panels capturing the rays and adjacent roofs of bright copper, the North Gate Vineyard winery is attractive. That North Gate Vineyard is serious about the environment can be noted by views of the solar panels and signs for " Reserved Parking For Fuel Efficient Vehicles Only" and "Carpool Only" signs.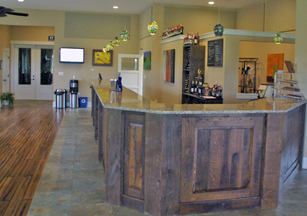 North Gate Tasting Room
The tasting room is spacious with numerous tables and chairs. Each table has a small colorful centerpiece of flowers. A large stone fireplace offers leather seating around it. Local artists' work are displayed on the walls. The tasting counter is smooth with tiny embedded pieces of colorful wine bottles. The sides were created from old barn siding. Green pendant lights over the tasting counter add a lovely ambiance to the area. The floor is of quality dark bamboo. Back of the tasting room, a patio area with a fireplace and tables and chairs provide views of the vineyards.
Vicki and Mark Fedor are the owners of North Gate Vineyard. Mark and Vicki are also the co-winemakers. Mark and Vicki liked this area of Virginia and wanted to raise their children in the Northern Virginia region. They discovered this property and purchased it in 1997 but had no plans for it. For a time they researched several farming ideas. Then they read about the nearby Breaux Vineyards. They also met the Breaux winemaker and attended a seminar at Breaux.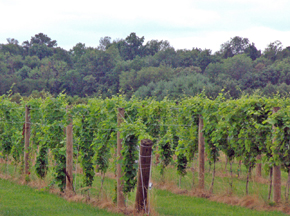 Eventually Mark and Vicki decided to plant a vineyard and sell the grapes. An experimental vineyard was planted with Viognier, Cabernet Franc, Cabernet Sauvignon and Chambourcin. They experimented with different rootstocks to see how well the grapevines would grow in this soil and climate. Now there are over seven acres planted with Petit Manseng, Viognier, Cabernet Sauvignon and Petit Verdot.
In 2002/2003 this energetic couple decided to experiment with making wine at home. The first home wine was made with apples from their property and they liked the wine. Mark and Vicki noted that they grew their wine business slowly, beginning with making wine in their garage. Then they began producing wine at the old Waterford Vineyards.
By 2007 they received their Farm Winery license and began producing commercial wines under the North Gate label, in their garage. They built the LEED Gold certified winery and tasting room in 2010 and opened to the public in 2011. The facility has a solar photovoltaic system that meets almost 100 percent of the electric needs for the winery and tasting rooms.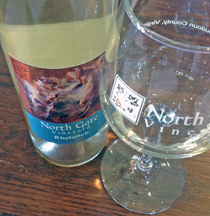 Wines
Current production is about 4,000 cases and they would like to grow to 5,000 cases.
Rkatsiteli was a light yellow color. Penny Hauffe created the artistic wine label. The stainless steel fermented wine offered aromas and taste of tropical fruits with citrus. The finish was crisp and fruity. Viognier 2012 was a yellow color. The wine offered notes of floral and melon with a touch of pineapple and some citrus. The finish was crisp. Chardonnay 2013 offered notes of apple, pear and baked bread. The taste was smooth and the finish was crisp.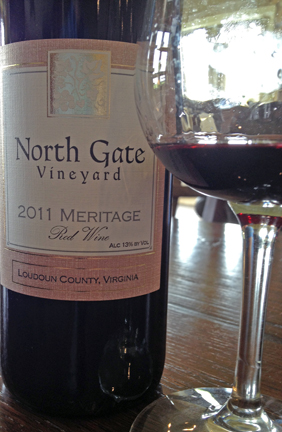 Red Wines
Rosé of Chambourcin 2012 was produced with free run juice – no skins. The wine was a light red color and offered notes of cherries. The wine had some tannins. Meritage 2011 was a translucent dark ruby. This was a blend of Cabernet Sauvignon, Merlot, Petit Verdot and Cabernet Franc. The aroma was of dark fruits including blackberry and black raspberries. The wine had bold tannins. The finish was crisp with fruit yielding to spice. Petit Verdot 2011 was an opaque dark ruby color. The wine offered blackberry and black cherry notes. The wine had bold chewy tannins. The finish was crisp and fruity yielding to a hint of leather. Cabernet Franc 2012 was a translucent dark red. The wine offered berry and pepper notes. Suggested food pairing was Italian cuisine. Pairing with a steak is also another option.
Apple Wine
Apple Wine offered apple notes throughout. This wine is made with locally sourced apples. There was a delightful slight effervescence on the finish. Only 750 cases of Apple Wine are made. Apple Wine would be a great wine to sip on a patio on a warm summer day.
Enjoy a visit to North Gate Vineyards. Plan to stay awhile and enjoy a glass of wine on the patio with views of the vineyards.
North Gate Vineyard
16031 Hillsboro Rd
Purcellville, Virginia 20132
GPS: N39º 10.502' W77º 43.526'
Article written July 2014
---
Visit these Virginia wineries and wine tour groups that partner with Wine Trail Traveler.