The Barns at Hamilton Station Vineyards
by
Kathy Sullivan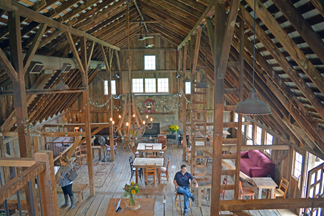 Summary: The Barns at Hamilton Station in Hamilton, Virginia offers a tasting room, a large event room with deck and patio. Views of the small but growing vineyards are available from the patio and deck. The tasting room offers a relaxed, genuine atmosphere with several conversation areas. Currently the wines are produced offsite. Dog lovers may bring their dogs if on leashes.
The Barns at Hamilton Station is owned and operated by Andrew and Maryanne Fialdini. They traveled extensively for years and were able to visit numerous wine regions around the world. Even when traveling to Scotland, Andrew visited Scottish distilleries. Andrew, who is delightful and friendly, said, "We like to experience life." They enjoyed food and wine experiences. He noted that The Barns at Hamilton Station is one of the greatest adventures of his life.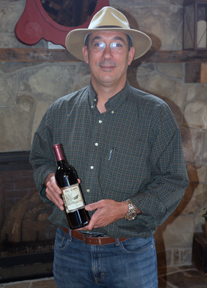 In the beginning from a romantic point of view, Andrew and Maryann wondered, "Could we build a winery and plant a vineyard?" A friend and winemaker, Michael Shaps, at first tried to talk them out of beginning this enterprise but Andrew and Maryann continued to want to give it a try. While they were advised that starting a winery and vineyard was costly, Andrew wanted to go ahead with the idea with limited funds. Andrew noted that The Barns at Hamilton Station Vineyards "is a work in progress." The entire family has spent a great deal of time restoring the barn and transforming it into a tasting room and cellar.
The Barns at Hamilton Station Vineyards opened in 2011 with five wines. The owners bought the barn in 2010. It was bought along with its contents that were either sold or repurposed. Family members all helped to prepare the barn for opening to the public as a tasting room and event center. Andrew enjoys bartering to get what he needs. He said that he enjoys people and that he "can talk to people about anything and everything." Between 1910 and 1964 this farmland and building had been a working dairy farm. The renovations and reuse of materials paid off. The barn venue is a wonderful example of what can be accomplished with old structures rather than tearing them down. For example, the wood tasting counter was crafted of parts of a pig pen.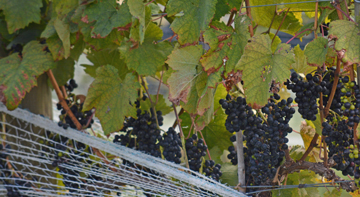 Andrew talked about his aunt and uncle who had a farm in Idaho and how he likes barns and the agricultural aspect of the land. In 2015 the vineyards consist of 2.5 acres of grapevines including Petit Verdot and Viognier. Although the wines are currently produced offsite, Andrew hopes to bring the winemaking process onsite in the future.
The tasting counter is at one end of the barn. A wonderful stone fireplace is the focus at the other end of the barn. Between the ends, numerous tables and seating arrangements are set up to encourage congenial conversations. A stairway leads to a loft above the tasting counter. Below the main floor of the barn, a cellar provides a large area with outside seating for private events and music events.
Cigar lovers will note that they have their own building next to the barn. The wood covered walls cast a warm glow in the room. Tables and chairs are in the room with a vintage wicker couch. Cigar enthusiasts can purchase cigars next to the tasting counter in the barn.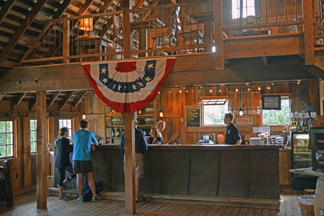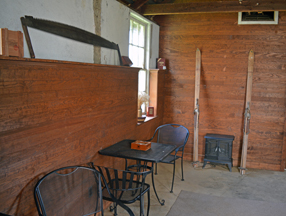 The Wines at The Barns of Hamilton Station
Chardonnay 2013 was a light yellow color with an aroma of caramel and apple. The taste offered apple with hints of caramel and butter. The wine was medium-full bodied with a creamy mouthfeel. The finish was crisp with fruit and caramel. Viognier 2014 was produced with a splash of Vidal Blanc. The wine had less than 10 grams per liter of residual sugar. This yellow colored wine had a very floral aroma and a taste of tropical fruits. The finish was crisp and fruity. Bank Barn White 2014 was a blend of Traminette, Riesling, Vidal Blanc, Chardonnay, Petit Manseng and Viognier. This wine has a yellow color with 25 grams per liter of residual sugar. There was an aroma of floral and fruit. The taste was smooth and slightly sweet with notes of melon and a hint of lime. The finish lingered. This is a wine to pair with a gently swaying rocking chair. Pairing suggestions include spicy Asian Fusion, pepper jack cheese and pepperoni.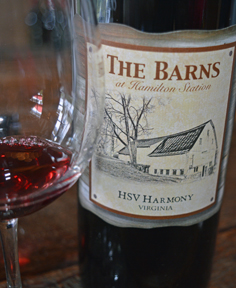 HSV Harmony was a blend of Cabernet Franc, Petit Verdot, Chambourcin and Riesling, The wine had 15 grams per liter of residual sugar. The translucent dark red with a dark pink hue colored wine offered aromas reminding one of a fruit salad. The taste was of red raspberries, black cherries, blackberries and had a medium to full-bodied mouthfeel. The finish was crisp and fruity. The wine was named Harmony which was the name for Hamilton at one time. Petit Verdot 2013 was an opaque dark ruby colored wine with notes of blackberries and black cherries. The wine was medium to full-bodied. The crisp finish was fruit forward. Cabernet Franc 2013 was a translucent red/purple colored dry wine. The notes offered earthiness, plum and black raspberry. The wine lingered on the finish. This is a food friendly wine. Meritage 2012 was a blend of Merlot, Cabernet Franc Petit Verdot Cabernet Sauvignon and Malbec. The wine was a translucent dark red color with notes of dark fruit and hints of mushrooms. The wine was full-bodied. The wine offered pleasant tannins with a lingering taste of fruit.
1910 was a port-style wine produced with Chambourcin grapes. The wine was fortified and had 17.8% alcohol and 60 grams per liter residual sugar. The port-style wine was named 1910 for the year the barn was built. This was an opaque dark ruby colored wine. The wine offered notes of dried, dark fruits. Despite the high alcohol, there was no burn on the taste.
Food Available
Picnic baskets are available for purchase. Baskets may include meats, cheeses, spreads, warm baguettes, crackers and fudge. Personal picnic baskets may be brought for use on the deck or patio.
Be sure to stop by The Barns at Hamilton Station Vineyards for a relaxing visit in the tasting room or on the deck.
The Barns at Hamilton Station Vineyards
16804 Hamilton Station Rd
Hamilton, VA 20158
GPS: N39º 09.114' W77º 38.725'
Article written September 2015
---
Visit these Virginia wineries and wine tour groups that partner with Wine Trail Traveler.