Hartwood Winery
by
K. L. Sullivan
Summary: Hartwood Winery, a boutique winery, in Stafford, Virginia is a delightfully friendly winery to visit. This is a winery that began as a hobby and now is a second career for the owners, Jim and Bev Livingston. Dave Barber, a partner, provides expertise and assistance in tastings and special events. Be sure to note the Hartwood logo.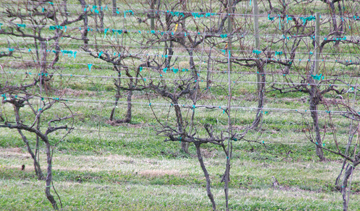 In front of the winery, tasting room and home of the Livingstons, visitors will note a small vineyard. After parking in the back of the facility, more acres of vineyards are visible. Even on a cold blustery November afternoon, one can enjoy the structure of the vines.
Jim Livingston started the first commercial vineyard in Stafford. With seven acres of grapes including Seyval Blanc, Vidal Blanc and Chambourcin onsite, the Livingstons' lease and subcontract 25 acres of vineyards elsewhere in Virginia. Jim likes to get about four tons of grapes per acre. Today they produce 4,000 cases of wine. The winery opened in 1989. The tasting room is open Wednesdays thru Sundays and averages 6,000 to 7,000 visitors per year.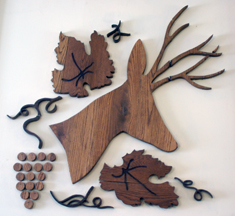 Jim and Bev noted, we "enjoy what we are doing." They add "we have our own niche." Bev added that they have a passion for wine and that creating wine is also an "art form." Jim knows many of the notable people in the wine industry. He learned much of his winemaking from Jim Law owner, winemaker and viticulturist at Linden.
The Hartwood logo was designed with a deer, grape leaves and grapes. The deer was chosen as hart is another word for deer and the vineyards at Hartwood Winery are a favorite place for deer. The logo is on the floor as one enters the winery and may be seen in many other locations throughout the winery including above the tasting counter.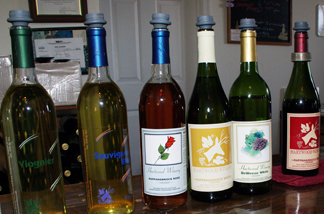 After a tour, which is available on most days, we enjoyed tasting several wines. The Viognier 2006 offered a floral, particularly roses, aroma with a tropical fruit taste. The finish was crisp. Rappahannock Rose 2006 was dry with a faint cherry aroma. The taste was fruity with cherry nuances. The finish was crisp and dry with a hint of citrus. Rappahannock 2006, with a residual sugar of 2.75 percent, offered a very fruity aroma and taste. The finish was sweet though drying towards the end. Rappahannock Red, a winemaker's secret blend, had an aroma of earthiness and cherries. The taste was of cherry and had pepper nuances. The finish was sweet with a tinge of tannins. It began to dry on the end. The Claret 2006 was produced from Cabernet Sauvignon, Merlot and Cabernet Franc. The aroma and taste were of cherries. It finished with mild tannins and was fruity.
We enjoyed our tasting with Jennifer, a knowledgeable and enthusiastic wine lover.
The tasting room is comfortable with a tasting counter, tables and giftware. Note that the wood throughout the tasting room including the tasting counter, floor and wine library shelves were from white oak, located on the property. A variety of wine accessories and gift items are available. Gift baskets for the holidays were ready for purchase on the day of our visit.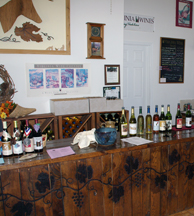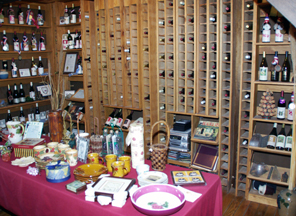 Bev noted that children and pets are welcome to come by. Consider bringing a picnic lunch. She added, "come and hang out."
Hartwood Winery
345 Hartwood Road
Fredericksburg, VA 22406
GPS: N38° 25.284' W77° 34.491'
---
Visit these Virginia wineries and wine tour groups that partner with Wine Trail Traveler.