Miracle Valley Vineyard
by
K. L. Sullivan
Summary: Miracle Valley Vineyards is a delightful family-operated winery to visit. Opening August 2007, Mary Ann and Joe Cunningham with the help of their adult children, are intent upon offering guests hospitality and quality wines. Be sure to bring a picnic lunch, stay awhile and enjoy the wines and atmosphere inside and out.
As we drove on I-66 out of the congested metropolitan area of Washington, DC into the rural area of Virginia, the trees were ready to bring buds forth and spring shrubs were already displaying their purple and white glory. Opening August 2007, Miracle Valley Vineyard located on the plateau of Little Cobbler Mountain, offers a serene view of Virginia's countryside. The vineyard were planted in 2004. Mary Ann mentioned how 100 vines were set aside so that family and friends could plant them. Then they were encouraged to name their vines. Another acre of Vidal and Petit Verdot will be planted soon. Their first production of 2006 was 800 cases and since the 2007 vintage was very good, they expect to double the production to 1600 cases.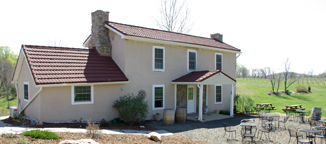 Narrow paved roads lead to a long lane of loose stone. Mary Ann and Joe Cunningham have established vineyards on the right side of the lane, with more vineyards farther on. We approached a group of three buildings: a shed with equipment, a relatively new winery building and an old, renovated house from the 1880's. The tasting room is on the first floor of a home, estimated to have been built in the 1880's. Originally, the house had been the home of a cattle rancher. Renovations have made the once dilapidated house into a lovely tasting room with a unique ambience that we have encountered for the first time here at Miracle Valley. In front of the tasting room, numerous wrought iron tables are available for enjoying a glass of wine.
Mary Ann talked about the name Miracle Valley Vineyards. Each year the vineyards prospered, they considered a miracle. Today the vineyards consist of seven acres and include Chardonnay, Cabernet Franc, Cabernet Sauvignon, Viognier and Merlot. To emphasize their passion about the miracles, they place symbols of angels throughout the tasting room. All labels except for one have images of angels. A stained glass angel decorates a window overlooking a patio. A framed poem "Miracles" was specifically written for the winery by their good friend, Laurel Bethea Zielinski.
On a wall, we noted a serving tray, with "Wine brings to light the hidden secrets of the soul."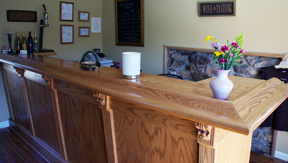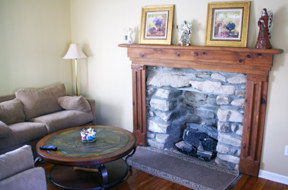 The tasting bar was handcrafted by a master wood craftsman. Together with the pinewood, plank floors, the tasting room has an ambience that works well with tasting wines. A stairway in the center of the house separates the area for the tasting bar from an area with a large stone fireplace, tables and chairs and upholstered (leather) chairs. On a cold winter day, this would be a wonderful, cozy room to enjoy a glass of wine.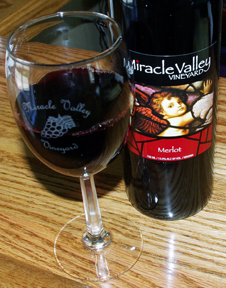 We tasted several wines including Chardonnay 2006 produced in stainless steel tanks. The result was a chardonnay with citrus on the nose, an apple taste with a very crisp aftertaste. The Reserve Chardonnay 2006 was fermented in Hungarian oak. This medium bodied wine had oak on the nose, apple and oak on the taste with a crisp finish. Merlot 2006 had dark red fruit and oak on the nose with a red berry taste. The finish was crisp with lingering fruit on the finish. Cabernet Sauvignon 2006 had red berries on the nose and a red berry taste. Tannins were noticeable on the finish that was crisp. The aftertaste was of red berries. Sweet Michelle was named after their daughter. This was produced with Georgian grape Rkatsiteli. This wine with a floral nose, fruit salad taste finished slightly sweet.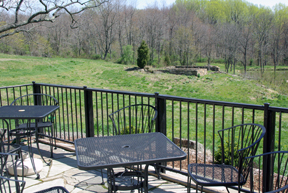 The slate patio with a wrought iron fence is a new addition to the 19th century house and extends across the complete back of the home. Visitors have the opportunity to bring a picnic lunch, purchase a glass or bottle of wine and enjoy the greenery with a large pond located in a valley below the tasting room.
We spent an hour or so on the patio enjoying wine, crackers, cheese and new friends. While visiting be sure to ask about the special "dot" over the i in Miracle. What do you see when you look at it?
Miracle Valley Vineyard
3661 Double J Lane
Delaplane, VA 20144

GPS: N 38 °88.397' W 077°92.453'
---
Visit these Virginia wineries and wine tour groups that partner with Wine Trail Traveler.