Chester Gap Cellars
by
K. L. Sullivan
Summary: Enjoy the new tasting room just recently opened at Chester Gap Cellars. This small family, owned and operated vineyard and winery, focuses on the vineyard and minimal winemaking techniques.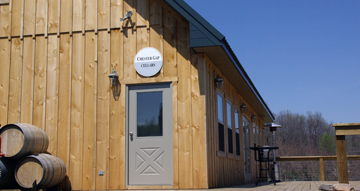 Twenty-five years ago, Kristi and Bernd Jung purchased an orange grove in Florida and then became involved with the Florida grape industry. They were inspired to start a vineyard. Bernd who is originally from Munich, Germany had been around the wine industry as a youth.
Kristi and Bernd began with vineyards in Florida and made the move to Virginia where they have a scenic view of Chester Gap and mountains. The Jungs planted their first Virginia grapevines in 2000 and produced the first Chester Gap wines in 2004. Tastings were available in May of 2006. Today the vineyard consists of eight acres, totaling 2000 vines producing 1500 cases. Due to the location of the vineyard, it is a likely place for wildlife to take advantage of ripening fruit. Deer and bears have attacked grapes for a tasty treat. Bernd uses special balloons and bird callers to keep birds away when they begin to attack the grapes.
Bernd is particular about pruning and does the pruning himself. Friends and family help with harvesting. Harvesting is important to Bernd. He believes that harvesting should be done carefully. He picks only select grapes and then returns to the vineyard to pick more grapes as they ripen. With this process, harvesting can take up to three weeks.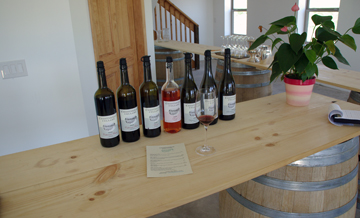 Until March of 2008, the tasting room was under a large tent and therefore they closed during the winter. In March 2008, they completed a new winery building with a tasting room and large deck. The large windows and deck take advantage of the scenic views available in the area including Chester Gap, blue mountains and hills of the Piedmont.
The stemware at Chester Gap is from Austria by G & Co. This stemware seems appropriate for a tasting room, as it is sophisticated but durable. The tasting room bar is large and constructed with oak barrels supporting pine boards. In the future, the Jungs will add shelves and cupboards.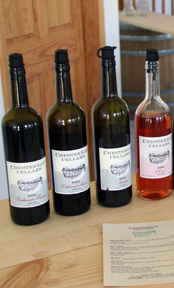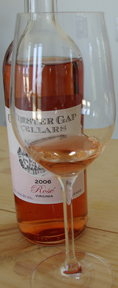 Current wines available include three whites, one Rosé and two reds. The Jungs sell wine from the tasting room and by a distributor.
Sauvignon Blanc 2006, with 12.5% alcohol, offered a grapefruit nose and taste with a crisp finish. Try pairing this with seafood. The color of the Viognier 2006 was a very light yellow to clear and the wine had a floral nose. Viognier Reserve 2006 was aged in French oak for nine months. This reserve had a light yellow to clear color. The characteristics included a fruit nose and smooth taste with slight oak on the finish. A blend of Cabernet Franc, Merlot and Petit Verdot created the 2006 Rosé. The result was a light orange color with a red fruit nose and taste, followed by a crisp and dry finish. The color of the Merlot 2006 (100% Merlot) was a red purple color. A tasting of this Merlot offered a cherry nose and taste with tannins on the finish. Cabernet Franc 2005 had dark red fruit and pepper on the nose and a dark red fruit taste. The finish offered some pepper. Cabernet Franc 2006 had a red fruit nose and taste with a bit of pepper on the finish.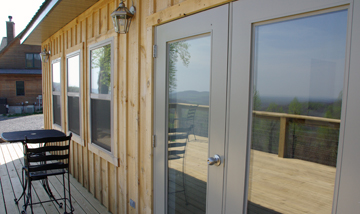 Chester Gap Cellars offers a wonderful respite from one's daily routine. The new tasting room offers fantastic views of the vineyard, valleys and mountains. During warmer weather the deck is the perfect spot to enjoy a glass of wine.
Chester Gap Cellars
4615 Remount Road
Front Royal, VA

GPS: N 38 °86.193' W 078°12.839'
---
Visit these Virginia wineries and wine tour groups that partner with Wine Trail Traveler.