Potomac Point Vineyard and Winery
by
Kathy Sullivan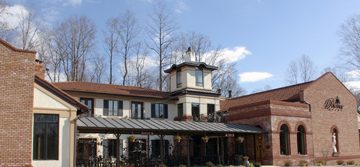 Summary: Potomac Point Vineyard & Winery located in Stafford, Virginia opened in July 2007. The winery and tasting room is a wonderful place to visit and the result of Cindi and Skip Causey's dream. Together Skip and Cindi dreamed of starting their own winery. They always enjoyed wine and after visiting wineries in Napa, they began visiting wineries in Virginia. The excitement led to earning oenology degrees at UC Berkley. Potomac Point is the result of their passion and education in the world of wine.
As one approaches the grand style building, there is so much to look at. The architecture and the details throughout the building make return visits necessary to enjoy it all. It seems that Cindi and Skip took time to consider and evaluate even the smallest detail. A patio in the center of the facility is delightful with a small fireplace in one corner. The highest point of the winery is a small cubicle with windows overlooking the vineyards and area vistas. A table for two is available and the room can be rented by the hour. This is the perfect place to celebrate a wedding anniversary or make a proposal of marriage. Outside away from the winery, a permanent pavilion is available for those wishing to bring a picnic. The large tasting room has a colorful painting, by an artist from Bosnia, displayed on the ceiling. Next to the tasting room is another large room with numerous soft comfortable chairs to relax in and enjoy the ambience of the winery. A bistro provides lunches and dinners.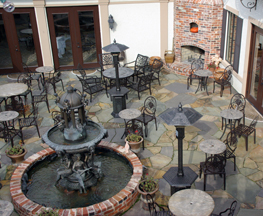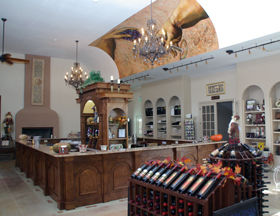 Just inside the tasting room, visitors are greeted and asked if they are there for lunch or a wine tasting. The tasting room is just beyond and offers many items to browse including clothing, wine accessories, glassware and jewelry. The rectangular tasting counter is of a granite-like finish with a wooden base. A small room adjacent to the tasting room, "Little Buds' Room" is for children. Many parents of young children will appreciate this option.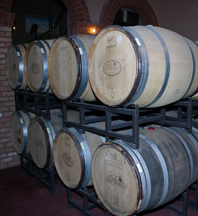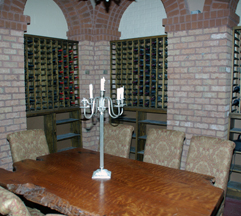 Be sure to consider asking about a winery tour. Visitors will miss the "feel" of the winery if they only stop at the tasting room. Rachel Rivers provided us with a tour and tasting. During our tour, we saw from the top of the winery to the bottom. Wine barrels are housed on the lowest level. A small room next to the wine barrels is for special occasions. A large event room with a dance floor is lovely for wedding receptions and other large events.
The vineyards on the property consist of four acres and include Viognier, Merlot, Cabernet Franc and Petite Manseng. Other sources of grapes are through leased vineyards within Virginia. Currently the winery produces 7,000 cases and they hope to grow each year. The total capacity of the winery is 20,000 cases.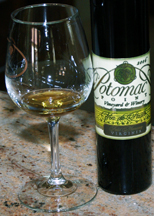 As we tasted wines, we learned more about the winery. Viognier 2006 was produced with half stainless steel and half French oak and then aged in oak. The aroma featured aromas of caramel, apples and floral. There were apple and melon nuances on the taste. The finish was crisp and fruity with a touch of butter on the end. Heritage 2006 was a blend of Malbec, Cabernet Franc and Petit Verdot. The aroma was very fruity/jam-like. The taste was of blackberries and the finish was crisp with soft tannins and ending smooth. Abbinato 2007 was a blend of 73 percent Sangiovese, 18 percent Touriga Nacional and 9 percent Cabernet Sauvignon. With a licorice aroma and a smooth fruit and herbal taste, this wine would be good with Italian pasta. It was very pleasant. The 2006 Vin de Paille was produced with 100 percent Petit Manseng by placing the harvested grapes on straw mats to raisinette. The aroma was of honeysuckle and golden raisins. The taste was sweet and smooth with honey and apricot. The lingering finish was crisp with apricot. This wine had 17 percent alcohol and the residual sugar was at 7 percent.
Potomac Point also has olive oil tastings. On a table near the tasting counter, six different olive oils are available for tasting. These include Basil Olive Oil, Persian Lime Olive Oil and L'Autumno Extra Virgin Olive Oil. The olive oil is sold by the ounce. We also noticed artisan salt for sale. One could choose between Alaea Hawaiian Sea Salt, Cyprus Mediterranean Flake Salt and Fleurde Sel de Guérande.
We were fortunate to spend a few minutes with Simone, the winemaker. Simone has an expertise in oenology and viticulture. Early on, he was making wine in northern Italy and then went to Australia and then to Sicily. Simone indicated that it is hard to make wine in Virginia because they have a very different harvest from year to year.
The tasting room is enjoyable to visit. With a rectangular granite/style counter top and a number of fine items to browse, and a lovely ambience, take time to visit Potomac Point Vineyard and Winery.

Potomac Point Vineyard and Winery
275 Decatur Road
Stafford, VA 22554
GPS: N38° 27.459' W77° 20.674'
For more information about Potomac Point Vineyard and Winery
---
Visit these Virginia wineries and wine tour groups that partner with Wine Trail Traveler.