Doukénie Winery
by
Kathy and Terry Sullivan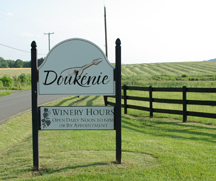 Aimed at the challenge of renaming Windham Winery, proprietors George and Nicki Bazaco delved into family history for a name. The result Doukénie, links winemaking back to Greece and a heart warming American Story. George's grandmother was named Doukénie meaning Duchess and refers back to her family ties to royalty. The family today is quick to remind visitors of the Doukénie meaning. In 1920, fourteen-year-old Doukénie Babayanie Bacos convinced her father to allow her to travel to America leaving her family behind. Armed with few possessions and a mandolin, Doukénie boarded a ship bound to America with a stop at Ellis Island. Doukénie, who turned fifteen during the voyage, was held on Ellis Island for three days while a suitable family could be located to sponsor her. In her later years, it was Doukénie who urged her grandson George to plant grapes on their 500 acre Virginia farm. Producing wine began in the basement of their home.
We arrived at Doukénie, to find a crew working on putting up a large white tent for one of their well-known events, Taste of Greece festival. Their winemaker, Doug Fabbioli, and George and Nicki were gracious and spent a lengthy time talking with us about their history and hopes for the future of Doukénie Winery.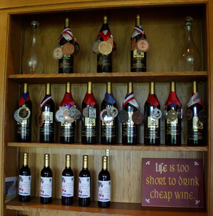 Doug Fabbioli is a busy winemaker. Not only has he been the winemaker for Doukénie Winery for seven years but also he is a consultant for other wineries and he has started his own winery. We covered many topics with Doug including blending wines. Doug prefers using a committee to help determine the blending for Doukénie wines. Inviting Wine Club members, he holds a "Blend with Friends" event. At these events, the participants have parameters to follow with regard to the wines. Since they are given parameters, Doug is able use their decisions to make blends. Although Doug appreciates discussion, as winemaker, Doug has the final say as to what wines will be blended together. "As you focus on creating quality wine, your customers really appreciate it."
George showed us the barrel room where barrels are from French, Hungarian and Eastern European oak. George showed us the difference in sizes between French and Hungarian oak. French oak barrels hold 59 gallons and Hungarian oak barrels have a 70-gallon capacity.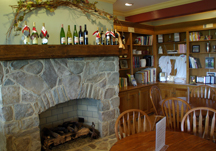 The tasting room is warm and friendly. Bookcases and a fireplace surround oak wood tables and chairs. Above the fireplace is a 150-year-old beam from a previous barn. To the back of the tasting room are windows and doors leading to a deck overlooking a large pond. Combined with a friendly hospitality associate, this is the perfect atmosphere for tasting wines.
Currently, Doukénie Winery produces 3,000 cases of wine each year. Approximately 70% of the wine is sold at the winery and the other 30% is sold retail. Nicki and George hope to increase the size of the winery. They believe the tasting room should be larger and they would like to produce 5,000 cases of wine.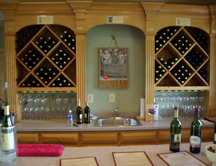 We tasted several wines including Sauvignon Blanc, Fume Blanc, Riesling, Chardonnay, Mandolin, Cabernet Franc and a Raspberry Merlot. The Sauvignon Blanc has a fruit bouquet with a long aftertaste. The Fume Blanc had a soft balance of fruit, oak and acid. Hope's Raspberry Merlot with 70% merlot and 30% raspberry wine has a very good raspberry flavor. This was one of the best raspberry wines we have had yet.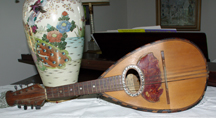 Throughout our discussions, Hope's name continually popped up. Nicki and George insisted that we meet Hope, George's mother and Doukénie's daughter, before we left. We are so glad we did. Hope is a vibrant woman full of charm, with a twinkle in her eye. She is a gourmet cook who is not afraid to try any combination of ingredients. With wine available, she frequently adds wine to any recipe she is cooking. When we met Hope, she had just finished preparing food for an expected 600 festival guests. She asked us to sample a few of the things she had prepared for the Taste of Greece festival. Delicious! Flavors blended subtly and tastings left you with the desire to try more. If she has not already, perhaps she should consider writing a cookbook. Hope also told us stories about Doukénie and showed us her mandolin.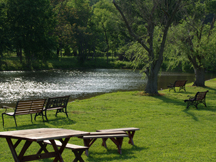 Throughout our visit, we heard, "we want to give our visitors an experience." Experience the friendliness, charm, family-oriented, farm with ducks and horses, wine education and more. Nicki is quick to add that even though this is a family-oriented winery, families must be diligent. Doukénie Winery is a lovely winery to visit, with a relaxing atmosphere and a variety of wines to try. We believe you will enjoy your visit to Doukénie Winery in Northern Virginia.
Doukénie Winery
Purcellville, VA

GPS: N 39° 12.721 W 077° 42.596
Historical Interest: Transcript of a 1991 interview with Doukénie Babayanie Bacos about her life in Greece and her trip to America.
---
Visit these Virginia wineries and wine tour groups that partner with Wine Trail Traveler.