Willowcroft Farm Vineyards
by
K. L. Sullivan
Update: January 2009
January 2009 Willowcroft Farm Vineyards added a Petit Verdot to their portfolio since we visited. According to owner and winemaker, Lew Parker, the Petit Verdot "…in my opinion is the best wine we produce……..fine dark berry fruit with a creamy, velvety finish." Case production is at 2500 cases each year. In March 2008, Lew added a half-acre of Albarino to his vineyards. Lew is making changes to the tasting room. Renovations will include new floors, lighting systems, heating system, and painting as well as enlarging the room. Lew looks forward to visitors stopping by and tasting his wines.
---
As the car shook and small stones kicked up against the bottom of our car, we enjoyed the beautiful countryside through which we were driving. It seemed unlikely to find such a sense of country located this close to metropolitan Washington, D.C. Trees overhanging the road, we felt as if we were on an adventure, far from the maddening crowd.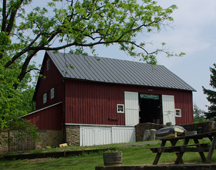 At the sign for Willowcroft Farm Vineyards, we turned right on to a driveway, passing a large country home and before us we saw a small bright red barn. Entering the barn where the tasting room is located, the strong, nostalgic smell of "old" gave added enjoyment to our visit. Perhaps "museum" would more accurately describe the barn. Most likely built shortly after the Civil War, the building remains in good condition. As we toured the winery, we saw thick stonewalls, associated only with buildings built long ago.
Renovations to change the barn into a winery did not destroy the character of the barn, and some would consider it an enhancement. Kelly Peck, the Marketing Director, greeted us and quickly located Lew Parker, Willowcroft's owner and winemaker. Lew began our tour by setting a fast pace to the "home vineyard." Between the "home vineyard" of 3.5 acres of grapes and vineyards a short distance way, Willowcroft has about 14 acres of grapevines. Plans are in the works to expand the vineyard, but Lew wants the vineyard to remain "small." Currently Willowcroft produces about 2500 cases of wine.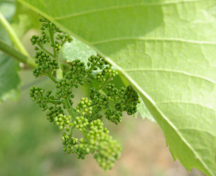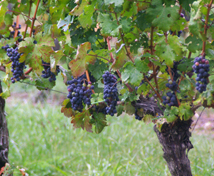 As we traipsed across the tall grass to the vineyard, Lew explained, he purchased the property in 1979 and planted grapes in 1981. Arriving at the vineyard, we observed the tiny beginning of grapes. In a few short months, these small green grapes not any larger than the head of a pin will be ripe for picking. Willowcroft's vineyards contain five to six thousand vines. These include five reds and five whites. The reds are Cabernet Sauvignon, Cabernet Franc, Petit Verdot, Chambourcin and Merlot. White varieties include Chardonnay, Riesling, Vidal Blanc, Traminette and Seyval. In the near future, a recently acquired area may have Spanish grapevines planted. An August visit shows Cabernet Sauvignon past verasian.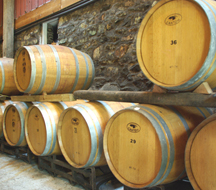 After our tour of the vineyard, we headed back down the slope to the winery that is located in an addition to the barn. Separated in two sections, one side is for producing white wines and the other section for red wines. To produce a Bordeaux wine, reds are blended. A committee makes decisions, as to which wines make up a blend. Lew believes that decisions are better if a committee makes them as an individual's taste can change from day to day, depending on several variables.
Willowcroft is a member of a consortium of seven wineries. This consortium owns a bottling truck that they share throughout the year.

A small area is set aside in the winery for analysis of wine during the winemaking process. One very interesting piece of equipment is an Aeration-Oxidation Apparatus for determining sulfur dioxide. This particular piece is the most accurate for determining sulfur dioxide.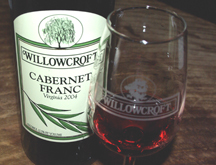 After our tour with Lew, we were back at the tasting room. With thick wood unfinished floor boards and a tasting counter made from unfinished wood, the tasting room adds to the mystique of tasting wine at Willowcroft. We tasted several Willowcroft wines including Chardonnay Reserve, Chardonnay Cold Steel, Vidal Blanc, Riesling Muscat and Merlot. The Chardonnay Reserve, a popular white wine, is oaked for nine months and has oak and butter on the nose and aftertaste. The best red wine seller is Merlot with a fruit flavor and fruit aftertaste.
An additional room in the winery, renovated recently, is available for larger groups of visitors. This room with several tables available may also be rented out for a modest price.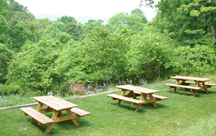 From the tasting room we saw a couple of picnic tables for visitors to use. Just as we were leaving Willowcroft, we walked over to the picnic area and saw a picturesque view. We were so glad we did not miss this sight. With numerous picnic tables on a terraced area, one can readily envision having a picnic lunch with a glass of Willowcroft's wine. When you visit Willowcroft, even if you do not stop to eat, be sure to visit this area.
If you are looking for a pleasant, slow-paced countryside visit with a beautiful view, take a picnic lunch and enjoy it with a glass of Willowcroft wine.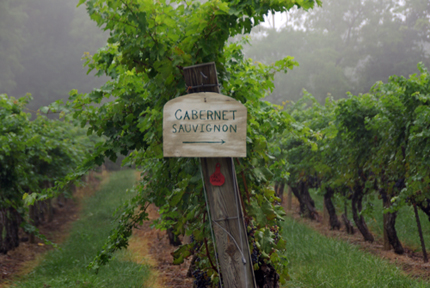 We had the opportunity to visit Willocroft once again in August of 2009. The drizzle that was threatening all day finally continued non-stop. A fog filled the valleys and once again blocked our view of the distant mountain scene. However the same fog cast an old world glow to the vineyards which added to the enjoyment of viewing them.
Willowcroft Farm Vineyards
38906 Mt. Gilead Road
Leesburg, Virginia 20175


GPS: N 39° 04.299' W 077° 39.520'
---
Visit these Virginia wineries and wine tour groups that partner with Wine Trail Traveler.