Barrel Oak Winery
by
K. L. Sullivan
Summary: Barrel Oak Winery is the fulfillment of a dream shared by a husband and wife team. Barrel Oak Winery opened in 2008, and Brian and Sharon Roeder are pleased with the large 10,000 case facility and the progress made in just over a year. The tasting room is opening with 2800 cases. The winery and tasting room are environmentally and handicapped friendly. The owners believe this is one of the greenest wineries in northern Virginia.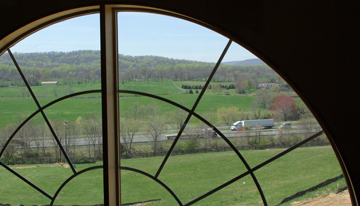 Barrel Oaks Winery is a remarkable sight. The breathtaking, views from the tasting room, is a writer's dream. More importantly, it is Brian and Sharon's dream about to become reality. The couple decided to build a winery after they discovered that they shared a common dream and could make that dream come true by working together. Sharon dreamed of taking a morning cup of coffee and walking through vineyards. When Brian was 19, he had written a list of things he wanted to do in his life. Years later he discovered the list and on it he had written owning a winery.
Before this dream was to become a reality, Brian spent many years in every aspect of the building industry and was able to envision the result of all of their planning. Sharon is the winemaker and viticulturist and has worked alongside several winemakers learning the process. Brian is in charge of the construction and the business angle of the winery. As Sharon pointed out Brian has a special talent for being able to see the end product before it is ever built. The architect's watercolor print of the winery before construction was exactly what Brian foresaw from the plans.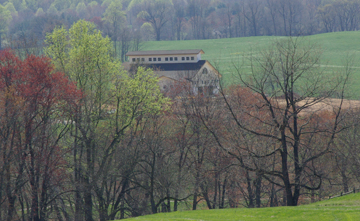 On May 23, the Barrel Oaks Winery tasting room will open for the first time. Barrel Oaks Winery is designed to be environmentally friendly. Despite the initial cost of installing a geothermal system, Brian believes that in a few years it will pay for itself.
Brian and Sharon have spent hundreds of hours researching wineries and vineyards. Sharon would bring winemakers to the site and ask for their opinions. She asked winemakers what was the worst part of the tasks in a winery. Brian and Sharon made decisions based on their research and the "form follows function" model. For example, Brian recounted that many of the winemakers had a barrel room and a room with stainless steel tanks. These winemakers wished they had a third room. Brian and Sharon placed a third room in the plans for their winery. Another point they learned while researching was to design the building so that hoses would not be on the ground where people needed to walk. They designed a conduit for the hoses. One of the most frequent suggestions is to build a winery that you will grow into rather than one that you will fill immediately. They designed their winery for 10,000 cases a year, giving them the opportunity to grow. Sharon and Brian have tried to take advice into consideration and build a winery that will alleviate many of the problems that other owners and winemakers have discovered in their own buildings.
The curved, main tasting bar will be covered with zinc. When finished, the tasting room will have chandeliers. Sharon noted that the plans call for a stone fireplace in the tasting room. Visitors who arrive by bus will be greeted on the lower level where a second tasting bar awaits them. A tour of the facilities will also be available for bus tours.
Above the tasting bar is a second floor that curves out over the tasting room below. When this area is finished, small events will take place here. When the tasting room is crowded, another tasting bar will be added at this location. Just below the tasting room, a platform is available for visitors to view the winemaking process as a self guided tour. Detailed tours will also be available.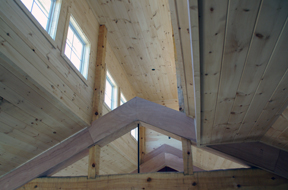 The winery and tasting room combination is environmentally friendly. Geothermal heating and cooling was installed with a geoexchange loop placed eight to twelve feet below the soil surface. Brian estimates that within five to seven years this installed system will pay for itself. The system can deliver heat, cooling and hot water at a fraction of the cost. The winery beneath the tasting room was built into the side of a hill. The hill acts as insulation requiring less energy to heat and cool it. In the tasting room, the floor is made from recycled or reharvested wood obtained from old oak fences and barn siding. This will result in white and yellow colors with a patina.
Other green aspects of the winery include use of passive energy ideas such as timers on windows that will open at night to let the hot air out, low e argon windows and thick insulation.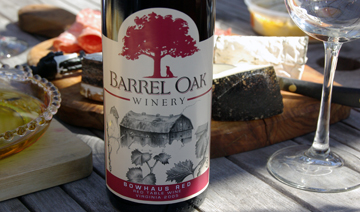 Currently the estate has 70 acres of property with 13,000 grapevines. Eventually the vineyards will surround the tasting room. "We want to give each grape its character. We want to grow what's best in each area." Before we left, we had the privilege of tasting several wines that will be offered on the Grand Opening day. Bowhaus White was a Seyval blend with a floral nose and a smooth fruity taste. Norton was a dark, red purple with spice, vanilla and oak on the nose. It had a crisp finish. Bowhaus Red was a blend of several reds including: Malbec, Norton. Cabernet Franc and Petit Verdot.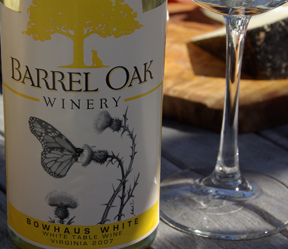 After you visit, you will realize the amount of time and energy the Roeders have put into this winery. Foremost in their minds are their guests being comfortable and enjoying themselves with quality wines.
Barrel Oak Winery
3623 Grove Lane
Delaplane, Virginia 20144

GPS: N 38 °88.436' W 077°90.385'
For more information about Barrel Oak Winery
---
Visit these Virginia wineries and wine tour groups that partner with Wine Trail Traveler.