Aleksander Estate Winery
by
Kathy Sullivan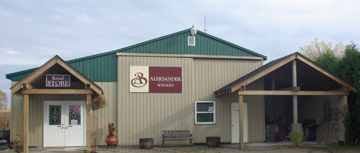 Summary: Aleksander Estate Winery is a small, boutique family winery. The winery is owned by winemaker Alex Bemben. The winery produces red, white and fruit wines.
Aleksander Estate Winery is owned and operated by Alex Bemben and his family. This family oriented winery focuses on small batch wines. Alex has been involved with wine since he was a teenager. In Poland, he began making wine when he was 14. When he was in his early twenties he traveled to Austria to learn more about wine. Alex also visited Germany. In the early 1980s, Alex came to Canada where he worked at a winery.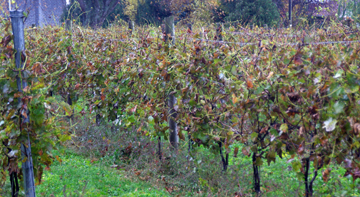 Alex bought the current site for Aleksander Estate Winery in 1998 and planted grapevines in 1999. The five acres of vineyards, located on a slight slope, include Chambourcin, Cabernet Franc, Cabernet Sauvignon, Riesling and Vidal. The topsoil is white sand which has good drainage. Alex plans to increase the size of the vineyards. In addition to his own harvested grapes, he buys grapes from local growers in Essex County.
Visitors to Aleksander Estate Winery will travel past grapevines along the left side of the driveway. More vineyards can be viewed along the side of the winery and tasting facility. Inside the tasting room offers a peaceful ambience with wines displayed along one long wall. Windows on the left side wall offer views of the vineyards. A tall table has a wood chess set where visitors can enjoy a glass of wine paired with a game of chess.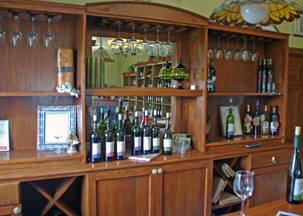 The tasting counter is of wood with a wood back bar and mirror. Stained glass overhead lighting adds to the mystique.
Stepping through a door near the tasting counter one can enter the event room for special events. The high yellow walls are filled with large, lovely framed works of art by local artists. This is a delightful spot to host a birthday party, anniversary or small wedding celebration.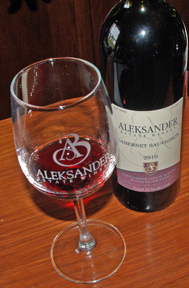 Red Wines
Chambourcin 2010, a ruby colored wine, offered red berry nuances. The finish was crisp and fruity. This is a light red wine for anyone who likes white wines. It is an easy drinking red wine that pairs well with pasta. Cabernet Franc 2009 was ruby with an aroma of spice and some pepper. The taste had dark fruit notes. The finish had tannins with fruit yielding to spice then pepper. Cabernet Sauvignon 2010 a red to ruby wine, offered aroma and taste notes of dark fruit and spice. The finish had mild tannins.
White Wines
Riesling 2010 had 12.5 percent alcohol. This pale yellow wine had a fruity aroma with citrus notes. The taste was sweet and fruity with a hint of minerality. The wine finished dry and the taste lingerd. This is a food friendly wine. Consider pairing it with a variety of cheeses. Suggested pairings include seafood, fish and grilled chicken. Vidal 2009, an off-dry wine, was pale yellow with a medium body. The aroma was sweet with light fruit nuances. The taste offered fruity notes including melon and apple. The finish was sweet and drying. This wine is good for pairing with food or by itself. Suggested pairings included grilled chicken, spicy foods or pork dishes.
Fruit Wines
Alex produces three fruit variety wines. The Raspberry is like a mouthful of fresh raspberries. Delicious! Enjoy it by itself, as a dessert or add spritzer to it for a special delight.
During the warmer months visitors stop by to purchase a glass of wine to enjoy on the grassy area just outside the tasting room next to the vineyards.
When you have the opportunity, travel to Aleksander Estate Winery and enjoy tasting wines. Plan to stay awhile and enjoy the outdoor area.
Aleksander Estate Winery
1542 42 County Rd. 34,
Ruthven, Ontario N0P 2G0
GPS: N42º 04.228' W82º 40.190'
---
Visit this Winery/vineyard travel agency and Canada winery that partner with Wine Trail Traveler.