Riverview Cellars
by
Kathy Sullivan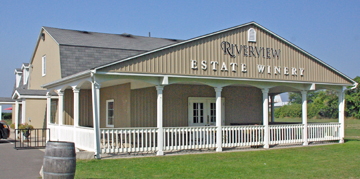 Summary: Riverview Cellars is just across the street from the Niagara River. According to Mike Pillitteri, General Manager, the views of Niagara River are best during the fall and the winter. Wine enthusiasts will enjoy tasting wines at any time of year as well as browsing the market shop.
Arriving at Riverview Cellars wine travelers discover the tasting room located in a large cottage style building with white trim. Across the road one can glimpse views of Niagara River with the Niagara Parkway Recreational Trail closeby. Mike Pillitteri, General Manager, noted that views of the river during the fall and winter are beautiful.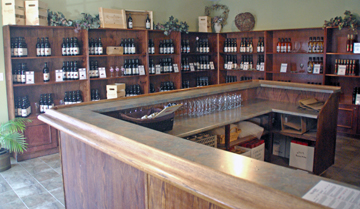 Inside visitors can turn right into the market shop or turn left into a large tasting room enhanced with an elegant tasting counter and walls lined with dark wood shelves with an array of bottles of wine. Be sure to note the wine labels. Each label has significance for Riverview Cellars.
History
Many years ago, Riverview Cellars was known as Riverview Farms. Mike Pillitteri's parents bought the property in 1975. It was a fruit farm with variety of fruits planted and a small fruit market. As fruit sales slowed down, they began to plant vineyards in 1992. Gewürztraminer was the first variety planted. The winery opened in 2000.
Mike noted that the front of the building is still the original fruit farm market and they have continued to add on sections to the building. All along they have been taking baby steps to reach their goal.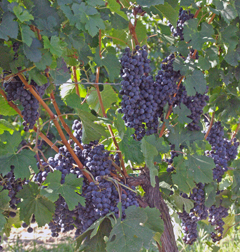 Vineyards
Vineyards of 25 acres with nine varieties include: Merlot, Cabernet Sauvignon, Cabernet Franc, Chardonnay, Riesling, Pinot Gris, Gewürztraminer, Vidal and Baco Noir. During the growing season they crop the vines so they can harvest about 2½ tons per acre. Mike noted that they do not use wind machines because the vineyards are in a very protected area.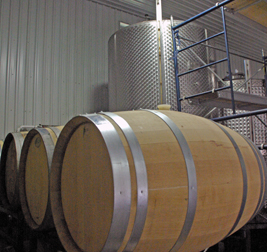 Winery
The winery is a separate building near the tasting room. In the winery, a bottling machine from Italy can enclose bottles with corks or screw caps. According to Mike, the focus of the winery is on small batch production of high quality wines produced with high quality fruit. The winemaker is Angela Kasimos. Today they produce 6,000 cases of wine selling most of it at the winery.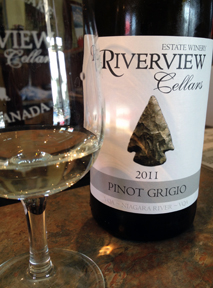 White Wines
Back in the tasting room we tasted several wines. Pinot Grigio 2011 was a straw color with citrus notes. The wine finished with citrus and hints of yellow stone fruit. Riesling 2010 was a straw color with an aroma of flower blossoms. The taste had an array of notes including mineral, roses and yellow stone fruit. The finish was crisp and dry. This wine would pair well with foods. Bianco 2010 was a blend of Riesling and Gewürztraminer. This pale yellow wine is a good "walk-a-around" wine. Notes included roses, honeysuckle and yellow stone fruit.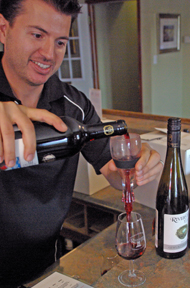 Red Wines
Syrah 2010 was a ruby color. The aroma had notes of pepper. The taste had some dark fruit notes notably plum. The finish offered tannins, fruit and spice. Suggested pairings included barbeque or pepper crusted tuna. Cabernet Franc 2010 Salvatore's Reserve won the Lieutenant Governor's Ontario Award of Excellence. It was chosen out of the 11 top wines. This wine was decanted before tasting. The color was a dark purple and the aroma was vey aromatic. This full-bodied wine offered red fruit notes including plum. The finish lingered with spice.
Ice Wine
Buona Notte 2010 Vidal Riesling Ice Wine was produced with Vidal and Riesling. The Riesling was 100 percent botrytis affected. Both grapes were harvested at the same time. It was fermented and aged in new French oak specially treated for Ice Wine. The aroma offered floral with honeysuckle and orange blossom. The taste was smooth and creamy with honey and yellow stone fruit. The finish was crisp and sweet – delicious.
Enjoy a visit to Riverview Cellars, where across the road you can enjoy Niagara Parkway Recreational Trail.
Riverview Cellars
15376 Niagara Parkway
Niagara-on-the-Lake, Ontario
Canada, L0S 1J0
GPS: N43º 12.330' W79º 03.548'
September 2012
---
Visit this Winery/vineyard travel agency and Canada winery that partner with Wine Trail Traveler.