PondView Estates Winery
by
Kathy Sullivan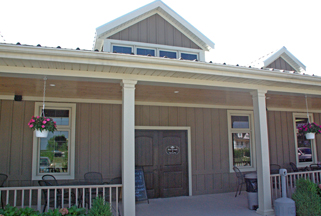 Summary: PondView Estate Winery has vineyards dating back to the 1970s. In 2008 Lou Puglisi was named Ontario Grape King, an honor bestowed by the Ministry of Agriculture in Ontario. Visitors can experience wines with an emphasis on red wines.
Wine enthusiasts will discover PondView Estate Winery in a modern building with white trim. Inside the tasting room, stacked flat rocks provide an elegant base for the tasting counter. Visitors have plenty of space to walk around, relax and browse the wine related items available for purchase.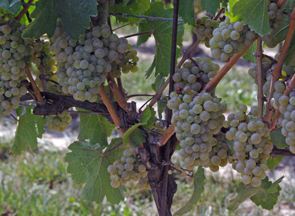 Vineyards
PondView Estate Winery is a family owned and operated winery and vineyard. Luciano and Adriana Puglisi are the third generation of grape growers. Luciano's grandfather grew grapes and made wine in Sicily. The Puglisi family has been growing grapes on the PondView property since 1974. Twelve acres of grapes expanded to 60 acres. The winery was named PondView because a pond is on the property surrounded by vineyards.
The sixty acres of vineyards are located in the Four Mile Creek sub appellation. They include many varieties: Merlot, Cabernet Franc, Cabernet Sauvignon, Malbec, Pinot Noir, Gewürztraminer, Pinot Grigio, Viognier, and Riesling (pictured.)
In 2008 the Ontario Ministry of Agriculture named Lou the year's Grape King. This is an award for growers with a focus on vineyard management and the industry.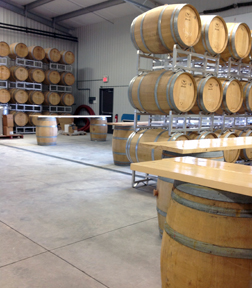 Winery
Lou Puglisi visited British Columbia and saw many boutique wineries and this inspired him to add a winery to the vineyards. Today the winery produces 9,000 cases and Lou hopes to increase to 10,000 to 12,000 cases in the next few years.
The brightly lit tasting room and retail area has windows behind the tasting counter. Visitors can see into the winery area to stainless steel tanks and barrels stacked up to four high. The barrel and tank room is spacious offering space to increase production. The openness of the area also enables additional tasting counter areas.
Lou noted that PondView is a premium producer of Bordeaux reds and Chardonnay. They are raising the bar for what can be done with red varieties in Ontario. The winery continues to expand and opened a wine shop in China.
Visitors to the winery are offered three different types of wine tastings.
• Bella Terra Experience (Reservations are required for this special winery Experience.)
• 3 Cheeses and Wine Pairing
• Winery Tour & Tasting
The Bella Terra wines are the winery's premium wines. The term Bella Terra is "Beautiful Earth." We tasted several wines with Lou.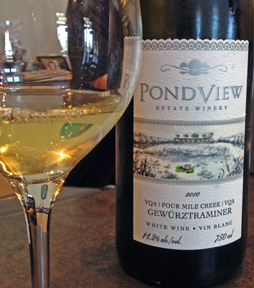 White Wines
Chardonnay 2010 was a light yellow fermented wine. Caramel and apple were on the aroma and the taste. The wine finished with mild tannins and apple with caramel nuances. Pinot Gris 2011 was fermented and aged in neutral French oak. The light gold colored wine was a complex Pinot Gris. Notes included mineral, citrus and some tropical hints. The wine with mild tannins was crisp. Gewürztraminer 2010 with 11.2 percent alcohol offered a slight fruit aroma. The taste was smooth and slightly sweet. This wine was refreshing and a great 3P (patio, porch or pool) wine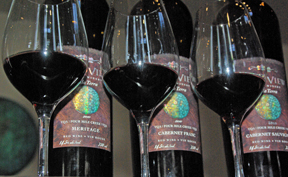 Red Wines
Cabernet Sauvignon 2010 was a dark ruby purple color. The wine offered pepper and dark fruit notes. There were bold tannins with spice surrounded by fruit. Meritage 2010 was a blend of Cabernet Franc and Cabernet Sauvignon. The dark purple wine had dark fruit notes on the aroma and taste. The finish had bold tannins similar to the tannins in Sagrantino. The aftertaste was fruity.
Ice Wine
Cabernet Franc Ice Wine 2009 was a sienna color. The aroma was of floral and rhubarb. The taste had strawberry with rhubarb notes. The finish was sweet reminding one of a strawberry rhubarb pie.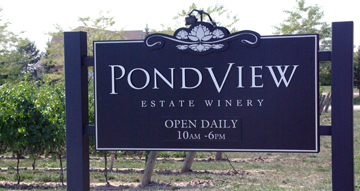 Visit the PondView Estate Winery's website to discover all they have to offer including estate grown wines, tours, and wine/cheese pairings.
Pondview Estate Winery
925 Line 2 

Niagara-on-the-Lake, Ontario
Canada, L0S 1J0
N43º 13.073' W79º 06.106'
---
Visit this Winery/vineyard travel agency and Canada winery that partner with Wine Trail Traveler.