Wagner Orchards & Estate Winery
by
Meghan Neumeier
Photos by
Andy Neumeier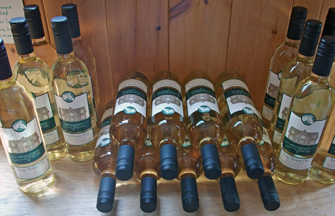 Summary: Wagner Orchards & Estate Winery, located in the Lake Erie North Shore region, was founded as an apple orchard in 1984. Today, the estate also includes livestock, a bakery, and wine. The estate is particularly popular in the fall, when thousands of guests visit to pick apples, taste freshly baked goods, purchase natural meats, and sample wines. Wagner Orchards & Estate Winery is particularly well known for its fruit wines.
Wagner Orchards & Estate Winery, in Maidstone, Ontario, began as a pick your own apple orchard in 1984. Since then, the estate has expanded to include husbandry, baking, and winemaking. While the apple orchard brings in the majority of the visitors (30,000 people every fall), the natural meats and quality fruit wines also attract visitors. Owner Harold Wagner's background in agriculture and science, as well as his experience growing fruit, prepared him for entering the wine industry. Harold began making wine on a small scale as a hobby. In 2004, he opened the winery, which initially focused on fruit wines but now also includes single varietal and blended grape wines. Harold works closely with Smith and Wilson Winery, also located in the Lake Erie North Shore region, to produce the wine.
Wagner Orchards & Estate Winery uses grapes from other Ontario wineries, such as Smith and Wilson, to make its wine. However, Wagner's Pug's Head Cider is made from apples on the Wagner property. Similarly, the berries used for the Bridal Path, Fire House Red, and Black Cat wines are grown on property.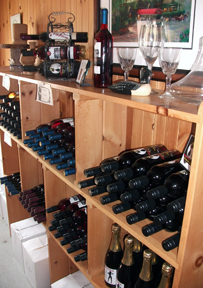 Wagner produces 1,000 cases of wine a year. Popular wines include the Bridal Path, a blend of raspberry juice and white wine; the Fire House Red, made from sour cherries; and the Black Cat, a blend of blackcurrant juice and apple wine. The Bridal Path has a pink/orange color and a strong raspberry aroma and taste. It is a well-balanced fruit wine that is not overbearingly sweet or overwhelmingly dry. Visitors may find themselves licking their lips for another glass after tasting the Bridal Path. The white wine in the Bridal Path is the Log House White, which is a blend of Riesling and Vidal wine and ice wine juice. The Log House White is the color of straw. Its scent contains light hints of fruit, and its flavor is sweet and light. The Pinot Grigio, a single varietal grape wine, is almost translucent in color. It tantalizes the nose with apple and peach scents, and it pleases the tastebuds with a light, fruity, acidic flavor and body. The Black Ice wine is made from blackcurrant berries. It is dark purple and contains a berry-laden aroma. It has a strong berry flavor and is sweet and acidic. Notes of chocolate are present, making it ideal for pairing with chocolate desserts.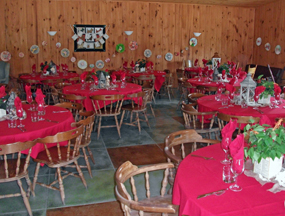 The tasting room has a rustic, cabin feel and a warm, laid back atmosphere. In addition to tasting wine, visitors can purchase beef, pork, and poultry that is free of chemicals, growth hormones, and antibiotics. Customers can choose from steaks, hamburgers, bacon, ground pork, and Berkshire pork. Wagner Orchards & Estate Winery also sells unpasteurized honey and homemade jam. The bakery, adjacent to the tasting room, makes pies, strudels, and other desserts for sale.
In addition to apple picking, Wagner Orchards & Estate Winery is a venue for small weddings, receptions, and parties. Wagner Orchards also opens its doors to school children who visit the agricultural destination as part of school tours. In the fall, Wagner Orchards has a pumpkin patch. Visitors who enjoy drinking wine and picking apples will find Wagner Orchards & Estate Winery a delightful destination.
Wagner Orchards & Estate Winery
1222 Concession Road 8 W
Lakeshore, Ontario N0R 1K0, Canada
Article written August 2013
---
Visit this Winery/vineyard travel agency and Canada winery that partner with Wine Trail Traveler.