Cattail Creek
by
Kathy Sullivan
Summary: Cattail Creek Estate Winery has been cultivating vineyards and producing wines for many years. Today this second generation family is involved with the vineyards and winery.
Cattail Creek Estate Winery is a family affair where first and second generations have worked to create vineyards and quality wines. Frequently people like to revisit and try different vintages.
Cattail Creek Estate Winery and tasting room is located in a two-story white trimmed building set in the middle of vineyards. The winery is family owned and operated by Ken and Renate Dyck who purchased a 23-acre farm in 1971. The winery is named for the Cattail Creek with cattails growing that runs through the Cattail Creek Vineyard. Warren, Ken and Renate's son, is the viticulturist who experiments with grape varieties. Their daughter, Roselyn, became a certified sommelier and now has a major role at the winery. Currently the winery produces 5,000 to 7,000 cases.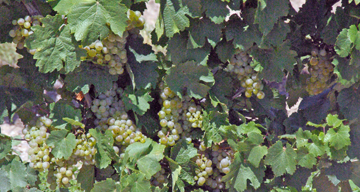 Vineyards
Over the years additional vineyards were added. Now the vineyards consist of 100 acres and include Opa's Vineyard, Cattail Creek Vineyard, Rickety Bridge Vineyard and Burning Barn Vineyard. Varieties in the vineyards include Riesling, Chardonnay, Vidal, Pinot Noir, Gamay, Cabernet Sauvignon, Cabernet Franc, Baco Noir, Merlot and Sauvignon Blanc.
Tasting Room
The tasting room has a honey wood tone and a homey feeling. Small tables made from wine barrels offer room for a more intimate tasting. Several people can stand along the tasting counter. Wine bottles and gift baskets are artfully displayed along the walls.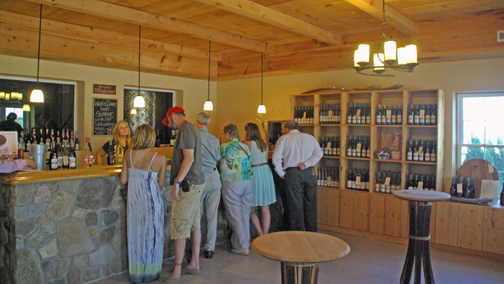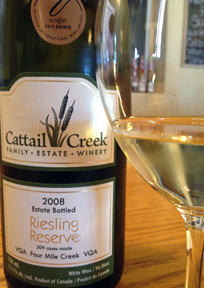 White Wines
Riesling 2008 Reserve, a straw color, was produced with grapes from vines planted in 1976. The wine offered an aroma of flowers specifically roses. Lime was on the taste and the finish was crisp. Riesling 2009 also a straw color had an aroma and taste of floral notes and yellow stone fruit. The finish was crisp, slightly sweet and fruity. Chardonnay Musqué was a light straw color with notes of apples, limes and orange blossoms. It was like a fruit cocktail including several fruits: peaches, apples, pears and lime. The finish was crisp and fruity. 'Cat-Astrophe' White 2008 was a blend of Chardonnay Musqué, Riesling and Gewürztraminer. The wine was very aromatic and the taste offered hints of grapefruit. The finish was dry, crisp and refreshing. 'Collaboration' White Blend 2009 was a blend of Sauvignon Blanc, Gewürztraminer and Riesling. This wine was a collaboration of the viticulturist and winemaker. The taste was crisp and refreshing with white fruits including apples and pears. The finish was dry, crisp and refreshing.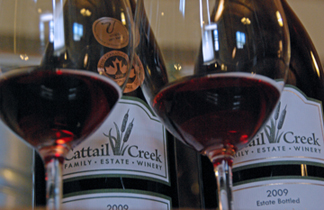 Red Wines
Pinot Noir 2009 was a light ruby with cherry nuances on the aroma and taste. The crisp finish had mild tannins with cherry notes. Pinot Noir Reserve 2009 was light ruby with cherry nuances and a crisp finish with cherry. 'Cat-Astrophe' Chocolate 2008 had an orange infusion. This wine was made with Vidal, chocolate and orange. The wine was yellow wiith orange blossom notes on the aroma and taste. There was chocolate on the aftertaste followed by orange nuances.
Cellar Cats Club
Cattail Creek Estate Winery's Cellar Cats wine club offers several shipping options. Wine enthusiasts can choose to have 2, 4, 6, or 12 bottles of wine delivered four times each year. Members will also receive wine and food pairing suggestions. They have access to back vintages and pre-release wines. Cellar Cats Club members can receive complimentary tours and 20 percent off non-wine items.
Enjoy a visit to Cattail Creek Estate Winery where you will have your choice of wines to taste.

Cattail Creek
1156 Concession 6 

Niagara-on-the-Lake, Ontario
Canada, L0S 1J0

GPS: N43º 12.058' W79º 08.199'
---
Visit this Winery/vineyard travel agency and Canada winery that partner with Wine Trail Traveler.