Megalomaniac: John Howard Cellars of Distinction
by
Kathy Sullivan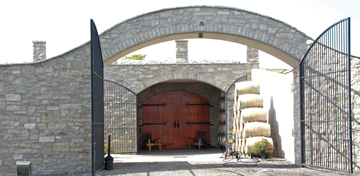 Summary: For John Howard, the owner of Megalomaniac, charity work is very important. Howard has been involved in the wine industry in Canada and France and firmly believes in making the best wine from excellent grapes grown in the Niagara Escarpment region. Megalomaniac is located in Vineland, Ontario.
A visit to Megalomaniac in Vineland, Ontario will take wine enthusiasts to a unique winery and vineyard created by John Howard after he retired. Before starting Megalomaniac, Howard was the proprietor of Vineland Estate in Ontario and also bought into two French Châteaus. Eventually, he started Megalomaniac in Ontario. The unusual name was chosen when Howard's friends said he was a megalomaniac. While Megalomaniac was not his first choice for the winery name, the name stayed.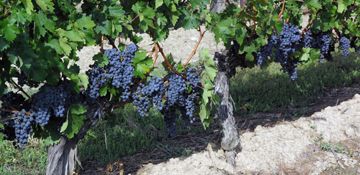 Vineyards
The Sous Terre Vineyards surrounds the winery with 96 acres of vineyards that include Riesling, Pinot Noir, Merlot, Cabernet Sauvignon and Cabernet Franc. Close by is the Home Vineyard. The ten acres include Cabernet Sauvignon and Merlot.
John Howard also is a partner with two French vineyards both in St. Emillion, Bordeaux, France. Château Haut-Pontet has 12 acres of Merlot and Cabernet Sauvignon. Château La Confession has 18 acres of Merlot, Cabernet Franc and Cabernet Sauvignon.
Charity
Another important aspect of John Howard is his campaign to help children in hospitals. Howard is on the Board of Directors for Kids Health Links. This philanthropic organization donates computers and technology aids for children in 11 children's hospitals. The goal of Kids Health Links is to help hospitalized children communicate with family, friends and school. For bottles of wine purchased from Megalomaniac one dollar is donated to Kids Health Links. We had an opportunity to visit with John Howard who built the winery in 2007. As he provided us with a delightful tour of his vineyards and home he was very enthusiastic about supporting Kids Health Links and about Megalomaniac wines and vineyards.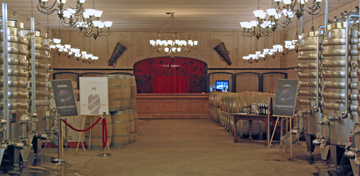 Tasting Room
The tasting room and winery appear to be built into a hill. The outside reminds one of a stone fortress. When entering the facility, visitors will walk through doors that are several inches thick. The first thing one sees are the stainless steel tanks followed by oak barrels along sides of the large room. The tasting counter is at the far end of the elongated room. Wine enthusiasts walk past the many tanks and barrels. Simple but elegant chandeliers light the way. In addition, to traditional French oak barrels, the winery also has several cigar oak barrels; it was noted that this particular type of oak barrel is much more expensive than the traditional barrels. However according, to the assistant winemaker, there are benefits to using these special shaped barrels.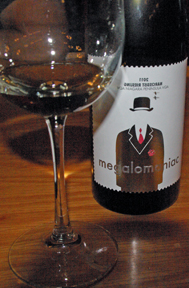 Wines
Narcissist Riesling 2011 was a straw color with a floral aroma of roses, honeysuckle and some yellow stone fruit. The taste had peach and melon notes. The finish was crisp and fruity with fruit yielding to some minerality. Cabernet Franc Proprietor's Reserve 2008 was a dark ruby color. The taste and aroma had pepper and black fruit notes. The finish with tannins offered spice and yielded to fruit on the aftertaste. Merlot Cabernet 2008 was a dark ruby color. The aroma was of pepper and dark fruit. The taste had fruit notes of blackberries and plum. The finish had tannins and was fruity.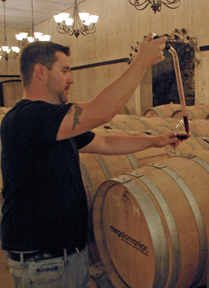 Barrel Tastings
Merlot 2010 offered an aroma and taste of earthiness and dark fruit. The tannins were somewhat bold. With spices and fruit on the aftertaste. Cabernet Sauvignon 2010 was a dark ruby. The aroma had some green influences. The taste was of fruit especially blackberries. The finish had tannins and fruit notes. Cabernet Franc 2010 was a dark ruby. Dark fruit was on the aroma. The taste was of blueberries and blackberries. The finish had bold tannins and was fruity.
Wine enthusiasts will enjoy visiting Megalomaniac and discovering the wines. While visiting, consider supporting Kids Health Links by purchasing wines.
Megalomaniac: John Howard Cellars of Distinction
3930 Cherry Avenue 

Vineland, Ontario
Canada, L0R 2C0
GPS: N43º 09.187' W79º 25.128'
Article written in September 2012.
---
Visit this Winery/vineyard travel agency and Canada winery that partner with Wine Trail Traveler.