Black Prince Winery
by
Kathy Sullivan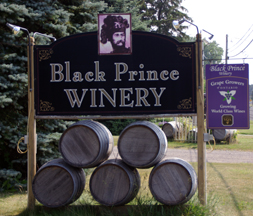 Summary: Black Prince Winery wants to showcase different vineyards in Prince Edward County with which they partner. In the Black Prince Winery tasting room, visitors will discover Black Prince wines and wines from Harwood Estates and Bella Vineyards. Black Prince Winery also embraces using locally produced oak barrels.
The Black Prince Tasting Room
The Black Prince tasting room is located up a short set of stairs. On the way up visitors will want to stop and view the information about Black Prince Winery and the Black Prince historical figure posted on the wall.
Upon entering the tasting room, there are numerous wines and wine accessories to browse. Cheese is also available for sale. A large tapestry depicts various stages of winemaking. The tasting counter is rectangular and of golden oak. From a balcony adjacent to the tasting room, travelers can view the Black Prince vineyards in the distance.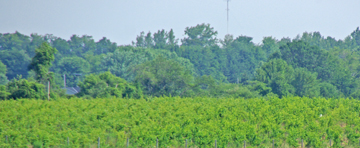 Vineyards
Black Prince Winery has 10 acres of vineyards on a south-facing slope. The vines were planted in 2002 on a ridge. The soil is sandy loam and limestone with about 18 feet of soil over limestone. No irrigation is needed and the soil has good drainage. The vineyards have Chambourcin, Chardonnay, Cabernet Franc, Marchel Foch, Vidal Blanc, Baco Noir and Seyval Blanc. In addition to their own vineyards, the winery works with several growers in Prince Edward County.
Winery
The focus of Black Prince Winery is to emphasize the local area. They want to embrace the use of local oak wine barrels made with Prince Edward County white oak. An equation is displayed. 100 percent county white oak plus 100 percent country grapes equals 100 percent County Terroir Elite Wines. Black Prince produces 5,000 cases and has a plan in place to increase that number.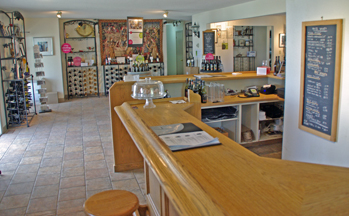 White Wines
Vidal 2009 was a light straw color. There were notes of lemon on the aroma and taste. The finish was crisp and citrusy with a mineral aftertaste. Chardonnay Terroir 2008 was aged in Prince Edward County oak. The wine offered pear, vanilla and caramel notes throughout. Butter nuances were on the finish. Chardonnay 2009, with 12 percent alcohol, was a straw color. The aroma was of minerals and fruit especially apple. The crisp taste was smooth with fruit notes. The finish was crisp and smooth. Suggested pairings included fish, chicken and cream-based cheese dishes.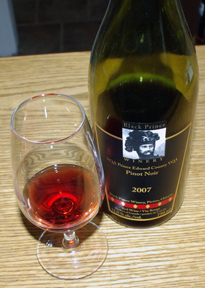 Red Wines
Pinot Noir 2007 was ruby with an aroma of mineral and red fruit notes. The taste had suggestions of cherry, minerals and oak. The finish with mild tannins had fruit yielding to a hint of spice. Cabernet Franc Reserve 2009, the Black Prince signature wine, was a deep red. The aroma offered spice and fruit notes. The taste had an emphasis of black cherry. With mild tannins the finish yielded from black cherry notes to light pepper and minerality. Chambourcin 2006, with 11 percent alcohol was a dark red. The aroma was earthy and the taste had dark fruit notes. Merlot 2009 was a dark red/purple color. The fruity aroma had black cherry notes. The taste was dry with dark fruit notes. The finish was fruity and lingered. Suggested pairings included grilled meats, hard cheeses and roasts.

Historical Background of the Black Prince Name
The Black Prince was the 1st son of Edward III in the mid 1300's. He was called the Black Prince because he wore black armor. He is remembered in history for his jousting tournaments, chivalry and as a successful commander.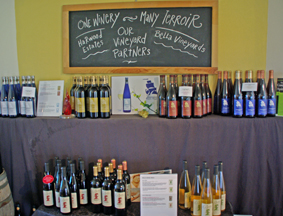 Enjoy a visit to Black Prince Winery tasting room, where you can purchase Black Prince wines and wines from Harwood Estates and Bella Vineyard.
Black Prince Winery
13370 Loyalist Parkway
Picton, Ontario K0K 2T0
GPS: N43º 59.919' W77º 09.971'
---
Visit this Winery/vineyard travel agency and Canada winery that partner with Wine Trail Traveler.