Del-Gatto Estates Bella Vigne
by
Kathy Sullivan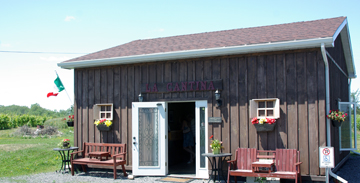 Summary: The Del-Gattos are passionate about making Prince Edward County wine and keeping the winery and vineyard in the family. Recipes used for making wines go back four generations.
Del-Gatto Estates Bella Vigne is a family owned and operated boutique estate winery. The Del-Gatto family runs the winery. Pat is passionate about making a Prince Edward County wine.
When visitors arrive outside the Del-Gatto tasting room, they will see a picnic table, two wood wheelbarrows and colorful Adirondack-style chairs. The two front facing windows of the cottage-style tasting room have window boxes but on closer examination one will note that the windows do not have glass.
The Del-Gatto family has reached the dream that many would-be winemakers would like to achieve. Pat Del-Gatto, a fourth generation winemaker, had a long deep-seated desire to own a vineyard and winery. After all his great great-grandfather owned a winery in Italy and his grandfather had made wine. Tired of working in the city at a 9-5 job, Pat researched the idea of growing grapes and making wine. Eventually he and his wife, Heidi, gave up their jobs and moved to Prince Edward County where they had purchased 74 acres of property. About six acres are under vine. Not long afterward, Pat's parents joined them in the county. Today they all work together.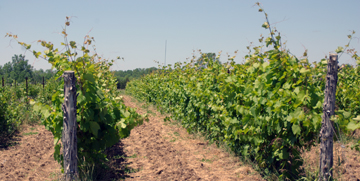 Vineyards and Winery
The Del-Gattos planted all vinifera varieties for the first two years. Each year the vinifera grapes did not do well. The Del-Gattos decided to specialize in cold climate varietal grapes and today focus on producing small lots of quality hybrid wines. The onsite vineyards consist of six acres that include Geisenheim, Chardonnay, Traminette, Frontenac Gris, Seyval Blanc, Frontenac, Baco Noir, Leon Millot, St. Croix and Marquette. The vines planted in 2002 are in Solmesville clay loam. The majority of the work in the vineyards and winery is done by hand.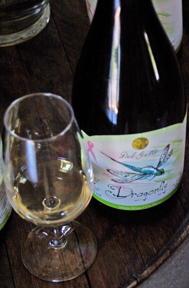 White Wines
Dragonfly 2010 is a special wine; daughter, Shelby, created the wine label of a dragonfly. A percentage of each bottle of wine sold goes to breast cancer research. The aroma on the wine offered notes of floral, apple and citrus. The taste had noticeable apple and citrus suggestions. The finish was crisp and fruity. Vidal was dry with fruity and floral nuances. The taste lingered on the finish. Suggested pairings included light fish dishes, fresh cheese and fresh salads.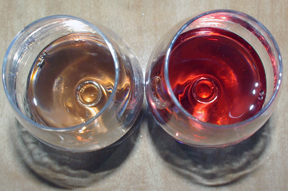 Rosés
Rosati Rosé 2008 was semi-dry and was orange with red hues. This light bodied Rosé can be served as a sipping wine on a warm summer day or with dinner. Rosati Rosé 2010 produced from Frontenac Gris was a light red with a slight orange hue. The aroma was of red berry fruit and citrus while taste had notes of strawberry and citrus. The finish was crisp and fruity with a hint of minerality.
Red Wines
Hailstorm Red 2010 created with St. Croix grapes was a dark purple. The aroma reminds one of a spring rain and dark fruit. The taste had spice and dark fruit notes. Tannins were on the fruity finish. La Porta was a Frontenac wine produced in a port-style. This ruby port offered a jammy dried fruit aroma. The taste was of raisins and jammy dark fruit. The finish was crisp and fruity.
Enjoy a visit to Del-Gatto Estates Bella Vigne where you will find a warm welcome and wines to enjoy.
Del-Gatto Estates Bella Vigne
3609 County Road 8
Picton, Ontario K0K 2T0
GPS: N44º 01.844' W76º 55.420'
---
Visit this Winery/vineyard travel agency and Canada winery that partner with Wine Trail Traveler.