Sprucewood Shores Estate Winery
by
K.L. Sullivan
Summary: Sprucewood Shores Estate Winery offers visitors a destination site. You will discover a two-story tasting room with numerous balconies, access to a beach along Lake Erie to enjoy, enjoyable wines and events. They have 300 plus feet of shoreline. Picnic tables are available on the beach.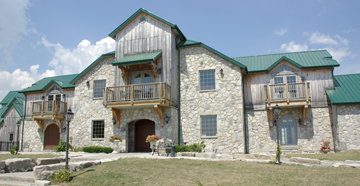 Sprucewood Shores Estate Winery is a family operation. Gord and Hannah Mitchell planted the vineyards, built and opened the tasting room with the help of their four children. Today Tanya, a daughter who trained as a winemaker, is the winemaker for Sprucewood Shores while her father takes care of the vineyards and is the resident Jack of all Trades. Gord's wife, Hannah is the CFO and their son, Jake is the multimedia director. Their two other children are also involved in the winery; Stephen helps with sales and marketing and Marlaina works with finance and events. According to Gord, Tanya worked part time at Henry Pellam and worked on making red wines at Sprucewood. She went to Australia and came back a "polished" winemaker. She "learned how to use her nose." Gord made it very clear that Hannah and he are very grateful for their family's involvement and support in the winery.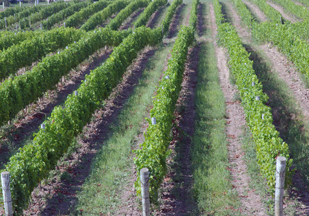 The vineyards go back 17 years and the winery tasting room opened in November 2006. Before the tasting room opened, the grapes were sold to other wineries. Since area winemakers were winning awards with their grapes, the Mitchells thought, "Why not make wines out of our own grapes?" Today the vineyards consist of 35 acres of grapevines on 52 acres of land. The winery produces 2500 cases and hopes to increase production to 4000 cases in 2008.
The Tuscan-style tasting room provides a lovely walkway around the second floor. On the second floor, doors lead out to numerous balconies with splendid views of Lake Erie and vineyards. A room adjacent to the tasting room provides space for special events. Large paintings adorn the walls of both rooms. Paintings are for sale.
Outside the tasting room is a spacious cement patio. Large tents are available for outdoor functions. The tents fit together and have curtains with clear plastic windows. The cement block has room for six tents that interconnect. Large events can take place in this area.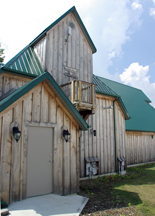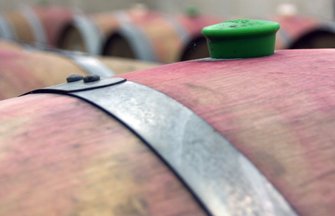 The winery is housed in the adjacent building. New stainless steel tanks set in one room. A stairway leads to an underground floor that provides room for barrels. Currently Sprucewood Shores has room to grow. The underground level has rooms with cement walls that will be sandblasted and painted in the future. This will allow the winery to increase production and storage.

A grape sorting machine is located on the crush pad. A sorting machine allows unripe grapes, stems and leaves to be sorted out of the grapes that will be used for producing fine wine. According to Gord, this is a "commitment to do things a little better."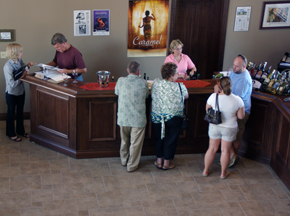 We tasted wines as we continued to learn more about the winery. With a citrus nose, the 2007 Pinot Gris had a grapefruit and peach taste. There was a crisp finish and a long fruit aftertaste. The 2006 Chardonnay had an apple and citrus nose, citrus taste and crisp finish. Riesling 2006 was off dry. There was fruit on the nose. It had a peach taste and dried on the finish. The 2007 Late Harvest Riesling Traminer Vidal had a rose and honeysuckle nose. It was medium bodied and dried on the finish.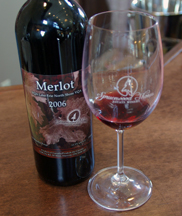 The 2005 Pinot Noir had a red translucent color with a red cherry nose. The taste offered red cherry and strawberry nuances and there was a long lingering strawberry aftertaste. The 2006 Lady in Red was a blend of Cabernet Sauvignon and Merlot. Lady in Red offered a red cherry and black raspberry nose with a cherry taste. It finished with soft tannins. This was an easy to drink red wine. The color of the 2005 Meritage was a dark red/purple. This wine was a blend of Cabernet Sauvignon, Cabernet Franc and Merlot. There was a cherry and black raspberry nose. The taste was fruit forward of cherry and black raspberry. The wine had a soft finish and long fruit aftertaste. The color of the 2006 Merlot was a transparent ruby and the nose had nuances of red cherry and spice. It had a fruit salad taste with cherry and blackberry nuances. It finished with medium tannins.
Our discussion led to the aging of wines. According to Gord, "When people walk away with wine we want them to know how long we think the wine can age."
We believe visitors will enjoy visiting Sprucewood Shores Estate Winery. Take advantage of the beach by packing a lunch and purchasing a bottle of wine in the tasting room. One of the goals of the winery is to "try to make an approachable wine." Visitors can approach wines in a relaxing and comfortable atmosphere.

Sprucewood Shores Estate Winery
7258 County Rd. 50 West
Harrow, Ontario, Canada
GPS N42 02.168' W083 00.541'
---
Visit this Winery/vineyard travel agency and Canada winery that partner with Wine Trail Traveler.