Creekside Estate Winery
by
K. L. Sullivan
Summary: Watch for the reopening of the retail center at Creekside Estate Winery in July 2008. The renovated area will make an enhanced wine tasting experience at Creekside. If you love golf or have a friend or family member who enjoys the sport, stop at Creekside Winery because you will also have the opportunity to taste Mike Weir wines.
Stop by Creekside Estate Winery for tastings and talk with friendly and knowledgeable staff. The current tasting room at Creekside Estate Winery is under renovation and expansion is to be completed by July 2008. In the meantime, a small temporary room has been setup. Although small, the staff is congenial and visitors quickly make way for others.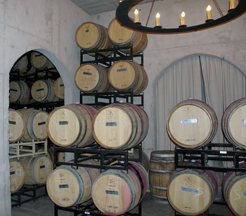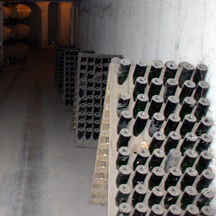 We met David MacCallum, and after discussing the history of the winery, he offered us a tour of the wine cellars. The wine cellars, built underground, house barrels and there is an area appropriate for small events. Overhead is a large chandelier, the passageway is lit with small wall lights that highlight grapevine branches decorating the way to the barrels. Along the passageway, you will notice riddling racks filled with dusty bottles of sparkling wine ageing slowly.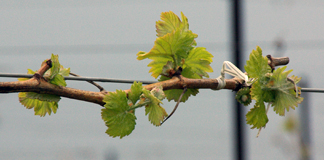 In 1998 Peter Jensen and Laura McCain purchased property that already had 15 acres of grapes under vine. Over the years the vineyards were expanded and updated. An additional 50-acre vineyard was purchased on St. David's Bench.
Currently the winery produces two separate wine lines. The Creekside Estate Winery produces about 25,000 cases with the Creekside label. Grapes for the reserve wines are handpicked. The Mike Weir wines are aged in American oak and are crafted to reflect a New World winemaking style, whereas the Creekside Reserve wines are aged in French oak and are crafted to reflect an Old World winemaking style.
On the day of our visit, we tasted several wines. Sauvignon Blanc 2006 had a nose of grass followed by citrus. It had a good citrus taste and crisp finish. Sauvignon Blanc Reserve 2006 was aged nine months in French oak, resulting in an oak nose, with a citrus, oak and buttery taste. There was a long buttery aftertaste. Laura's White 2006 was a blend of Sauvignon Blanc, Chardonnay, Viognier, Muscat, Riesling and Pinot Gris. The wine offered a fruit nose, smooth mouth feel, fruit cocktail taste, crisp finish and long fruit aftertaste. The Cabernet Rosé was a blend of Cabernet Franc, Cabernet Sauvignon and Syrah. The wine had a strawberry nose and taste. It was very dry with a strawberry finish.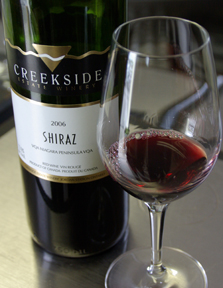 Shiraz 2006 had a cedar and pepper nose with red fruit taste. It was crisp and had soft tannins. Laura's Red 2006 was a blend of Cabernet Sauvignon, Merlot, and Cabernet Franc. The result was a red fruit nose and taste, with a crisp finish and some tannins.
The Reserve Pinot Noir had a red-orange translucent color with a red-black cherry nose. It was very smooth with cherries on the taste and a crisp finish. The Reserve Cabernet Sauvignon 2004 was aged for 23 months in barrels, resulting in a red-purple color with a dark red fruit nose and taste. It was crisp with tannins on the finish. Broken Press Shiraz 2005 was in French oak for 23 months. This wine is a blend of Shiraz and five percent Viognier. The wine had a dark purple color with good fruit nose and taste. The name Broken Press came from the year the press broke while pressing grapes.
We tasted two wines from the Mike Weir line. The Mike Weir 2006 Pinot Noir had a red translucent color with a strawberry nose and taste. The Mike Weir 2005 Cabernet Shiraz was a blend of 65 percent Cabernet Sauvignon and 35 percent Syrah. This wine had a dark opaque purple with a dark red fruit and cedar nose, and fruit taste. It was crisp with good tannins on the finish.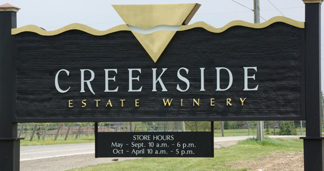 Be sure to watch for the opening of the renovated and enlarged tasting room in July 2008. We believe that you will be in for a treat.
Creekside Estate Winery
2170 Fourth Avenue
Jordan Station, Ontario, Canada
GPS N 43° 15.276' W 079° 33.274'
---
Visit this Winery/vineyard travel agency and Canada winery that partner with Wine Trail Traveler.