Sanson Estate Winery
by
Meghan Neumeier
Photos by
Andy Neumeier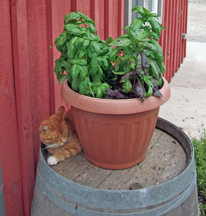 Summary: Sanson Estate Winery, founded by Dennis Sanson and Maureen Jack in 1997, is unique in the Lake Erie North Shore region. The estate a working, sustainable farm that is home to vineyards, cows, pigs, and a market garden. Dennis and Maureen offer visitors the opportunity to taste not only wine but also meat and vegetables from their land. They are passionate about sharing the fruits of their labor with others; getting to know their customers and helping their visitors learn to pair food and wine is at the heart of their work.
Sanson Estate Winery, located in the Lake Erie North Shore region in Amherstburg, Ontario, was founded in 1997 by Dennis Sanson and Maureen Jack. Dennis, who was born and raised in the region, grew up with a love for the land and a passion for food. This passion inspired him to pursue a career in culinary science. As a culinary student and later as a professional chef, Dennis learned the art of tasting and learned to enjoy food and wine together. He was soon making his own wine - a hobby that "got out of hand" quickly. Maureen, a longtime friend with experience in hospitality, joined Dennis to open up Sanson Estate Winery.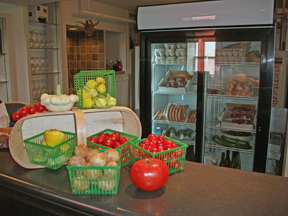 Sanson Estate Winery is more than just a place to make, taste, and sell wine. It is also a farm that focuses on sustainability. Dennis and Maureen raise beef and pork naturally and grow numerous vegetables in their market garden and greenhouse. When guests visit Sanson Estate Winery, they can taste (and buy) wine, meat, and vegetables, marketed under the name "From Field to Fork Foods." The meat, which is raised without growth hormones and antibiotics, includes a popular beef summer sausage, roasts, steaks, hamburgers, hot dogs, bacon, sausage, Berkshire pork, and ox tail. "You could even buy half a cow if you wanted to," Maureen explained with a smile. From Field to Fork Foods' vegetables include tomatoes, cucumbers, peppers, egg plant, lettuce, and squash. Dennis and Maureen's dedication to responsible farming is simple to understand: "If you look after the land," Maureen said, "then the land looks after you."
Given the farm setting, the tasting room is rustic, charming, warm, and welcoming. Barn cats greet visitors upon arrival, making them feel like old friends. In addition to a tasting room, a restored barn contains an event room with extra tasting bars. Large windows afford visitors a glimpse of the vineyards. The tranquil atmosphere encourages visitors to relax and enjoy food and wine.

Vineyards
The estate is made up of 100 acres, eight of which are vineyards. Baco Noir and Vidal Blanc grapes, hearty varieties, grow in the clay soil of the vineyards. Sanson gets Riesling and Chardonnay grapes from two other Lake Erie North Shore wineries, whose proximity to the lake enables them to grow these varieties.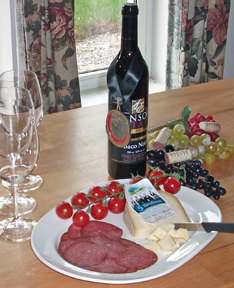 Wines
Sanson Estate Winery produces about 5,000 cases of wine a year. The most popular wines include the Baco Noir and the Autumn Harvest Vidal. The Baco Noir has a dark purple color and an oaky and smokey scent. It is a fruit-forward, very drinkable dry wine, and its notes of berries will leave you licking your lips for a second sip. The Baco Noir wine pairs well with tomato sauce, pizza, and sausage. Sanson Estate also makes a Baco Noir Reserve. This wine has a color and scent similar to the Baco Noir, but it contains more tannins and is richer and more velvety. The reserve pairs well with lamb, steak, strawberries, and chocolate. Sanson Estate's wines also include Riesling and Chardonnay, among others. The Riesling is pale yellow in color. It contains fruit and flowers on the nose and a well-balanced, fruity, and floral taste. The Chardonnay, which is a blend of oak and steel-fermented wine, is the color of straw. It has light oak on the nose, a smooth and well-balanced taste, and a buttery finish.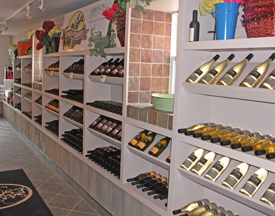 Given his culinary background, Dennis has many suggestions to share with visitors who want to learn how to taste wine and food. First, Dennis recommends that visitors respect the fact that people taste different things in wine and food. Next, Dennis believes in simplifying the process of learning to taste. "People should be open about why they like and dislike food and wine," he said, adding, "Don't believe you have to use the nomenclature and words of wine experts." Tasting, Dennis believes, is an art that is worth learning. He strongly believes that people should enjoy wine with food because wine is a part of culture. "It's not about drinking," he said. "It's about having food and wine."
Sanson Estate Winery's events include food pairings for small groups, a pumpkin patch in the fall, and Customer Appreciation Day. Customer Appreciation Day is celebrated annually in November and features food, new wines, and cooking demonstrations. Dennis and Maureen are intent on sharing the fruits of their labor with others. "From our land, to our grapes, to your glass - enjoy!"

Sanson Estate Winery
9238 Walker Rd
Amherstburg, Ontario N0R 1J0, Canada
Article written August 2013
---
Visit this Winery/vineyard travel agency and Canada winery that partner with Wine Trail Traveler.