Summary: One of the unique aspects of Strewn is the winery cooking school. It is the only winery with a cooking school in Canada. This is a winery with "Good wines good value and a neat place to visit," according to Joe Will. They "carved out the position of wine and food." Strewn is a place that wants to help people find wines to take home and share with others.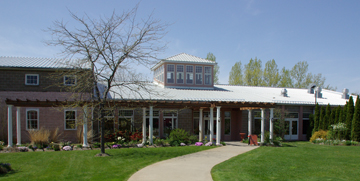 Strewn winery has a delightful story behind it. Joe Will and his wife, Jane Langdon began a search for property on which to build a winery. Their final selection was an old cannery building built in the 1930's for fruit but abandoned in the 1960's. They purchased the property from Nabisco in 1996 and opened at the end of June in 1997. Joe commented, "It feels good to know that we have given life to an old building that once had 180 employees."
One of Jane's ideas was to establish a cooking school which drew upon her knowledge of nutrition and cooking. According to Joe "its about making people feel special."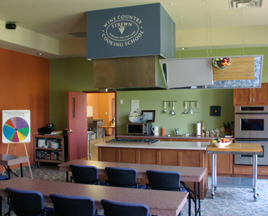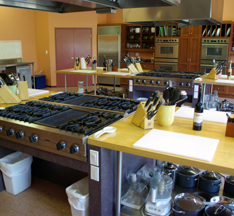 Two-thirds of the building was torn down and one-third renovated. Half of the part torn down was rebuilt. We were fortunate to be able to tour the building with Joe while he talked about the entire facility. We began in the area designated for the cooking school. One room is devoted to seminar and demonstration classes while in the kitchen hands-on cooking classes are offered. There are spaces in the kitchen for 16 to attend the classes. Quality equipment is in use throughout the kitchen. In general, Jane offers classes on weekends, with some 2-day classes and other 1-day classes. Week long classes are also offered. During the week, evening cooking classes are held for corporations. Jane customizes classes according to the group. Adjacent to the kitchen is a dining room.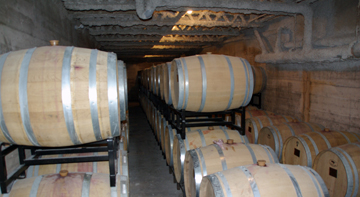 After touring the kitchen, we went into the winery where we saw tanks and barrels. Joe took us to the lower level where the structure of the old building is easily seen. Fire resistant material covers many of the features reminding us of wine caves in California. This lower level is used for aging wine in barrels.
Strewn winery produces 20,000 cases of wine and looks forward to producing 30,000 cases. Five acres of grapes are on the property and 21 acres are nearby. Strewn produces twenty percent of the wine from estate grapes.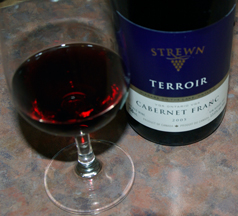 We enjoyed tasting several wines in the large tasting room. The Riesling Gewürztraminer with a residual sugar of one had a floral and spice nose with a fruit salad taste, spices on the aftertaste and it was crisp. Chardonnay 2007 was aged in French oak and had an oak nose with apple and butterscotch taste with a buttery finish. Merlot 2007 was a dark purple with a red fruit taste. It was crisp with tannins on the finish. The grapes were from the Strewn vineyards. Gewürztraminer 2006, with a Terroir label, had a spice and floral nose, fruit and spice taste with a crisp finish. The residual sugar was zero and the wine had a dry finish. Sauvignon Blanc 2007 with a Terroir label was a pale yellow. It had been in oak for three months. The result was a citrus and oak nose with a tropical fruit taste. It had a smooth mouth feel and finish with a bit of butter on the finish. Cabernet Franc 2005 had red fruit and pepper on the nose and taste. It was crisp and had tannins on the finish. Strewn Three 2005 was a blend of 22 percent Cabernet Sauvignon, 65 percent Cabernet Franc and 13 percent Merlot. The color was a dark red purple with red fruit and pepper on the nose and taste. It had a crisp finish with high tannins on the finish.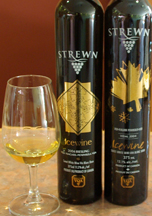 We tasted two icewines. The Riesling 2006 Icewine had a residual sugar of 20. It had a yellow color with a honeysuckle nose and a fruit/honey taste. It was smooth and sweet with a slight crispness on the finish. The Vidal 2004 Icewine had a residual sugar of 22. The color was golden and the wine had a heavy body. It was sweet but balanced with the acid. As Joe discussed the two icewines he said, "If icewine were a symphony, Riesling would be the woodwinds and Vidal the base notes."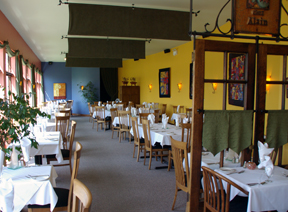 A portion of the building is rented out as a restaurant. This topnotch restaurant seats about 65. Elegantly decorated and with white cloth tablecloths and napkin on tables, this would be a delightful restaurant to have dinner.
The Barrel Club offers members the opportunity to purchase a barrel and have their name on the barrel. In return, members receive bottled wine and eventually the oak barrel. For a unique experience and one that you may want to return to numerous times, check out Strewn.

Strewn
1339 Lakeshore Road
Niagara-on-the-Lake, Ontario
GPS N 43° 25.224' W 079° 12.508'
---
Visit this Winery/vineyard travel agency and Canada winery that partner with Wine Trail Traveler.