Legends Estates Winery
by
Kathy Sullivan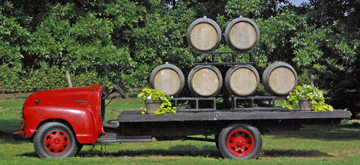 Summary: Legends Estates Winery, in Beamsville Ontario, is a complete winery with vineyards and a venue for weddings. The focus for Legends is on the quality of what they do. They want people to enjoy their wines and have fun in doing so.
Visitors to Legends Estates Winery in Beamsville Ontario, will be greeted with a simple but elegant sign. Across from the entrance to the Legends tasting room, under a tree an old red truck loaded with six oak barrels provides a photo opportunity.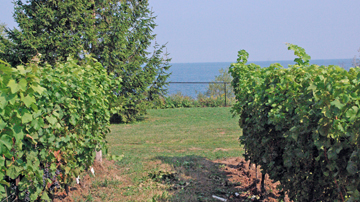 Vineyards
Legends Estate Winery produces wines from the 30 acres of onsite vineyards and an additional vineyard with 40 acres. Grape varieties include Petite Verdot, Malbec, Semillon, Gewürztraminer, Syrah, Merlot, Chardonnay, Sauvignon Blanc, Cabernet Sauvignon and Cabernet Franc. The vineyard is within feet of Lake Ontario. The soil in the onsite vineyards is sandy loam.
Other fruits growing on the property include 150 acres of mostly peaches and nectarines. Paul Lizak noted that the vineyard is five to ten degrees different in temperature than the QEW highway just 0.2 miles away.
The name Legends was chosen for the winery and vineyards because of the concept of passing names and stories along. It involves the story telling of three generations of farming.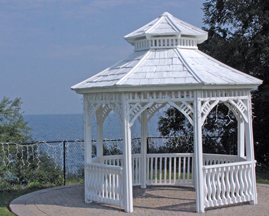 Weddings at Legends Estates Winery
Weddings are a specialty for Legends. Wedding events can take place in the large reception hall inside the building or outside. A large event tent and a gazebo are located near vineyards and overlooking Lake Ontario. The winery offers a photographic wedding specialist, as it has several preferred vendors in the area.The winery has 30 to 50 weddings each year.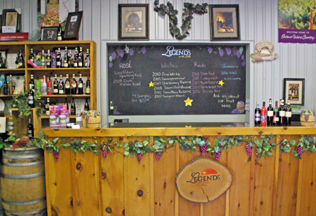 Tasting Room
Wine tastings take place at a golden honey-tone oak tasting counter. Behind the tasting counter a large blackboard lists the specials of the day. Various items are available to browse. Look for Strawberry Salsa. Among the various items to browse, a table offers specific information about hosting weddings and receptions at the winery.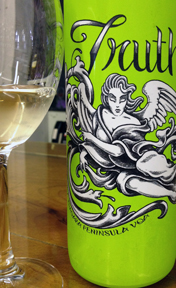 White Wines
The winery has two unique lines of wine: Diva and Tattoo. The Diva line wines support Women's Place of South Niagara, a women's shelter. Truth or Dare wines have unique artistic labels by renowned tattoo artist Bob Paulin. In the Tattoo Series the 2010 Truth was a blend of Sauvignon Blanc, Chardonnay and Gewürztraminer. The straw colored wine had floral notes on the aroma and citrus with some yellow stone fruit on the taste. Sauvignon Blanc Lincoln Lakeshore 2010 was a light yellow. The citrus yields to melon. This was a barrel fermented wine. Sparkling Rosé in the Tattoo series, is a sparkling wine with a blend of Chardonnay and Merlot. The burnt orange color/salmon color wine offered apple hints with a crisp palate. The wine was cleansing and had some toasty notes. Diva's Sauvignon Blanc-Semillon Lincoln Lakeshore 2010 was a light yellow with 12.5 percent alcohol. The wine was crisp with hints of sweetness from the fruit. The finish was crisp and the fruit lingered. The back label noted, "Diva is a woman of outstanding talent, energy and larger than life quality." The goddess Artemis is on the label, a symbol of protection for children and women.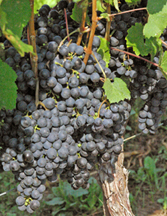 Red Wines
Diva Merlot-Malbec 2010 Lincoln Lakeshore was a dark ruby color with black fruit notes. The finish was fruity with tannins. Shiraz Reserve 2006 was a dark purple to black color. The wine offered an aroma of pepper and cedar. The taste was of dark fruit. The finish had tannins with fruit yielding to cedar. Petite Verdot Reserve 2007 was a dark purple to black color. The aroma had notes of dark fruit and licorice. The taste had licorice and dark fruit nuances. The finish was fruity with bold tannins. Dare Red Wine 2010, "Live to Dare-Dare to Live" was a deep purple almost black color. The aroma was of dark fruit especially plums and blackberries. The taste was smooth with a fruit forward taste. The finish offered bold tannins. Merlot Reserve Lincoln Lakeshore 2007 was a very dark color. The aroma was of dark fruit and the smooth taste had a hint of heat. The finish had bold tannins and a hint of chocolate.
Visitor Wine Tours and Tasting Options
Wine enthusiasts can stop by for a featured wine tasting or plan a special tasting tour. Legends offers visitors several options.
• Legendary Tour & Tasting
• The Cheesy Tour
• The Sweet Tour
• The Martini Tour
• The Winemaker's Tour
• Lunch and Tour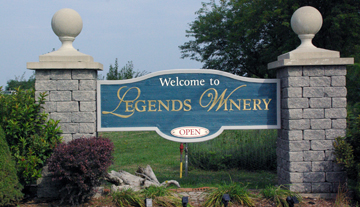 Whether venturing out for a wine tasting or planning for a wedding, stop to visit Legends Estates Winery.
Legends Estates Winery
4888 Ontario Street
North 
Beamsville, Ontario
Canada, L0R 1B3
GPS: N43º 11.688' W79º 28.662'
Article written in September 2012.
---
Visit this Winery/vineyard travel agency and Canada winery that partner with Wine Trail Traveler.