Colchester Ridge Estate Winery
by
K.L. Sullivan
Summary: Colchester Ridge Estate Winery is a delightfully small winery with a personal touch. Stop at this winery to enjoy a tasting by a competent and friendly wine consultant.
You can find CREW wines at area restaurants.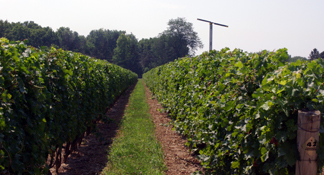 Colchester Ridge Estate Winery is frequently referred to as CREW and their logo is the silhouette of a downwind sailboat. Bernie Gorski is the owner, winemaker and vineyard manager. The winery is the result of Bernie's hobby as a winemaker. Bernie planted the vineyards in 2001 and 2002 and the vineyards currently have 12 acres of grapevines that include Cabernet Sauvignon, Merlot, Gewürztraminer and Chardonnay. Bernie purchases other grapes needed from local vineyards. The tasting room opened in 2006.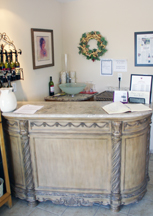 The tasting room is boutique and offers some wine accessories including pewter bottle stoppers, gourmet cheese plates, wine bottle chillers, wine bags and a Bohemia Crystal Tilted Carafe. Be sure to check out the book, Quotable Wine Lover. If you are interested in keeping records of your wine tastings, consider Wine Notes.
The tasting counter is marble and Bernie Gorski designed the wood base. The CREW wine list consists of five whites, seven reds and one white Vidal Icewine. The winery has already won several medals including gold for the 2006 Unoaked Chardonnay and 2006 Merlot Reserve.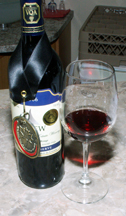 Heidi Janzen, the retail sales associate, provided the wine tasting. Riesling VQA 2007, the most popular wine, offered a tropical fruit and a bit of floral on the nose with a taste of tropical fruit. It had a long fruit aftertaste. A red fruit forward wine was the Merlot Reserve that had a stone cherry and strawberry taste with an aftertaste that was smooth and balanced on the finish with a touch of coffee. Cabernet/Merlot 2005 had a nose of red and black cherries, cherry taste and an aftertaste that was crisp with some tannins on the finish. There was only a hint of pepper on the finish. If you prefer a wine with cherry nuances, try the 2006 Merlot/Cabernet Sauvignon that offered a red fruit nose, red cherry taste and an aftertaste that had soft tannins. The 2006 Cabernet Sauvignon Reserve had a blackberry and chocolate nose and a blackberry taste. There were tannins on the finish with a long fruit aftertaste.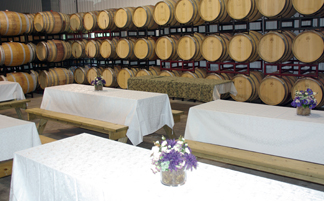 Behind the tasting room is the barrel room. Barrels are placed along the walls and easily set off an area with several tables used for small special events. The barrels in the room add a lovely ambience to the experience. Outside to the right of the winery tasting room is a large grass area with a stand of trees and a view of the vineyards. Large events can take place here providing sun and shade as needed.
Be sure to check their website and watch for upcoming events at CREW. You will be glad you did.
Colchester Ridge Estate
108 County Road 50 East
Harrow, Ontario
GPS: N 41°98.764' W082° 92.213'
---
Visit this Winery/vineyard travel agency and Canada winery that partner with Wine Trail Traveler.