Bergeron Estate Winery
by
Kathy and Terry Sullivan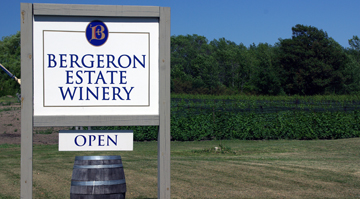 Summary: Bergeron Estate Winery is a boutique winery in the Prince Edward County DVA. Located on the Loyalist Parkway the winery is just a short distance east of the Glenora Ferry.
Bergeron Estate Winery is a family owned and operated boutique winery. Visitors enjoy a wine tasting in a Williamsburg blue room with a white ceiling. Old timbers have been added giving the room character.
David Bergeron grew up on a farm and has always been interested in farming. After hearing about a winery in Waupoos, he knew he could grow grapes. David and his wife, Mary, purchased the property in 2002. David and Mary planted grapevines in 2003, 2004 and 2005 for a total of 10 acres. Grape varieties include Vidal, Riesling, Chardonnay, Gewürztraminer, Pinot Noir, and Gamay. David also manages a nearby Cabernet Franc vineyard.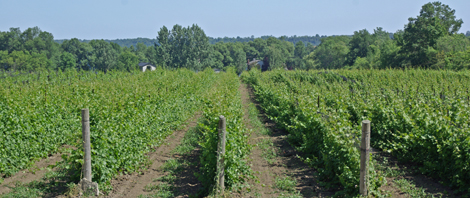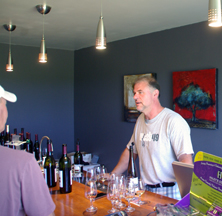 The facility is under renovation and when finished a pizza oven will be included. Old timbers are used to enhance the feel of the tasting room. A shelf shows artifacts that David has discovered while working in the fields to prepare the soil for grapevines. Artwork by a local artist is displayed on the walls. The art is also used on the wine bottle labels. The artist, Heather Haynes, created paintings using modernistic trees. Each piece of work uses different colors to portray the colors and characteristics of the wine. Heather tasted a wine and then painted a picture to reflect the wine.
In addition to wines, Bergeron Estate Winery is producing ciders. Ciders are lower in alcohol and when served cold match well with a warm and humid summer day.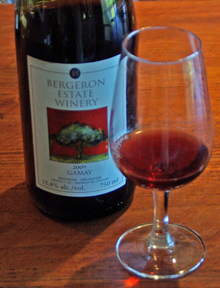 Cole Point Ciders
Cole Point Cider 2009 was yellow with an apple aroma. The cider was crisp and refreshing. Apple varieties used to produce this cider were Ida, Macintosh and Spartina. The 2010 vintage was very appley.
Bergeron Red Wines
Cabernet Franc 2008 was ruby with an aroma of spice especially pepper. The taste had dark fruit notes. The finish had tannins, dark fruit and spice. Gamay 2009 offered an aroma and taste of smoke and pepper. The finish had tannins and was spicy. Pinot Noir 2007 was red with Sienna hues. The aroma and taste had light red fruit and red cherry notes. The fruity finish had tannins.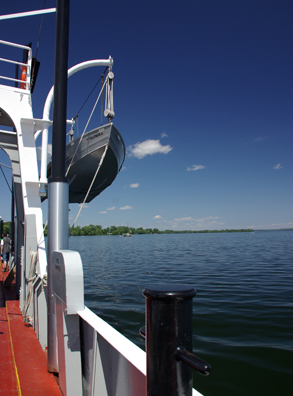 Getting There
Bergeron Estate Winery is east of Adolphustown, Ontario. While not in Prince Edward County it is in the Prince Edward County DVA (Designated Agricultural Area). The winery and vineyards are located on the Loyalist Parkway east of the Glenora Ferry. While in Prince Edward County, follow Rt 33, the Loyalist Parkway to Glenora. Take the free ten-minute ferry ride to the mainland. There is just enough time to exit the car and take some photos of the blue waters and perhaps a sailboat. From Glenora, Bergeron Estate Winery is 30 km (19 miles).
Enjoy a visit to the countryside where one can enjoy wines, views of vineyards and pizza.
Bergeron Estate Winery
9656 Loyalist Parkway
Ameliasburg, ON K0K 1A0 CA
GPS: N44º 04.977' W76º 57.755'
---
Visit this Winery/vineyard travel agency and Canada winery that partner with Wine Trail Traveler.