Black Bear Farms of Ontario Estate Winery
by
Kathy Sullivan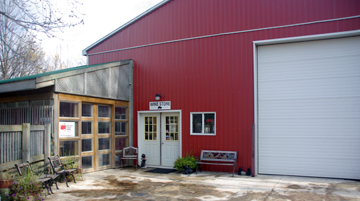 Summary: Black Bear Farms is a small boutique winery specializing in fruit wines. Stop by the tasting room and discover 19 varieties of fruit wines produced from fruit grown on the farm. Black Bear Farms also sells fresh fruit.
Black Bear Farms is a boutique winery specializing in a variety of fruit wines the exception being apples and grapes. Local visitors can buy fresh fruit in season. Visitors will discover the small tasting room in a large farm building with a large red barn nearby.
The owners of Black Bear Farms, William Rondelez, his parents Jerome and Madeline along with his brother Jerome and sister Michelle, chose the name Black Bear because bears like fruit and William had a dog named Bear. They bought the farm in 1988 and planted a garden. In 1990 they began planting larger fields and orchards of fruit. William is the winemaker.
William began learning his winemaking skills by making his first wine with a wine kit. By 2008 he had honed his winemaking skills and opened Black Bear Farms Winery. The future of the winery is to keep it family size producing between 10,000 and 20,000 cases.
Since buying the farm in 1988 and planting a garden, William has increased the garden size tremendously. The 83 acre farm now has 50 acres of fruit. Varieties include strawberries, raspberries, blueberries, black currants, gooseberries, elderberries, pears, plums and peaches.
Unlike grape winemakers, William can produce fruit wine throughout the year. He chooses to start making wine in late spring and continues through the fall. Besides the straight single fruit wines, William likes to experiment with fruit blends. Visitors to the tasting room can find red and purple raspberry wine or black raspberry and blueberry wine.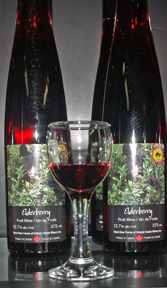 Fruit Wines
Elderberry was a red color with 12.7 percent alcohol. The sugar scale was 5. The aroma and taste were of elderberries while the finish was crisp and fruity. Bear's Special Blend was a mix of red raspberry, blueberry, black currant and pear. The sugar scale was 10 and the wine had 11.8 percent alcohol. The color was light red with an orange hue. The aroma and taste were reminiscent of a fruit salad. The taste began with raspberry notes leading the way to other fruits apparent in layers. The finish was crisp and fruity. Mama's Special Delight was produced with blueberries and the color was red with a pink hue. This wine was 23 on the sugar scale. Blueberry notes were on the aroma and taste. The finish was sweet and blueberryish. Black Currant was a ruby color and offered a black currant aroma and taste. The finish was crisp. Even with an 8 on the sugar scale this wine tasted dry.
Enjoy a visit to Black Bear Farms where you can buy a variety of quality fruit wines which are produced from estate grown fruit.
Black Bear Farms of Ontario Estate Winery
1137 County Road 20 West
Kingsville, Ontario N9Y 2E6
GPS: N42º 01.798' W82º 47.188'
---
Visit this Winery/vineyard travel agency and Canada winery that partner with Wine Trail Traveler.